आरम्भ (eng. The beginning )
November 25, 2021 @ 12:00 pm

-

December 5, 2021 @ 6:00 pm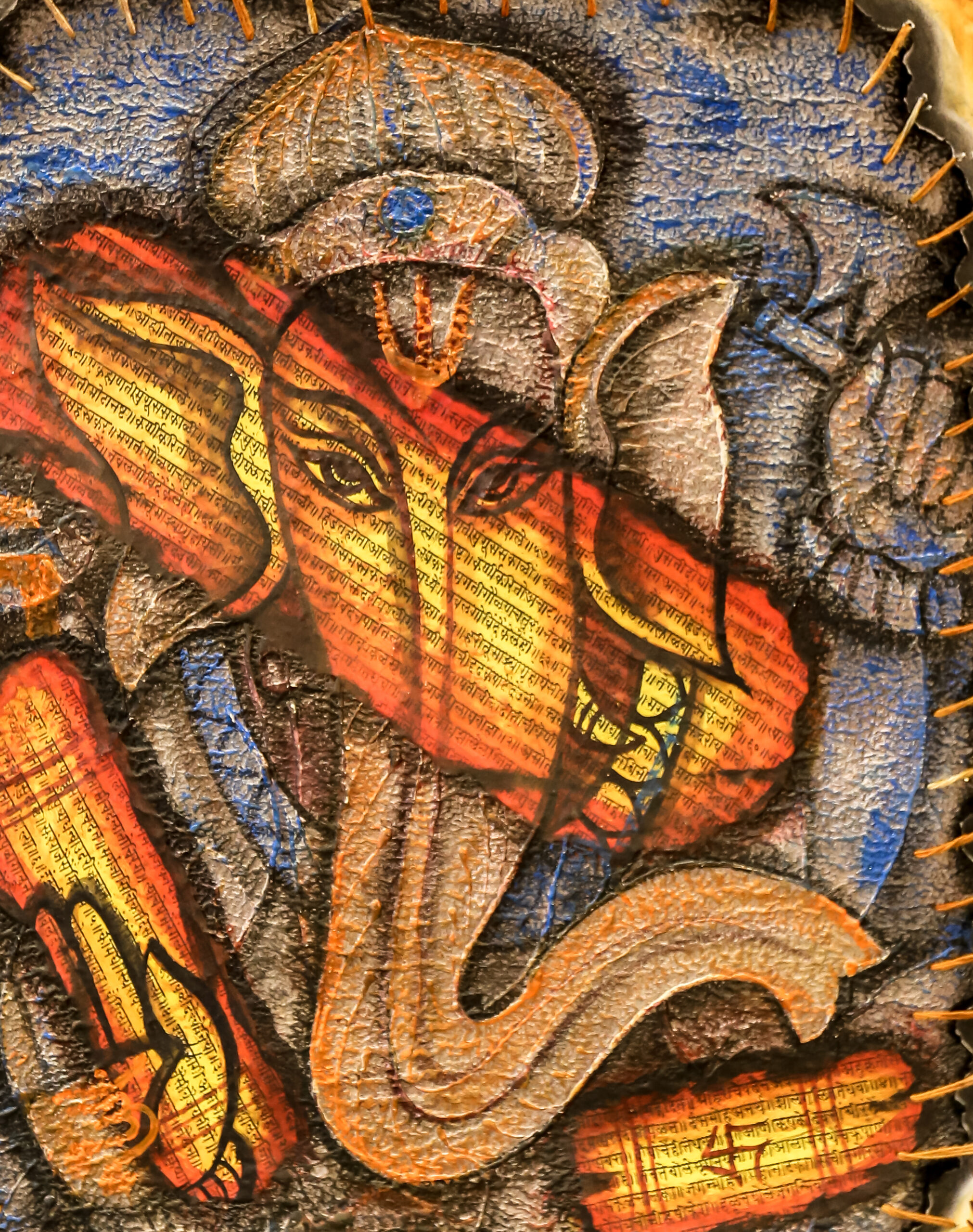 25th November 2021 – 5th December 2021
Open daily 12 noon – 6pm (or 4pm on Sundays).
Featuring only artworks created using traditional techniques and materials, this exhibition honours the beginning of the art forms showcased and also marks the beginning of Lealh & Singh's journey, with their first solo exhibition taking place in Coventry, UK City of Culture 2021. 
Three traditional art forms of India are celebrated in these new works: Madhubani, from the Mithila region; Tajore from the town of Thanjavur; and Ved Art, inspired by the Vedic period of Indian history (1500-340 BCE). Collectively they use traditional patterns, colours and symbols to provide a rich mix of stories, references and meanings that speak to a modern audience.
As art forms such as Madhubani and Tanjore have become commonplace through digital recreation and use of new, cheaper materials, the original, highly skilled and detailed techniques, often practised by families and passed down for generations, are dying out due to lack of use. By creating new artworks, using traditional materials and ensuring the artisans and technicians are competitively remunerated, Lealh & Singh aim to support the conservation of these ancient art techniques and raise awareness, understanding and appreciation of them.
Madhubani art is created with fingers, twigs, brushes, nib-pens, and matchsticks and using natural dyes and pigments derived from plants. There is ritual content for particular occasions, such as birth or marriage, and festivals. It is characterised by its eye-catching geometrical patterns and two-dimensional imagery which carry specific meanings.
Tanjore art is known for its extravagant depictions of deities using vibrant colours and gaudy embellishments, especially gold foil. The paintings are characterised by rich and vivid colors, simple iconic composition, glittering gold foils overlaid on delicate but extensive work and inlaid with glass or, very rarely, precious and semi-precious gems. The themes were usually gods and goddesses, holy places, religious personalities and occasionally portraits.
Ved art is where spirituality meets imagination of the artist, Ved art is inspired by Vedic period (1500 – 500 BCE) and Vedic literature which consists of Sanskrit hymns, charms, Mantras and sacred symbols. Vedic literature is deeply embedded in every artwork and to stimulate different areas of the subconscious to bring about positivity, clarity, relaxation, awareness and natural healing to the viewer.
The Artists
Jatin Lealh is a Coventry based art collector working with his brother-in-law Risham Singh, an interior designer and sculptor, based in India. Sharing a mutual love of Indian mythology, history and traditional art forms, in 2015 they started working together to bring new artworks to fruition. Drawing inspiration from both ancient scriptures and contemporary ideas and themes, they work with Indian artisans and technicians to realise their visions.