First Thursday Artist Meeting
March 4 @ 1:00 pm

-

2:30 pm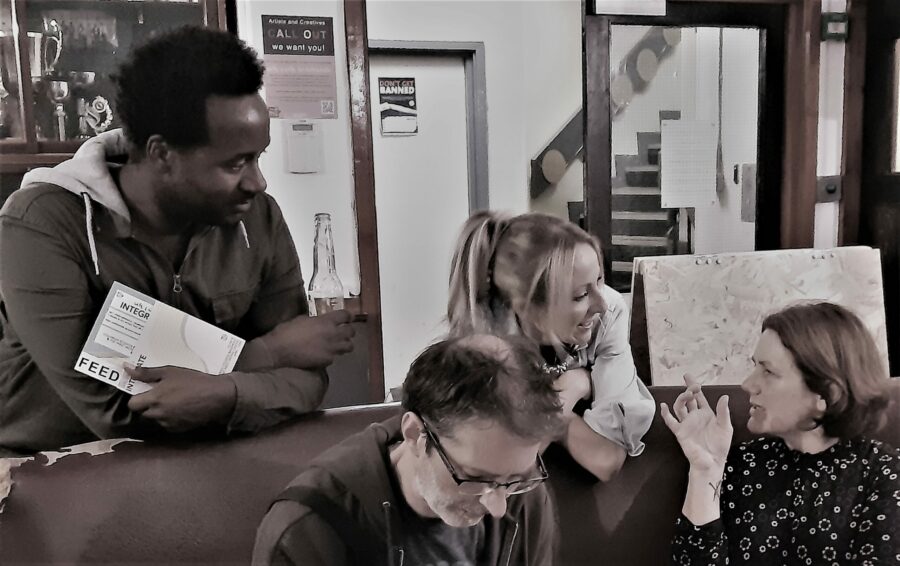 Image: Co-op(t) / Spon Spun, Coventry Caribbean Centre 2019 (Photograph by Mindy Chillery)
Join us for an online chat about art matters. This meeting will take place via zoom. The link to First Thursday meetings is the same each month and is sent out in Artist Listings newsletters. ALL artists are welcome so if you are not one of our Artist Listings artists just submit the form below with your email, or email mail@coventry-artspace.co.uk with 'Request First Thursday Link' in the subject line and we'll send the link to you
February First Thursday Meeting
Cara Pickering, City of Culture Visual Arts Programme Producer, joined us for the February First Thursday Artist Meeting. Cara emphasised that, as a Coventry kid herself she has a strong personal commitment to providing opportunities to platform local artists and that her role has a significant focus on legacy. She also assured people, that although the programme will start in May, there will be staggered opportunities, so if artists weren't yet involved, they shouldn't feel they had missed out as other opportunities would come along further into the year. She is interested in working with visual artists of many different disciplines including, for example, photographers, illustrators and craft workers. She is overseeing the implementation of the Street Art Festival and the 'Coventry Windows' project. She is particularly interested at the moment of hearing from artists who produce murals, or who feel their work might be scaled up to murals.
The artists present introduced themselves and talked a little about their practice, which included a wide range disciplines: film/moving image, photography, sound, light, VR, digital, textile, painting, installation, workshops. The work of those artists present explored a number of themes: community activism through craft, local history, neuro divergence, social isolation, sanctuary, sustainability, rave culture, experience of dual heritage, mental health and wellbeing, 'behind the scenes' documentary, socio-political/inequalities and more!
There was also discussion around
How do artists could find out about opportunities and places that are looking for artists' work? (suggestions – Artspace including Artist Listings Newsletter + F13 group)
Individual participants' project needs, eg outside space for filming a bonfire / dance piece. Various offers and suggestions were made. The group was also reminded that members of the Artist Listings are welcome to send information about their events or call outs for resources or help to be included in the monthly Artist Listings' Newsletter.
Details of the Artspace call out for new a-shop products (deadline for applications 8 March)
The following links were shared:
From Mandip – the link below is for a guide for working with galleries, it is aimed for photographers but it has good information for all.  you just have to register and they will email a link to the guide – Lensculture – https://www.lensculture.com/articles/lensculture-design-photographers-guide-to-working-with-galleries
From Ayesha – in my role at the Belgrade we are keen to connect with more artists. When we are open again we have space for exhibitions but we can also look at workshops or connecting artists with our community programme. My Belgrade email is ajones@belgrade.co.uk. If you have any ideas or things you might want support with please get in touch.