Private View – Rentrayage
August 23, 2018 @ 5:30 pm

-

7:30 pm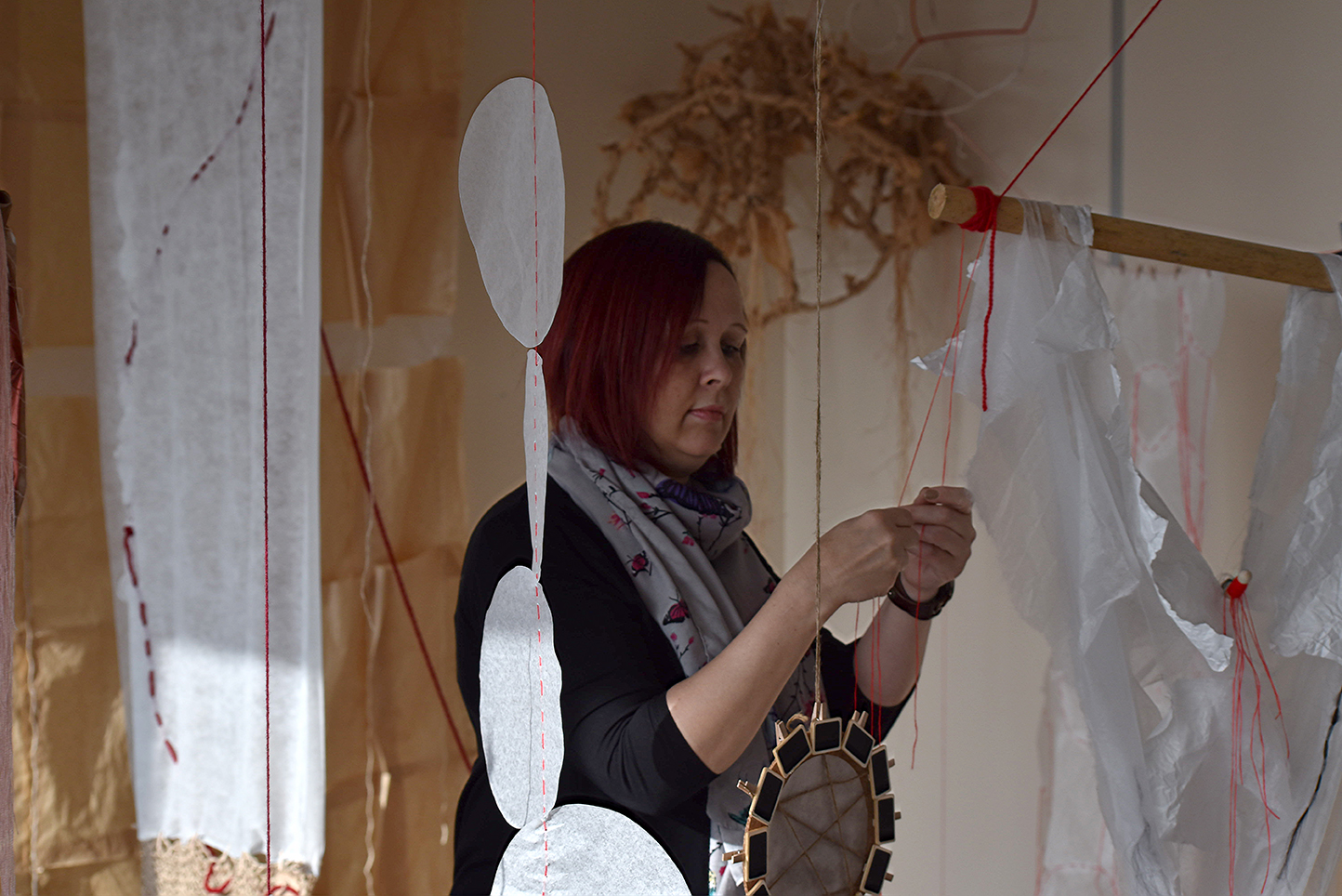 This summer Coventry Artspace Partnership is very proud to present a solo exhibition at our Arcadia Gallery by Michelle Englefield, who has been our Graduate Artist-in-Residence for 2017-18.
Rentrayage is a series of installations, each an interactive and thought provoking obstacle.  Perhaps viewers will feel anxious and trapped as they weave through the space, fearful of destroying it.  If so, the work plays the role of jailer.  Perhaps they will head through the work with little regard to its fragility, and so risk its destruction.  In this case the work becomes the victim.
Everyday materials such as dust sheets, greaseproof paper, parcel paper, commonly used to protect, form fragile, semi-transparent and almost opaque structures that are accompanied by a fine red wool flowing like a vein supplying oxygen for survival, bringing to life a human presence in ambiguous form.  Battens of wood and pegs anchor or burden each of the works, playing a double part in the narrative.  Repairing stitches pierce the materials like footprints, revealing evidence of a journey. Circles, complete and incomplete, translate into metaphors for family, marriage and the womb.  An inner circle stitched onto their surface portrays a wound, but is also evidence of an existence that cannot be eradicated.
Michelle is a mother of four and a grandmother of three. She is also an emerging artist, graduating with a First Class Honours degree in Fine Art from Coventry University in 2017 and currently completing her MA in Contemporary Art Practice.  She has made good use of the resources offered to her from the residency opportunity with Artspace, transforming her space into a wonderland of creations.  But dig a little deeper into this fragile and delicate environment and you find yourself within a poignant exploration of trauma, the inspiration for which has come from Michelle's own life story.
Accompanying the exhibition there will be a panel discussion on the subject of 'Art/Therapy/Value' on Thursday 30 August 5.30 – 7pm.