Speculating
May 29 @ 8:00 pm

-

10:00 pm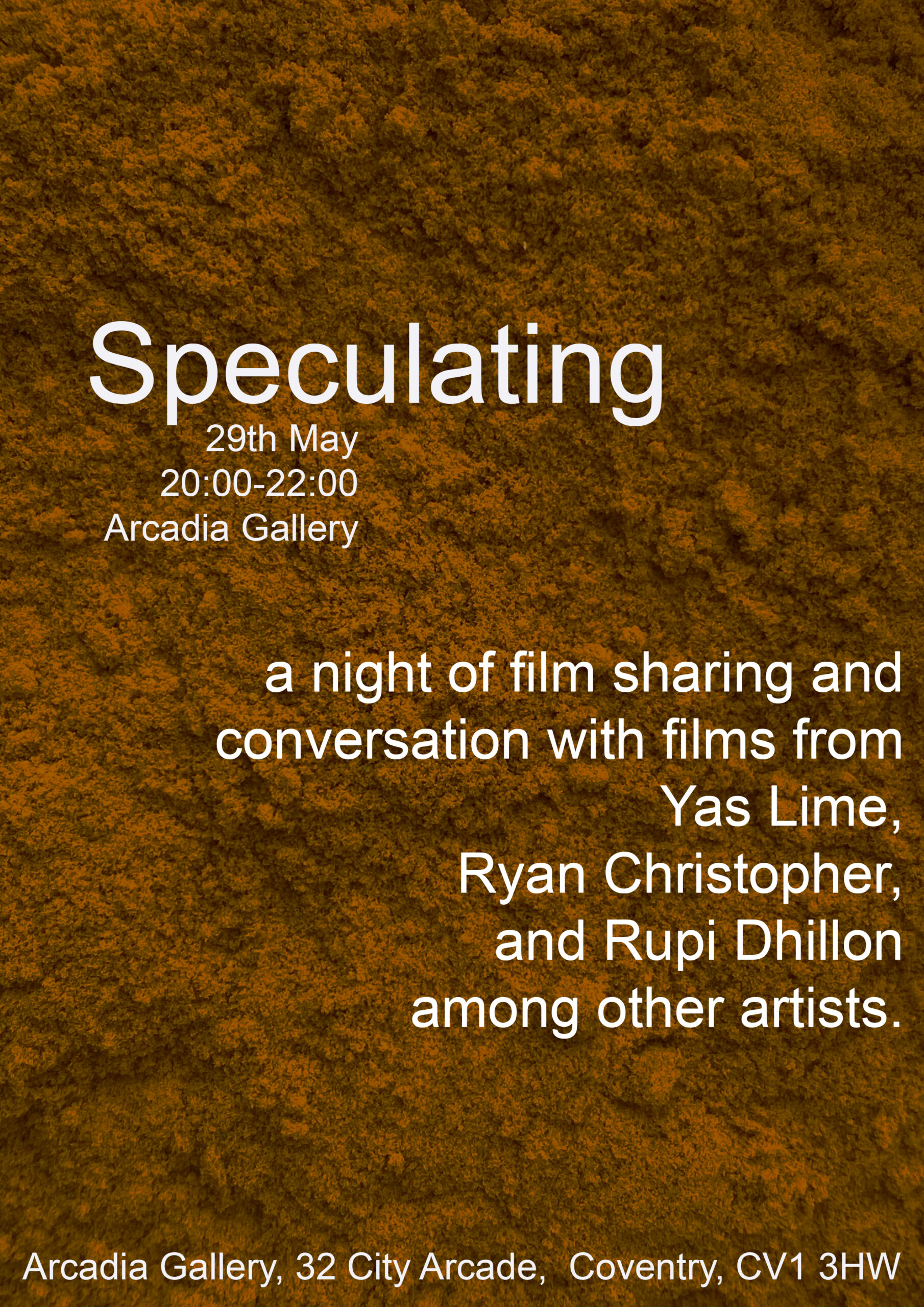 Book your tickets here.
Mark your calendar with our 8pm Saturdays 'the party is over' programmation for mediated and IRL performances, film sharing and conversation, and on site artist conversation – there will be plenty, plenty, plenty of food for thoughts catering for different dietary requirements.
This  Saturday we welcome with both hands films from Yas Lime, Ryan Christopher, and Rupi Dhillon among other artists.
Yas Lime is an early career artist-curator. They have begun to carve out a space in the DIY art scenes of Brighton and Birmingham and are currently working as an artist-curator at Eastside Projects, Birmingham. In the work made In response to the Covid 19 pandemic and lockdown they focussed on their homelife and relationships made against a backdrop of chaos, rushing and adjustment to a new job and new home.
Ryan Christopher (b.1998) Coventry, UK
Christopher's practice explores the poetics of cultivation, ellipsis and relation. Imbued with a bond to the peripheral and the hidden, the work communes with emancipatory thought. He works through the confluence of Diasporic collectivities and poetic knowledge – a shifting ecosystem of perpetual renewal, communion and creolisation. Where otherness and unknowns unsettle modes of oppressive domination.
​
In the work, tilting, abstraction and ellipsis become formal devices, and ways of carrying relations. 
We are often given fragments; bodies and systems extended in relation, peripheries made central, images dense with the inconspicuous and the irrational, the obscure and the ordinary. It is work that identifies with life.
Ideas materialise through sculpture, moving image, painting and drawing, Frequently informed by 'the Body of Christ', Horticulture, Theological Anthropology, Antillean literature and reflective film. 
Rupi Dhillon is a British, Indian, (British Asian, Punjabi, and all things in between and beyond) multidisciplinary artist based between Birmingham and The Black Country, UK.
Rupi explores the relationships and connections we have with one another as well as how we formulate a sense of self. Through her arts practice she investigates how multiplicity in culture is conducive to the concept of belonging and space. She is interested in facilitating discourse around race, gender and social class and the performability of these social structures.  Using playful techniques, her current work reimagines cultural experience through gestalt expression, participatory performance, shared practices, gifting and attachments in found objects. 
if you want to get in touch with us about access requirements or anything please write us via the following email address:
residency@coventry-artspace.co.uk .