Artspace supported Shoot Festival 2017 with an exhibition from our graduate resident of the time, Natalie Seymour.  In 2019 we were delighted to be a partner supporting the the development of a visual art strand to the Festival alongside the music and performance strands.  Industry judges Ryan Hughes (Coventry Biennial), Craig Ashley (New Art West Midlands) and Jessica Litherland (Birmingham mac) selected the three winning artists and each judge wrote a blog for us on one of the artists they had selected. The exhibition opened on the Shoot Festival Saturday and ran for 2 weeks in April 2019.
Go to the Shoot Festival website to find out more about the festival.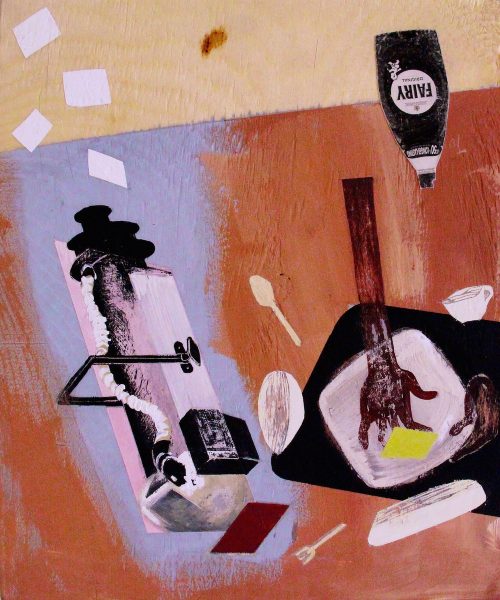 Chidera Ugada is a Coventry based artist making energetic paintings which combine found and untreated materials with various mark making techniques to explore the human condition.
Chidera makes artwork incorporating mixed media in the field of painting and drawing. A regular feature in his work is the distortion of images usually sourced from newspapers whilst he's commuting or photos taken on his mobile phone. Most recently, Chidy has been testing techniques including the use of texture contrasts, collage and engraving within painting to produce images that are more evocative. The objects of play on each piece are usually taken from different stories both real and imaginary, intertwining to create a new visual experience. Chidy is a studio holder with Coventry Artspace based at Eaton House.
Follow Chidera on Instagram: _gada07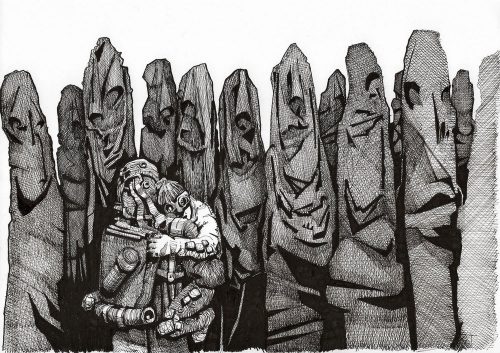 Michael Snodgrass is a Coventry based artist making very large scale drawings which explore the impact of (only partially) imagined post-apocalyptic urban spaces. 
Migrating from Nottingham in the early 1990s, Michael Snodgrass (aka Snod) is a Coventry artist producing rich and evocative monochrome drawings of textural depth that investigate themes of being lost, isolation, threat and vulnerability through scenes of post-apocalyptic industrial city landscapes. He is interested in presenting characters journeying through alternative, familiar worlds, experiencing danger and resilience. Recent works tie in with Grimm's tales of character's journeys to redemption (Hansel and Gretel) and places them away from "medieval" depictions into derelict spaces.
Follow him on Twitter: @snod2010, Instagram @snod2012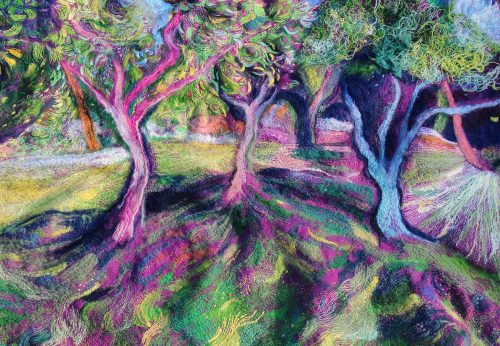 Michala Gyetvai is an artist based in rural Warwickshire making large painterly textile works which engage with historic, surreal and romantic approaches to experiencing the landscape.  
Her work seeks to capture an emotive and evocative interpretation of nature which is constantly refined throughout the process of making. The passion and freedom encountered in the immediacy of sketching is developed and channeled through paintings, and then consolidated into textile pieces. Labour and repetition are central to this process and, depending on the scale the finished textile, can take many months to complete. Michala's understanding of art is not purely the process of her individual craft, but encompasses a larger historical understanding of artists working in many mediums.
Congratulations to all three artists!  In true Shoot tradition they represent a diverse range of visual art practice in Coventry and Warwickshire.  In addition to an exciting exhibition (which will run from 6th to 20th April) as a winning artist each will receive a £200 award and £500 worth of mentoring support. We look forward to working with the Shoot team to support Chidy, Michael and Michala with developing their careers as artists.