See the Chinese translation of this blog below!
Leave all the stress to the sea – in conversation with artist Denise Startin at Arcadia Gallery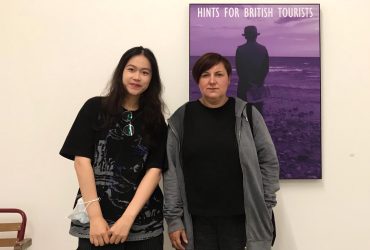 My name is Xiaohan, and I am currently studying at Warwick University for an MA in International Cultural Policy and Management. As part of my course I am currently on a short work placement with Coventry Artspace who suggested I explore my interest in curation further by interviewing Denise Startin, a Coventry artist currently exhibiting at Artspace's Arcadia Gallery in the city centre. It was the perfect task for a hot summer day.
I felt calm from the moment I stepped into the gallery. At first glance, all the works are about a person by the sea, sitting on rocks, leaning against a painted beach hut, reading a book or the newspaper, staring blankly. In the middle of the space is a pile of sand on which sits a red-and-white striped beach chair with a hat on top.
Denise studied at the Royal College of Art and has exhibited work at Compton Verney, Coventry Biennial and Whitechapel Gallery, London. The title of her exhibition is Hints for British Tourists, which was inspired by a pamphlet of the same name. In the original pamphlet, there is a particular sentence that intrigued her, 'One of the reasons I like Britain and the British, apart from liking the Sunday Times, cheese cake, Constables in the Tate, 'apples and pears' and not to mention the liveliness of their pubs is because their idea of a holiday is not just lying around on the beach and drinking.'
With the pandemic, Brexit, and now air industry chaos, making it harder for people to travel, Denise misses family holidays very much. We agreed that everyone wants to go to the beach when they are stressed or unhappy, especially during the summer. Perhaps the heart is saying, 'Don't worry any more, leave the burden to the sea'.
For Denise a summer seaside holiday was definitely something central to growing up and British culture. She described what she wants to bring to the audience in this exhibition, "I was interested in evoking memory, senses of place, evoking, you know, times away, or time with family, or time off, or time to just think when you're on holiday. There's a lot of dead moments, you know, where there's lots of excitement building up to going on holiday, but sometimes when you're on holiday, there's a lot of boredom. So, I guess that's what I was trying to bring, a sense of stillness to the idea of being on holiday."
Situated in the centre of England, Coventry is considered far from the seaside. But I grew up in inland China, where the nearest coastline was more than 1,700km away! In my mind the sea is a place full of sunshine, sunsets, smiles and happiness, but I didn't go there very often! It wasn't until I came to England that I was struck by how different the sea could be, how cold and hot, how calm and crazy it could be. I have been reading Virginia Woolf's books recently which describe a lot of seaside images. Denise's evocative photographs of beach huts and grey skies have helped me visualise the British perspective of the seaside. Despite her references to family holidays, what I feel most from the exhibition, and what strikes me as particular to the British experience of the seaside, is the calming power of stillness it has.
At the end of our conversation, I couldn't help asking a question as a tourist, 'Where do you recommend I travel to in Britain?' She shares with me three of her favourite places: North Wales, Whitby, and the Jurassic Coast (where she took the images in her exhibition). As she talks about the coastal paths and the changing weather that she loves, I am beginning to realise how important the sea is to the psyche of this island nation.
So, thank you Denise, for bringing a cool sea breeze to a hot summer's day in Coventry!
把压力都丢给大海——与Denise的对话
嗨,我是晓晗,现在在华威大学学习国际文化政策管理的硕士课程。目前在考文垂艺
术空间实习,很高兴有这么一次机会能够采访现在正在Arcadia 画廊进行展览的艺术家
Denise Startin。
从我踏入展厅的一瞬间我就感觉到了平静。一眼望过去,所有的作品都是关于一个人
在海边,坐在岩石上、靠在被粉刷过的海滩小屋上,读书、看报、发呆。展厅正中间是一
堆沙子,上面放着一把红白条纹的沙滩椅,沙滩椅上面有一个帽子。
Denise曾在英国皇家艺术学院学习版画,在康普顿·凡尼、考文垂双年展和伦敦白教堂
画廊展出过作品。我们从这次的展览主题开始聊起,Denise说她的灵感来源于一本名为《
英国游客提示》的小册子,在这本小册子有一句话特别打动她: "我喜欢英国和英国人的原
因之一,除了喜欢《星期日泰晤士报》、奶酪蛋糕、泰特艺术馆的警员、'苹果和梨',更不
用说他们酒吧里的热闹了,因为他们对假期的想法不仅仅是躺在沙滩上喝酒。"
随着疫情与英国脱欧等这样那样的事情发生,人们的出行变得更加困难,Denise对于
家庭假期有着更深的怀念。好像每个人只要压力大了或者感到不开心了,就会想要去海边
,特别是在暑假。好像心灵在说:再也不要担心,把沉重的负担交给大海吧。
对于暑假或海边度假的想法,Denise认为她的假期绝对是成长和英国文化的核心。当
谈到她想通过这次展览给观众带来什么时,她说: "我想我很感兴趣的是唤醒记忆,唤起感
官的地方,唤起人们对时间流逝的感觉,或者是与家人一起度过的时间,或者是休假的时
间。我会觉得当你度假的时候,会有很多静止的时刻。你知道,人们会有很多兴奋的冲动
去度假,但是有时候当你真正在度假的时候,会发现其实有时候也挺无聊的。所以,我想这
就是我想给度假的想法带来一种平静的感觉。"
作为一个成长在中国内陆远离海边的人,在我的印象中,海边一直是充满着阳光、落
日、笑容和幸福的地方。直到来到英国,我才深刻感受到海可以如此不同,它可以冰冷又
炙热、平静又疯狂。这让我想起了最近在读伍尔夫的作品,里面描写了很多海边的意象,
我总会不自觉地把Denise的这些作品的感觉带入其中,它让我感受到更深的一个人从内而
发的平静的力量。
到最后,我实在忍不住问了我作为一个游客最想问的一个问题,即"推荐哪里去旅游
?"
她分享了三个她喜欢的地方: 北威尔士,惠特比,还有侏罗纪海岸(展览展出的照片所拍
摄的地方)。她真的十分喜欢海边。是啊,海边小路、多变的天气、不管是独自一人或与朋
友家人一起,有谁不向往呢?
至此,谢谢Denise,给远离海边的考文垂带来了清凉的海风,让我们在燥热的夏天中
能够有一瞬间沉静下来。