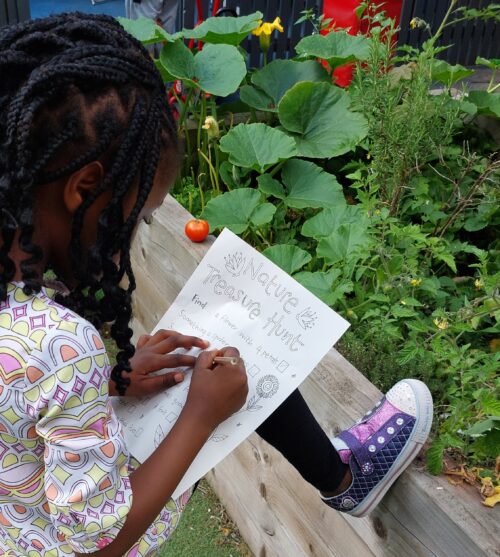 It is a lovely hot day in August and we're gathered in the Families For All Hub for our weekly WOW (Wellbeing on Wednesdays) session. Running these sessions in August is part of my Artist On My Street residency, culminating in the creation of a big piece of art for a wall within the Centre. It's our third workshop today and the theme is 'Nature'. We have two different activities going on. Inside we are re-purposing fabric to make flowers for the artwork and designing and decorating our own birds, insects and animals. Outside we are running a treasure hunt to encourage participants to look more closely at the environment around the Centre – noticing plants and insects they don't usually spend time looking at.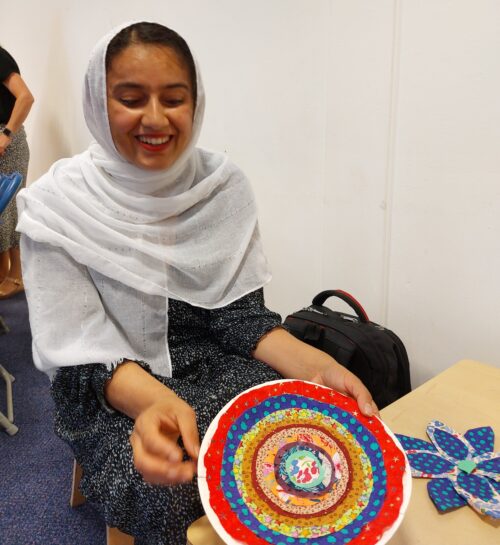 There is a group of women who have been bringing their small children here for the last couple of weeks. They have grown in confidence and I'm so happy they've discovered the pleasures of colouring and crafting with us. One is using the fabric to elaborate on a circular design she painted last session. Concentric layers of different coloured and patterned fabric are telling the story of her own growth as a mother and as woman. I watch her sticking the fabric in place, laughing at the glue sticking her fingers together. Alongside her is another family group. The girls are diligently colouring the drawings I prepared. The boy is creating what looks to me like an African hut – very much like the ones I used to see in the countryside in Rwanda. It's sculpted from paper – a round house with a conical roof and a bench outside. There's even a tree offering shade. Anything goes in these workshops. As long as I get enough prompts and artworks to use in the final design, I welcome people letting their creativity run riot with the materials we've provided. This house is brilliant and no one is shy about saying so.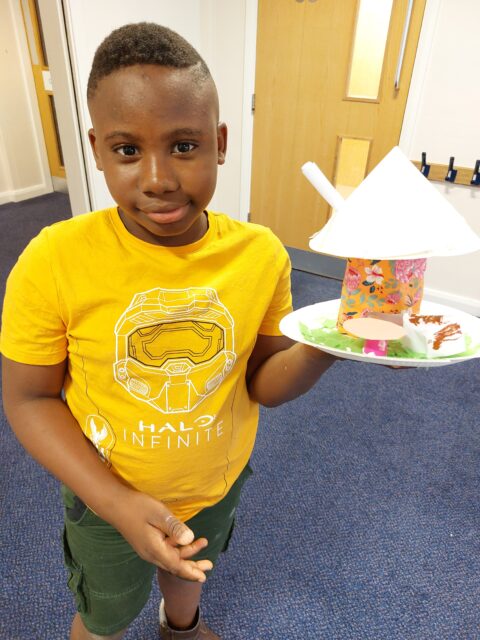 The kids are here with Dad and it's great to see him get stuck in as well. I can't vouch for his work as he's proud enough to take it home with him, but in the making you can see where his kids got their artistic ability. Later on a girl comes in with her grandmother and creates a design of bright stars on a red background – I can immediately see it forming the frontage of one of the houses in the eventual artwork. She's shy and takes a while to get going, but the industrious atmosphere soon relaxes her. I leave Ilina in charge for a while (Ilina is our brilliant Artspace intern, funded by the Warwick Institute of Engagement) and facilitate some treasure-hunting in the garden. In the heat of the back yard, I hunt for spider webs and four-petaled flowers with a few children. We feel plant-fibre-fluff between our fingers and watch the bees buzzing over the sunflowers. We discover squashes and  courgettes growing and crush crispy brown ivy leaves in our hands. When we have ticked every box on the list, we reward ourselves with sweets.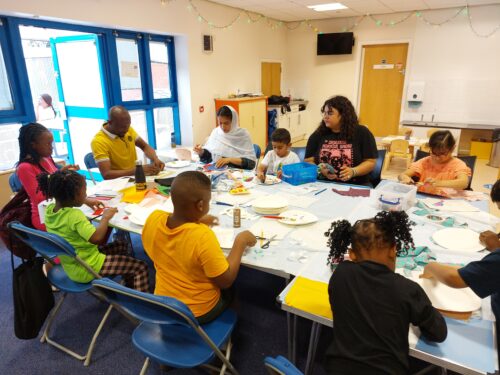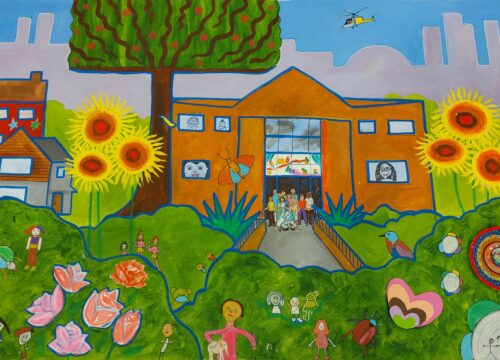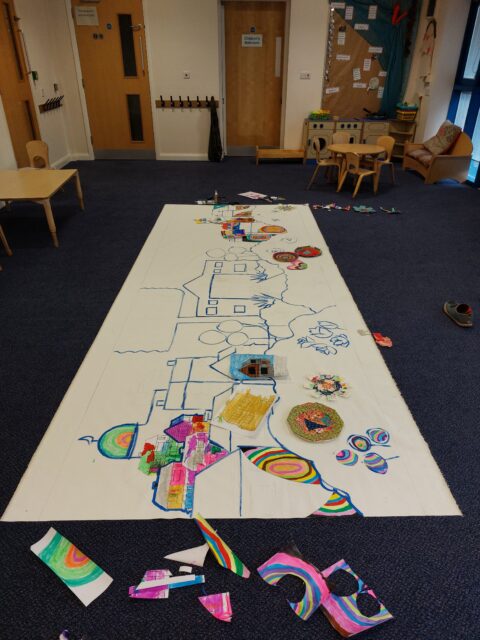 My August passed like this. Between workshops three and four I began to work on the design for the artwork – a wall hanging four meters by one and a half meters, to cover a whole wall of the Family Hub. I started to paint it on quiet days, flicking through all the art and photos people had produced in the sessions, building the plan around the themes of each session – home, people we love, nature and gratitude. All through the process I was thinking about these themes too. The Centre is such a warm and welcoming place, its staff are so dedicated and friendly, I feel so welcome and comfortable there – I really want to give my best to the project. I'm inspired to include all the staff in the finished artwork and really celebrate the Centre itself, even though that wasn't part of my initial plan at all.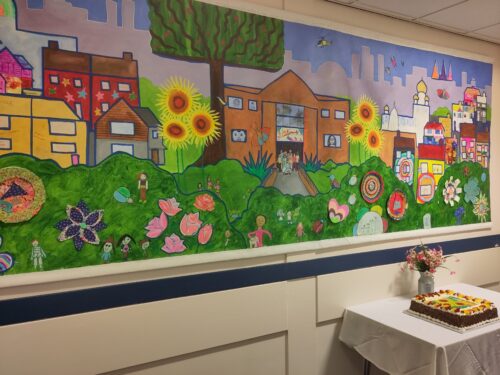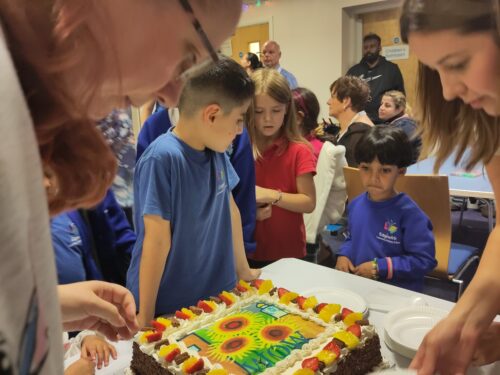 Now the artwork is up and we've celebrated it's launch with a fabulous cake and words from all the partners and some of the participants. So it's the end of my role in the project and it feels strange not having that lift in the middle of my week. Looking at the design, I hope that everyone who took part in the workshops can find traces of their work – in it's original form or carefully reproduced by myself. I know kids coming through the Centre will be able to recognise themselves and their friends and families.
I'm massively grateful to all the partners Coventry Artspace, Foleshill Creates and Foleshill Family Hub for the opportunity to be involved in this lovely project. And of course to The Arts Society for supporting it with funding. Perhaps there will be another chance in the future to see the fantastic staff of Families For All Foleshill Hub again, and the lovely families who attended my workshops. In the meantime I will treasure the memories of Wellbeing on Wednesdays in Foleshill 2023.
Images: Andrea Mbarushimana