Jessica Timmis is currently our Artist-In-Residence for our residency opportunity in partnership with Art Friends Warwickshire. She has shared some words on her time at Eaton House so far, and where the residency is taking her creative practice…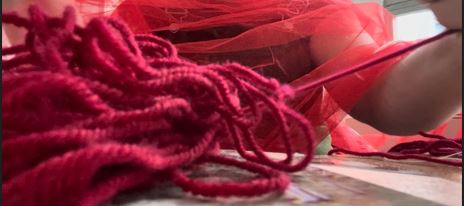 'Inside the Red Room – Shruff End '
On the 6th of February 2023 I checked into the Art Hotel. The blue skies of Coventry were glorious that day and although about as far from the coast I could be I was reminded of the Iris Murdoch novel 'The Sea, The Sea' as I excitedly opened the door to my allocated room, suitcases in hand.
Much of my work is thematically focused on exploring complexities within the maternal relationship through both a personal and political lens. Having experienced traumatic maternal loss 17 years ago I had recently with some very kind support returned to the unfinished novel I was reading at the time of my mother's death.
It is a curious and compelling novel; the focus of which, amongst other things is food. Food is, of course one of the first connections to the primary care giver, usually the mother.
I have become interested in a rather downtrodden character within the novel called Mary Hartley who appears to be uncomfortably stuck in patriarchy and petrified by the many projections that are placed upon her. I decided within my residency period to amplify Hartley's muffled and muted voice.
I want to help her escape the Inner Rooms of 'Shruff End' where at one point she is positioned as totally stuck, desiring both escape and her make up. Hartley speaks of the problematic positioning of the feminine and the maternal within patriarchy on many levels – her lack of agency, the framing of her as a mad hysteric, a receptacle for others projections…
I am currently working on ways to set her free.
Hartley and 'The Sea, The Sea' are of course cultural markers for my own maternal loss, however they have relevance to all those invested in the maternal.
In this bid for freedom I have been employing the help of another cultural marker within my relationship with my mother.
In 1978- late pregnancy my mother watched a Utopian Drama called Logan's Run. I was subsequently named after the main female character Jessica6. The total antithesis of Hartley, she is an empowered adventurer, a runner, an escapee. She symbolizes the beginning of my relationship with my mother representing her desires for me.
Together our plan is to build a maternal lineage integration and healing chamber that can be utilized by all.
This chamber will have great transformative power.
It will have a particularly powerful ability to amplify marginalized maternal voices.
Through a series of art works and actions I am shaping how this will look.
——————————————————————————————————-
Jessica Timmis is an Artist, a Visiting Lecturer at Coventry University and an
HCPC registered Art Psychotherapist.
She gained Arts Council DYCP funding in 2022 to explore Performative
elements within her practice.
She also runs Experimental Creative Workshops that are
' Not Therapy, Not Performance, Not yet Utopian