John is a Coventry-based photographer who specialises in traditional analogue techniques using his own dark room for printing. Much of his work is travel and documentary photography, but John also has a vast portfolio of commissioned work spanning across event and behind-the scenes photography.
At the beginning of the year, John converted one of the rooms of The Row into a temporary camera obscura and dark room and has written a blog to share what happened during his residency there…
The Row Camera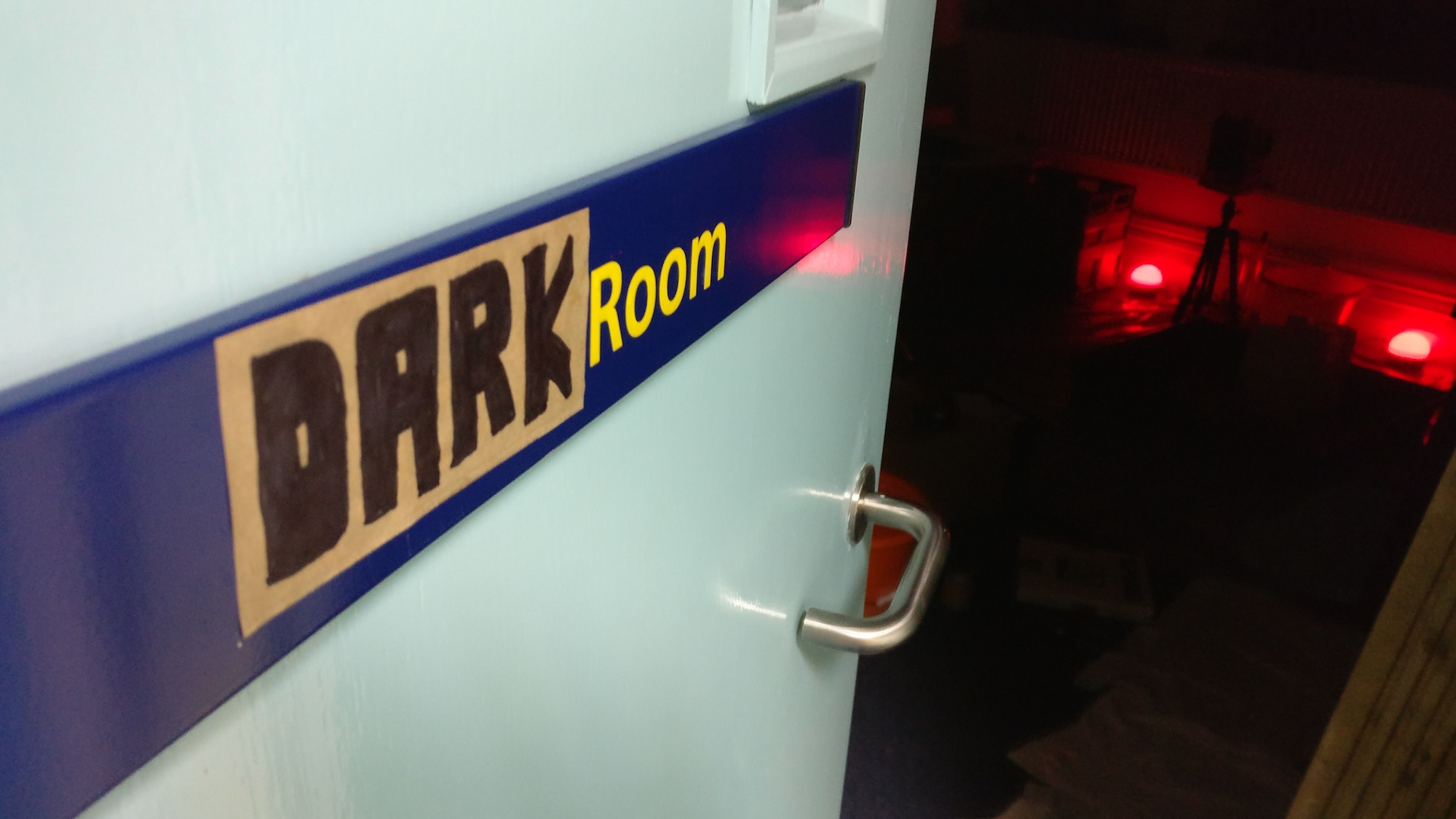 For 2 weeks in early January I was very kindly given access to the north-east, top floor corner room of The Row (Coventry Artspace's latest addition) to turn into a temporary camera obscura and darkroom. For a while I have been experimenting with some darkroom process within the control of my home studio and wanted to attempt to take these mobile and create some location specific pieces.
Most of the darkroom printing that I produce is a quest for 'doing things right' and I wanted to force myself away from this, capturing and creating images that would be full of imperfections imposed upon me by the environment I was making them in.
Firstly the was room was made completely light-tight, an easel setup where the image could be projected and development chemicals were mixed ready for use in trays. Entering the room for the first time last year I was drawn to the 2 distinct vistas from the north and east windows, the mish-mash of architectural influences that fill the Coventry skyline.
I cut 2 small holes in the sheeting and let the image projected fill the walls – in all it's upside down and back-to-front glory – it's probably the biggest camera I've ever been inside!
Making prints from the image involves capturing the projection (creating tests to determine exposure times) on photographic paper and then processing through a series of chemical baths.
Over the following days various experiments were done with different pinholes, lens setups, filters and moving an easel and direction of view. Different paper and chemical processes were also experimented with including black & white paper negatives, positive contact prints and colour prints with RA4 reversal.
The colour process is designed to work from a colour negative and the chemicals are used at 37degrees. Creating a positive involves using B&W developer, exposing the light and then using the colour process at room temperature – with all these variables the final print is inevitably imperfect. Exactly what I wanted.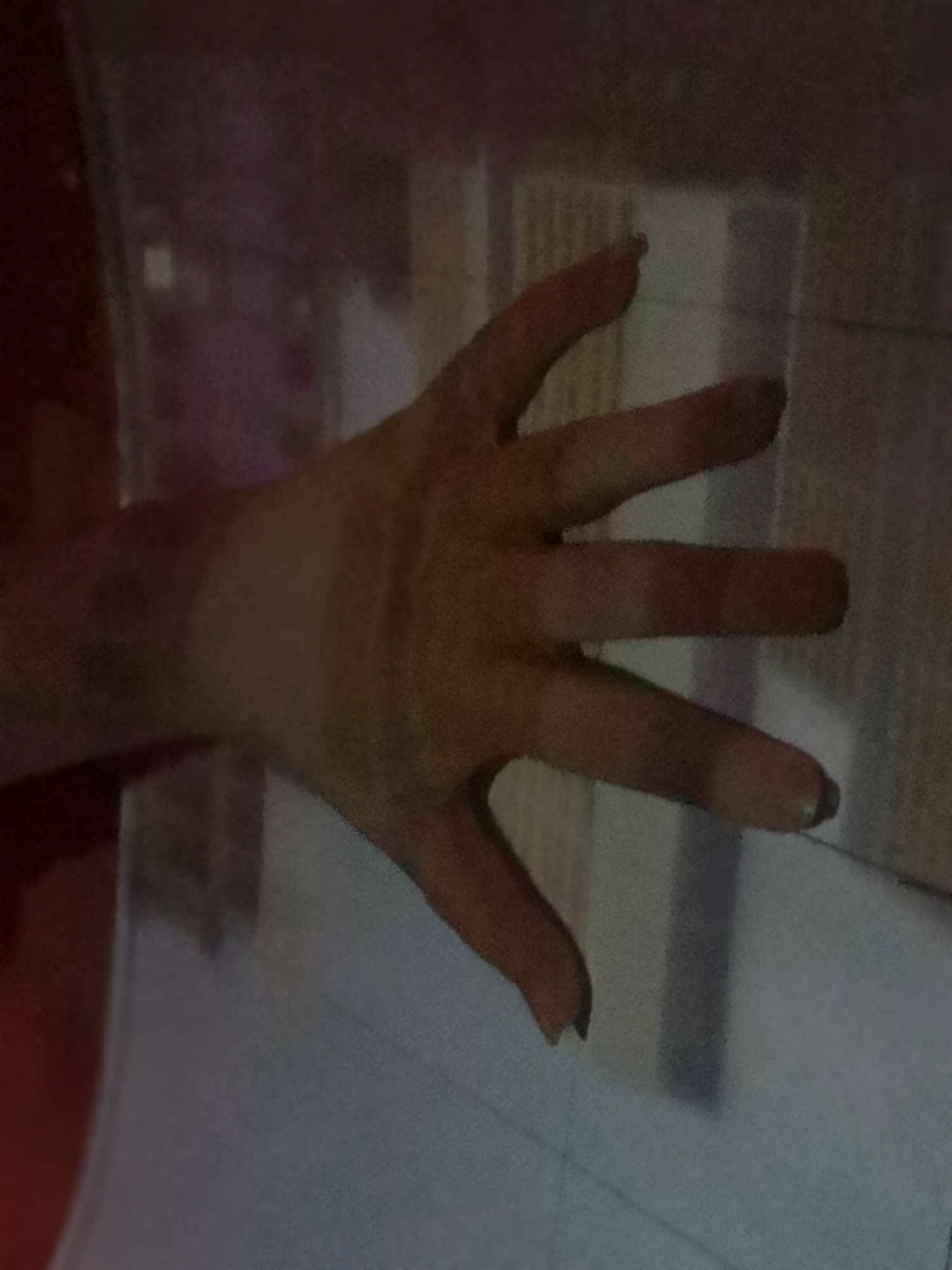 (Image credit – Tara Rutledge).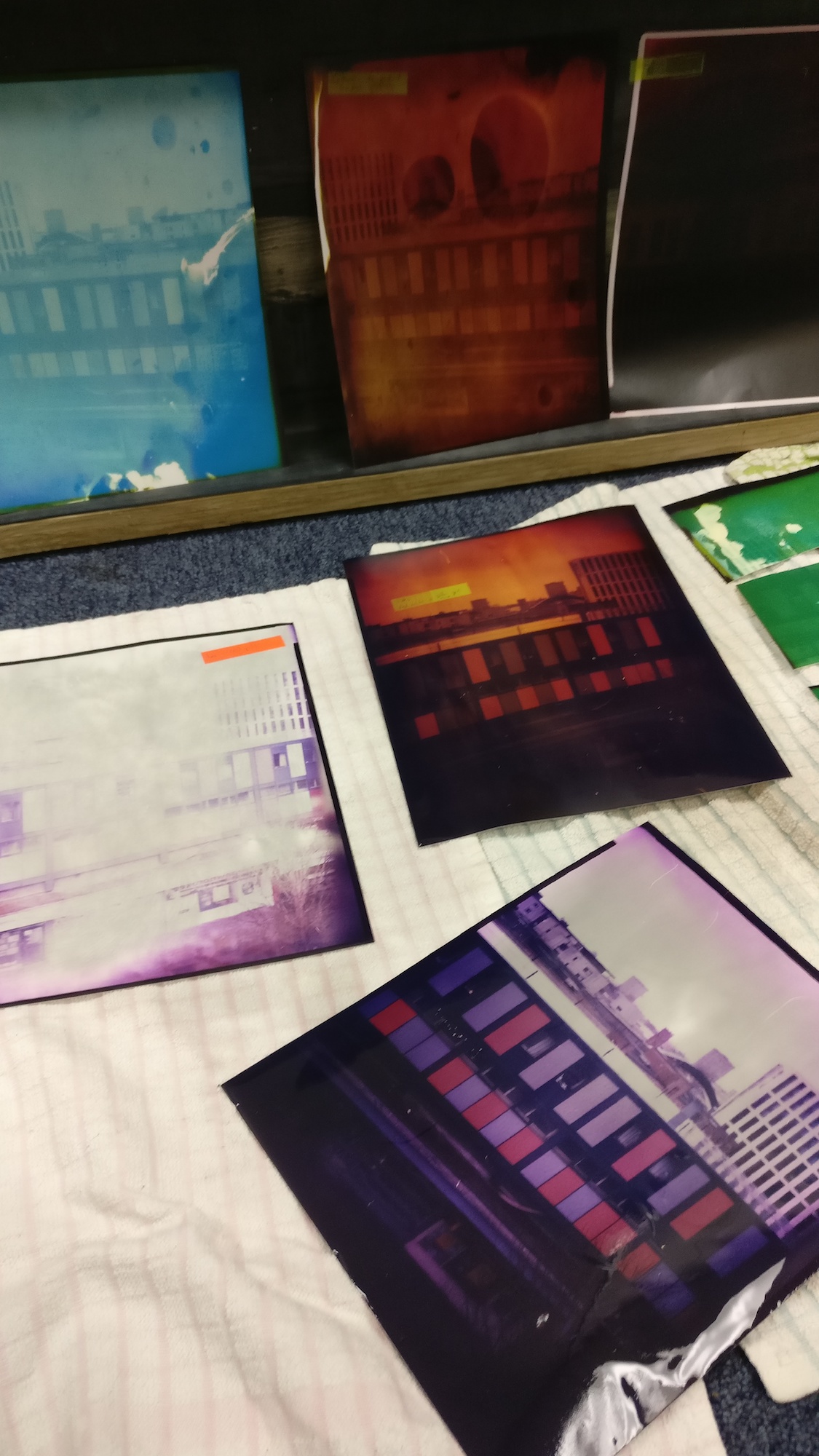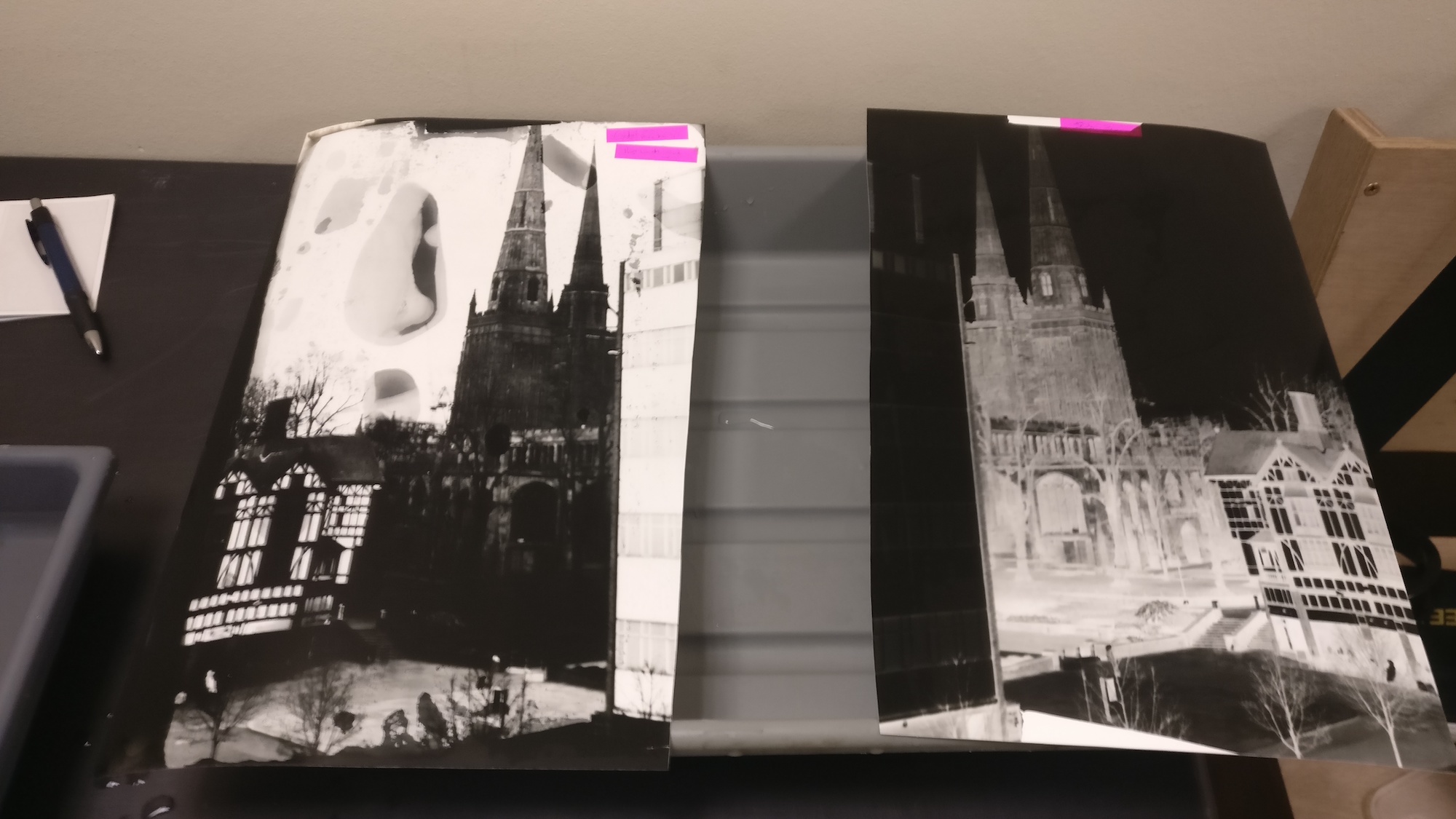 My final setup, which gave the most flexibility, usable exposure times (on overcast days some were still in excess of 15 minutes) came from using a detached front standard from a large format camera on a custom base (thanks for Steve from Chroma Camera!) which supported a 2000mm meniscus lens from Willett's Amazing Camera Obscura .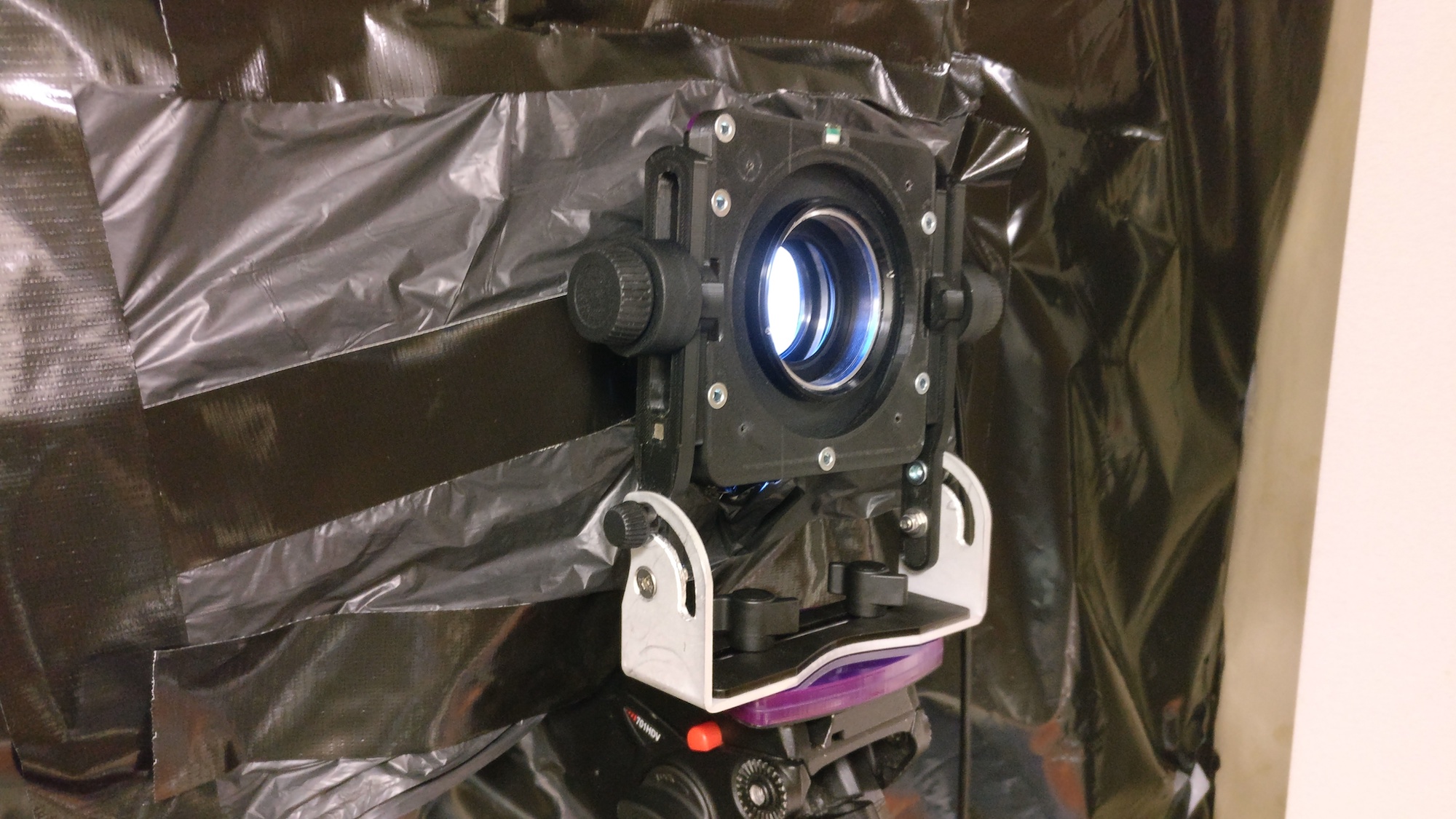 Experimentation and iteration happened fast, time disappearing without distractions. After a few days in the room I began to understand how the sunlight (if there was any!) was falling on the buildings and the times of day when certain buildings were bathed in sunlight. I was drawn to the view from the north window, the rooftops of The Burges with the new student accommodation rising and growing over them.
I scaled the process up, projecting onto a large board left over after the Coventry Biennial (thanks Ryan!) and exposing onto rolls of photographic paper with troughs to process it in.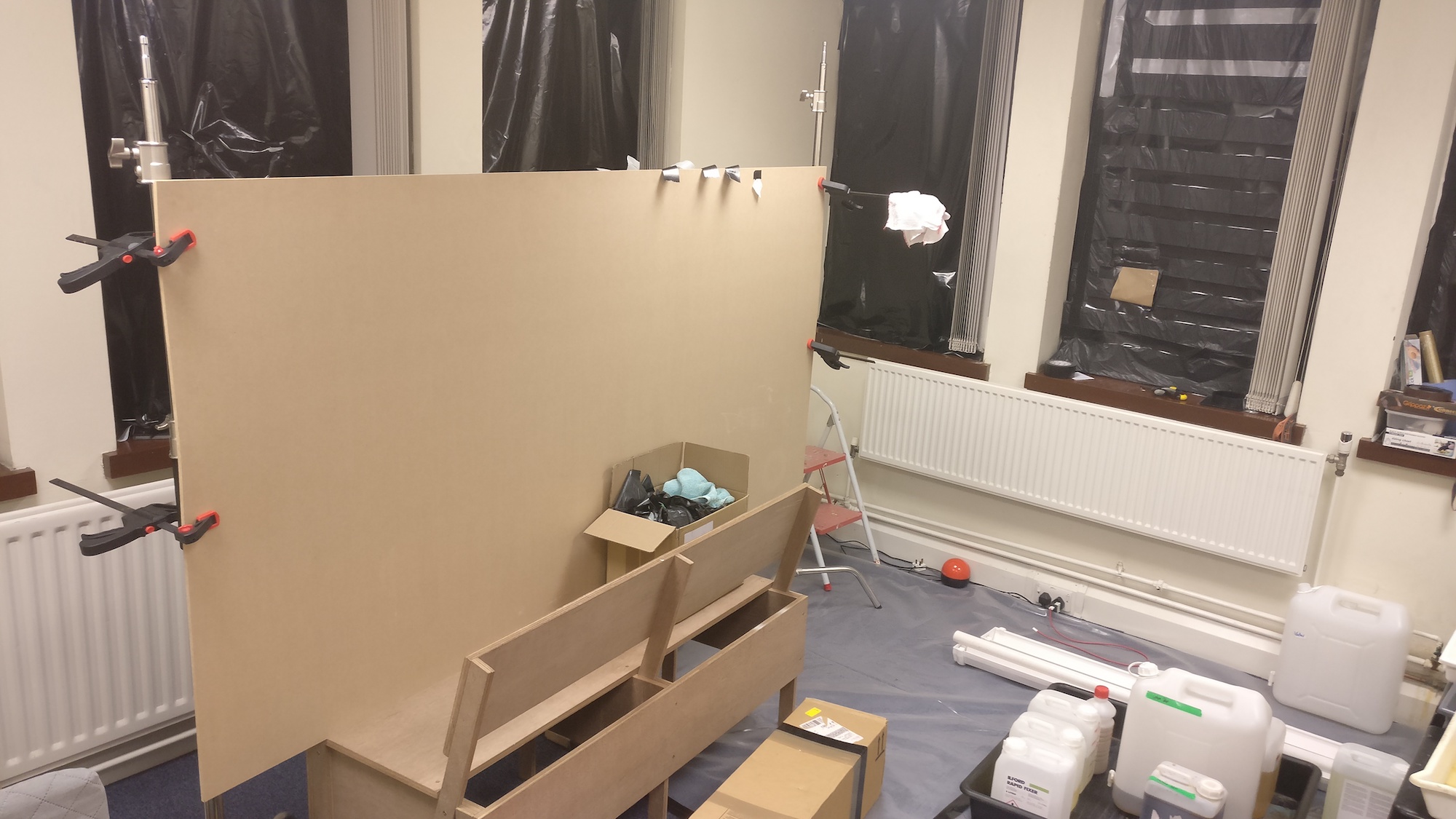 Tara Rutledge visited to collaborate, bringing in some accessories to experiment with including creating a wet print from a digital projection and using a 3-mirrored kaleidoscope with the camera obscura, producing contact prints and using different colour filters.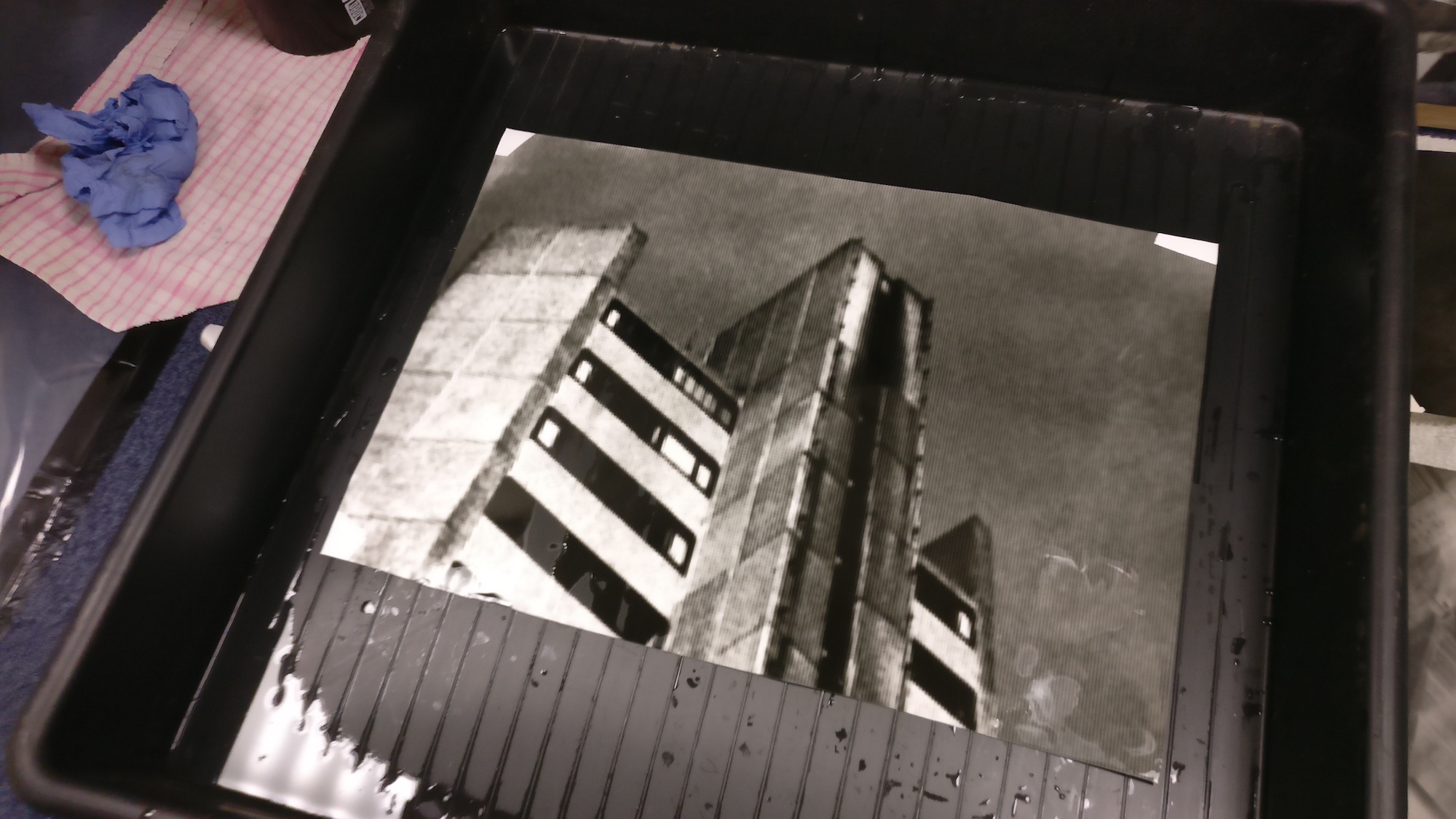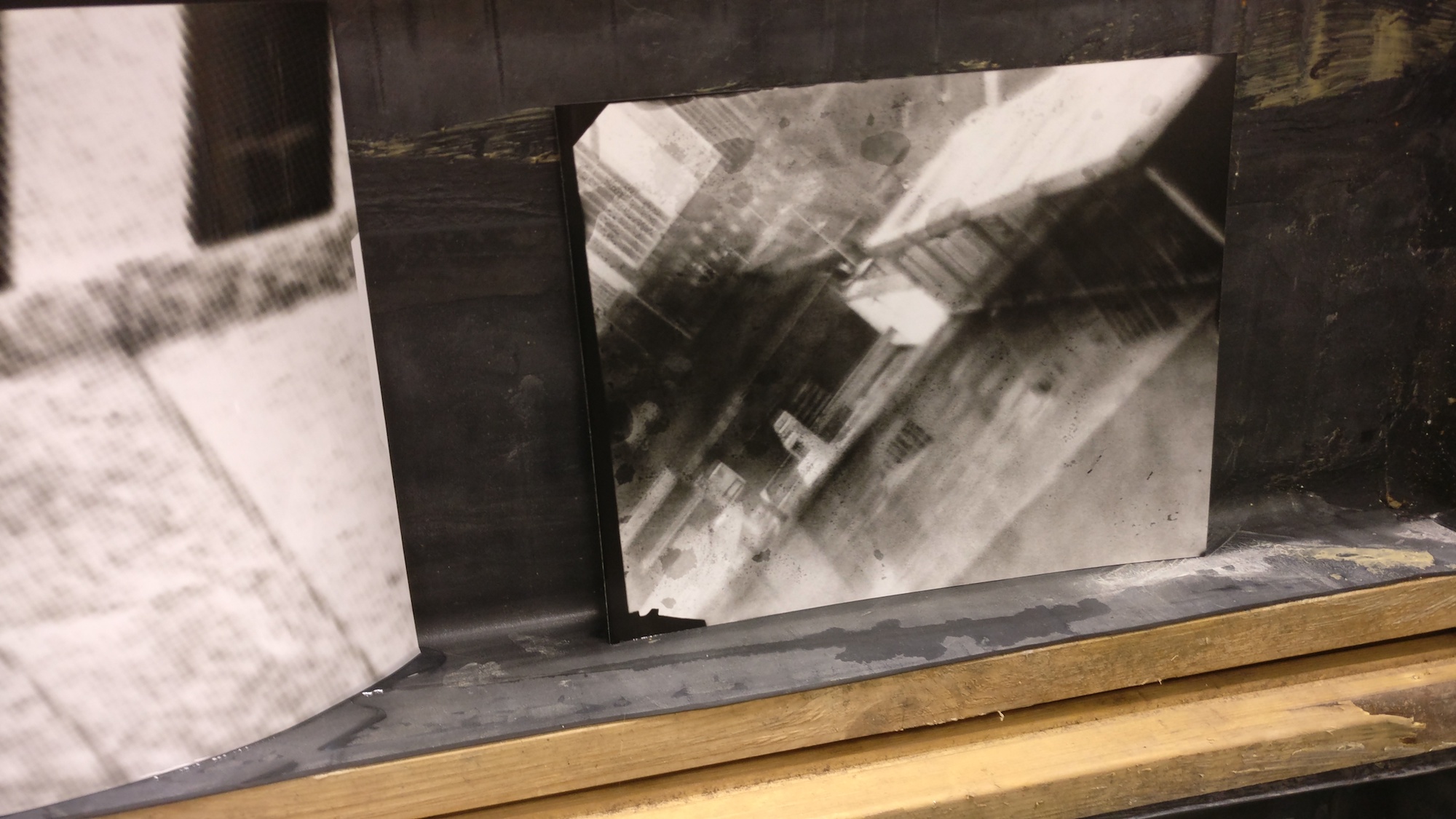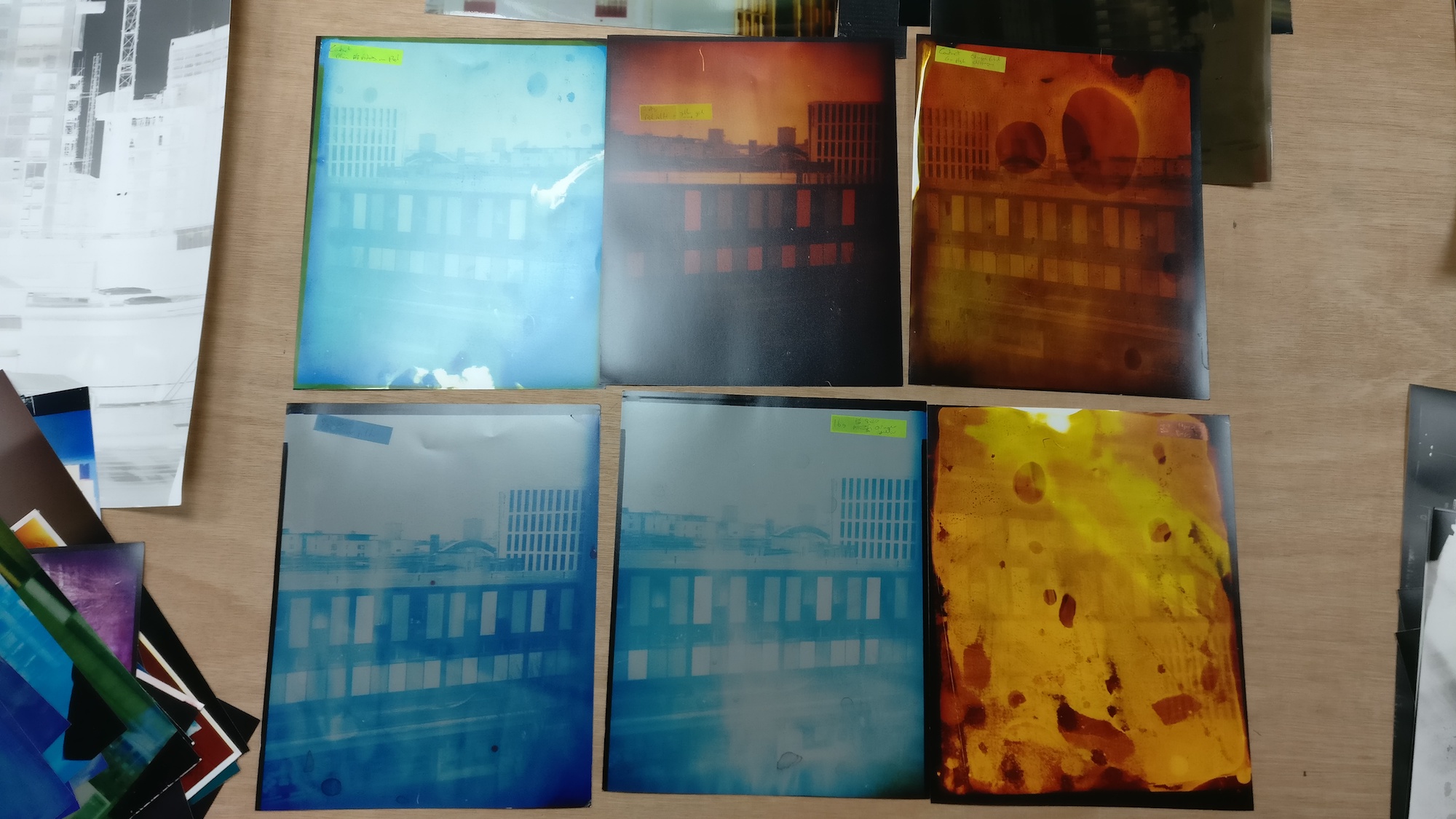 Finally this led to producing 2 large scale (3ftx5ft) prints one in B&W and one colour, the process was cumbersome and tricky, working either in complete darkness or under safe light – help from Chris O'Connell during this phase was greatly appreciated! Although the final colour mural print did not give the clarity I was hoping for (the chemical process gave significantly different results when using the roll) I was still pleased with it and is a process I will definitely continue to work with and refine.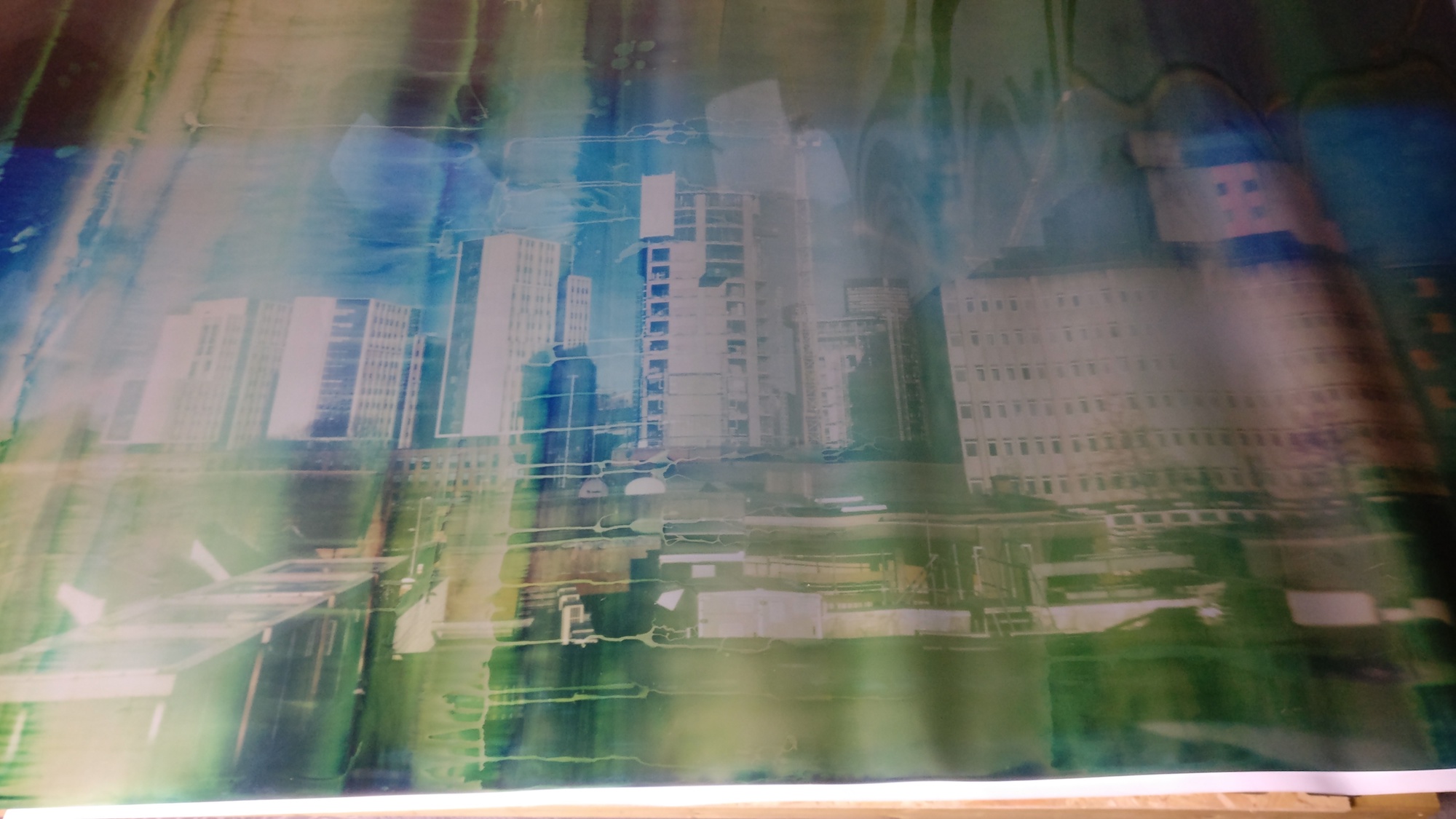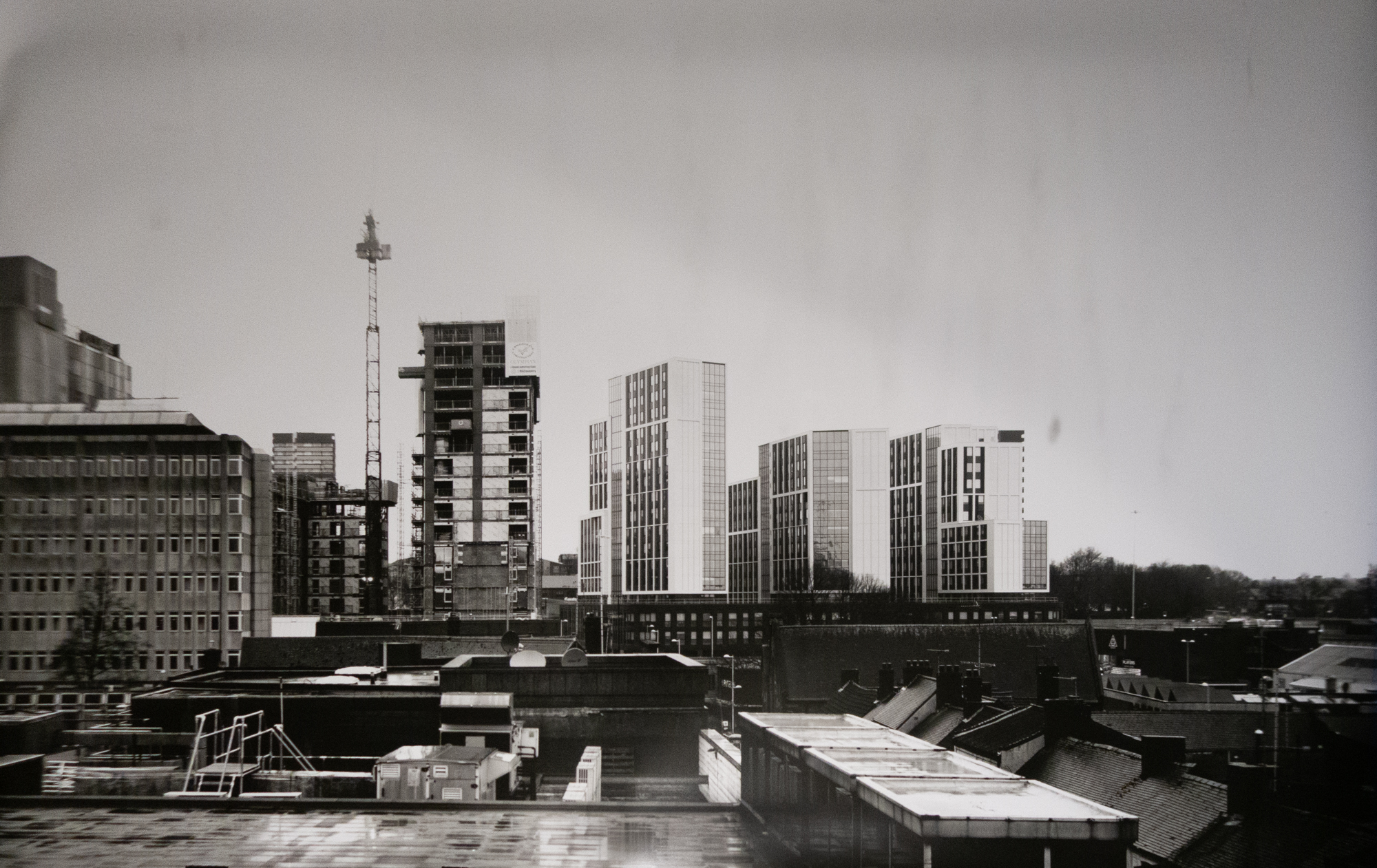 Evolution – approx. 3ftx4ft Silver gelatin print
I would really like to take this setup to other locations and turn them into massive cameras/darkrooms, if you know of any available please get in touch! 
https://johnwhitmorephotography.co.uk
Twitter : @thedarkshed
IG : @thedarkshed