Following last week's blog about melissandre's residency at Arcadia, a partnership project with
Outside In Midlands Hub
, we're delighted to support them here with the sharing of a second film. mel's last sharing of the season in this space is,
change your style
, a poetry film by lanaire aderemi. They will also be taking over the
@CovArtspace IG account
for a day!
Lanaire told melissandre her thoughts about the opportunity to share her films and have a conversation about her work in a gallery space, 'to share in a gallery space as a Black artist will mean I get to dance with/in/through the archive. It will also mean I get to practice black feminist theory and theorise black feminist politics through playfulness, poetry and performance.'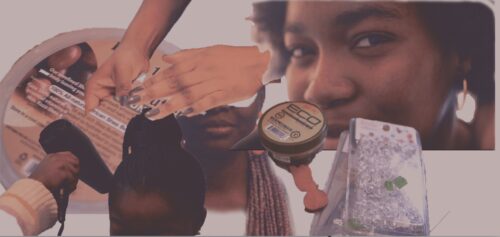 creative director : judith akua arthur (judiffa), cinematographer : yomi atiko
Alongside the film we had hoped to share with you, here and on instagram, a 15 minute audio of mel talking with lanaire about her film and her practice. Unfortunately, due to circumstances beyond our control, we are not able to bring you that at this time. However, if you would like to contribute your thoughts and comments in response to lanaire's film, please do so on any of our social media channels –
Facebook
Twitter
or
Instagram
At 3.30pm on 18 November mel will take you on a live last (minute) guided tour of
a living space
at Arcadia Gallery, then at around 6pm, they will share on
@CovArtspace instagram
the ritual leading to the final form of
roots/routes
the swing they have been working on during their residency.
'Lanaire's poetry film change your style explores the hair journey(s) of Black women around the world whilst combining childhood songs with monologues from research she conducted in hair shops'.
Lanaire is a playwright , poet and performer. Her work mainly explores the politics of memory whilst challenging the marginalisation of Black women's voices, histories and stories. She graduated from the University of Warwick with a 1st Class in Sociology and the Best Dissertation in her department in 2020 and is currently on the Warwick MA Writing Programme.
Lanaire has years of experience mixing poetry with music to create powerful stories and multidisciplinary work. This experimental approach alongside her research in Black feminist, specifically, Yoruba oral tradition(s) has inspired the creation of productions like 'an evening with verse writer' (Tristan Bates, 2018 ), (Coventry Shop Front Theatre, 2019 ), (Warwick Arts Centre, 2019) which pushes the boundaries of storytelling, poetry and music. This play also won the Shoot Festival Artist Development Award in 2019.