Helen Kilby-Nelson and Sara Maycock are members of The Shared Collective and comment here about their experience of working on an Art of Curation project with curator Anna Douglas to create the exhibition Backbone at Arcadia Gallery (2-10 November 2018).  We will share the last blog from artist Ann Simpson tomorrow Saturday 10 November, which is also the last day of the exhibition.
What thoughts and feelings do you have when you hear the term 'older women'?  What age do we start aging?  How are older women viewed in contemporary society?  What age do we consider old?  What do we fear about aging? These questions were just a few that we asked of ourselves and each other during our three day intensive exploration with Curator, Anna Douglas, as a group of 'older women artists'. Anna guided and supported us as we entered into conversation about our own experiences, expectations and fears before introducing us to some of the amazing collection of Shirley Baker's photographs, an eclectic series of images of older women around the streets of Manchester.  We delved into many aspects of how it feels to be a woman growing older and, following our soul searching first session, we learned much about ourselves, women, photography and the role of the curator, exhibition and installation during Anna's Art of Curation Masterclass and Lecture.  Through a process of autoethnography and photo-elicitation, we saw more than the ephemeral image, stretching it into an existential narrative of the past, present and future.  Of the beauty of women, a beauty that lays in their strength, resilience, empathy and compassion.  It is these that connect us across time, race and place.  Women do not fade, they continue to bloom from within.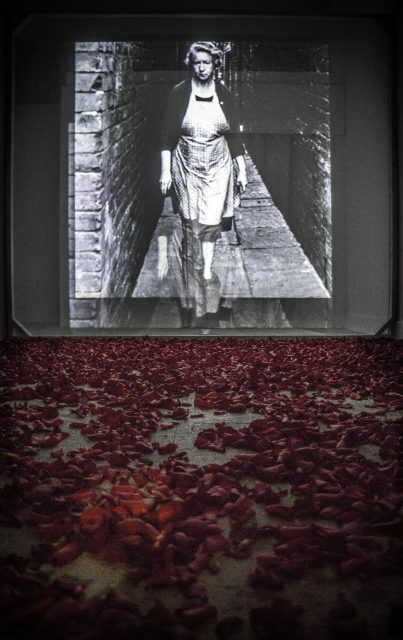 Sara Maycock
It has been a great privilege to look at the work of street photographer Shirley Baker under the guidance of experienced curator Anna Douglas.  The images speak very powerfully of lost communities living on the streets of Salford and Manchester – a way of life which is sadly long gone. Working alongside fellow members of the Shared Collective our project focused on images of older women, whose strength of character Shirley captured very well.  The women held families and communities together, but their vital contribution was generally overlooked and Shirley's photographs of the streets were frequently misjudged as scenes of poverty, rather than culturally rich communities. Our work focused on understanding the lives they led and the characters they might have been, with a view to giving these women a voice – and the resulting projection of images from the past, combined with our own voices speaking prose and poetry in the present, has a haunting quality that brings life to people who are no longer with us.
It was been an intense and exciting experience over a short period of time. As a geographer and urban walker, I have a practical and creative interest in the politics of urban space and community  at a time when the public sphere is under unprecedented threat. There is much that I can take from Shirley Baker's work on the streets of Manchester and the narratives she portrays.
A big thank you to fellow Shared Collective artists and Anna Douglas for their energy, generosity of spirit and support over the course of the project.
Backbone is made possible by the kind permission of The Shirley Baker Estate and the Mary Evans Picture Library.  It is the fourth and final art work of The Art of Coventry programme, which was developed and delivered by Coventry Artspace May-Nov 2018, with the generous support of Coventry City Council, Arts Council England, Coventry University and New Art West Midlands
Exhibition photographs by Tara Rutledge