In September we wished a fond farewell to our Graduate Artists-In-Residence Helen Kilby Nelson and Adam Neal. We couldn't be more proud of what they achieved during their year with us, and are excited to see how their careers will continue to develop as artists.
We are thrilled to welcome our new Graduate Artist-In-Residence Janet Tryner who is settling into her new studio space here at Eaton House. Unfortunately Emily Hett was not able to proceed with her residency with us, but was offered a wonderful opportunity at Loughborough University, so we'd like to wish her all the very best. We will, however be offering some short-term residencies in the new year for early/mid career artists including three-month studio space followed by a short exhibition at Arcadia. Stay tuned for further announcements on this.
Here's what Janet has to say about her current residency with us:
"From now until next summer, I am fortunate to be 2019/20's recipient of Artspace Coventry's graduate residency at Eaton House. Each month I'll be writing a blog post about my residency. This gives me the opportunity to reach out of the studio and share my artistic practice as it develops from graduation this summer towards a solo show of my work at Arcadia Gallery next summer.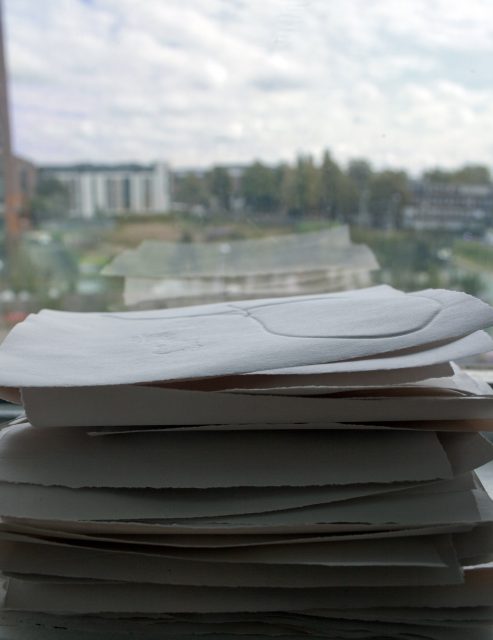 When I made my initial proposals to Coventry Artspace, I said I saw Eaton House as a pivot from which I could explore the city. Now, looking out from my fourth-floor corner studio, this magnificent view over the city serves to remind me of this. It's funny to be so far up when I have been making work mostly about being at ground level. My idea was to walk through the city to the studio and back again as a means to gather inspiration for work. This might produce written and drawn observations, but more likely a collection of gathered objects from the ground – as if I were half litter-picker and half magpie. These fragments – sometimes organic, sometimes not – would become incorporated in work. Either bodily or symbolically, or they would stimulate work by the discovery of the processes ('real' or imagined) by which they were caused to be left on the ground so I could find them.
I use these walks to reset my headspace from family concerns to art and to understand where and how I am. However, these are not just personal existential questions. I'm interested in how outside places are connected, and how these interstitial spaces are moved through on foot and, in phenomenological terms how I feel when I am there. What happens when personal passages are interrupted, obstructed, channelled, or re-channelled in socio-historical ways by structures and activities?
Also, I look for where wild, abandoned and avoided areas might have come into existence. Revealing strategies for non-human inhabitation as well as corresponding strategies that disallow it. Furthermore, I'm interested in intersecting points where civic design fails, enabling transgressions to form, such as desire-lines; unforeseen pathways formed between one place and another.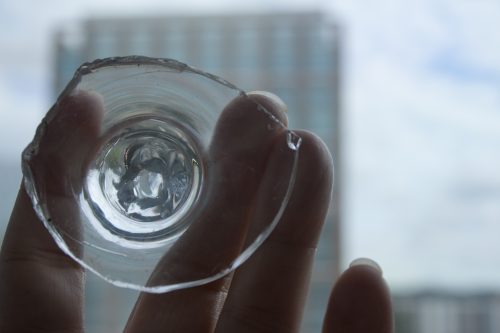 Currently, I am using my growing collection of bits and bobs to make a series of embossed papers and small casts. I am also allowing myself time to investigate new making techniques and finish creating some pieces I started last year in light of new discoveries.
You can find out more about my work at www.janettryner.com, on my blog http://anatomyofasmile.blogspot.com and on Instagram: @anatomyofasmile. I would be really interested to receive hints and tips in regards to my walks through Coventry.
Is there anywhere I should explore?"