Our Graduate Artist In Residence Janet has been looking ahead at her plans as an artist for 2020 and the opportunities the New Year brings…
December has been busy and subject to the usually shared lulls in work to reconnect with family. Time out has also enabled me to forge new connections and personal plans for 2020 and it will be interesting to see what will come of these. There seem to be a number of opportunities for artists that are configured around application deadlines in January, so I suspect Christmas for artists is generally more of a lull in making and an increase in writing. I'm encouraged in these applications by having recently had some work selected and shown.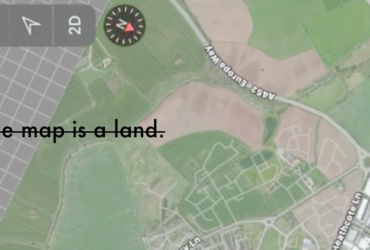 The first of these, a video piece 'Stand on the Ground' is being shown as part of the 4th Wrong Biennale1on Oscar Cass-Darweish + Sean O'Keeffe's Falls The Shadow Wrong Router2 housed at Eastside Projects in their 'library of digital representations of space' which 'explores mirrored and distorted realities.' It's heartening to have work I prepared for my degree that never made the final cut because I couldn't fit it in having a chance to be seen. 'Stand on the Ground' was my response to the perceptual layering of digital visions of land over the real, which I experienced while exploring new housing estates. Often I found myself on land undergoing radical change not reflected in its bland virtual portrait. This created an understanding of land frequently at odds with reality; anachronistic, often disorienting and misleading in terms of access. It is accessible within range of the Falls The Shadow Wrong Router until the end of the Wrong Biennale March 1st. The Wrong promotes and pushes forward contemporary digital art to a wider audience and there is so much to see there.
1. https://thewrong.org
https://fallstheshadow.co.uk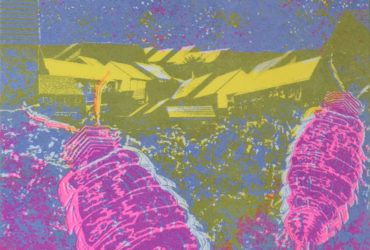 Being in a place and at the same time being in that place or another place virtually is a thread I want to explore further and I have initiated steps to acquire new skills to push forward my work in 2020. Considering how the future might be experienced is a theme of the second work which was published by Birmingham-based risograph printers The Holodeck in their RisoBook 2'Future Conditional.'3I love risograph prints, and I admit I had been stalking The Holodeck for their next open call so I was delighted one of my woodlouse designs called 'They want to live in silver houses' included. This was my first go at designing for risograph and I'm looking forward to more. I have kindly been sent 17 prints of this by Joseph from The Holodeck, therefore I can bear to part with some, so if anyone would like to own a print for themselves please get in touch.
https://theholodeck.co.uk