Our graduate artists Adam and Helen reflect here on the first month of their residency and the challenges recent graduates face when they no longer have access to the support of peers and tutors.  Their honesty and openness will no doubt chime with many others.  While Adam and Helen will of course benefit from the input and support of Artspace studio holders and trustees over the course of their first year out of college, we are aware of how many won't have access to such support.  Please remember that our networking and monthly drop-ins are open to all visual artists and are a great way of meeting others and sharing thoughts and challenges.
'The darkest hours of the night are those that come before dawn' – from Adam Neal ….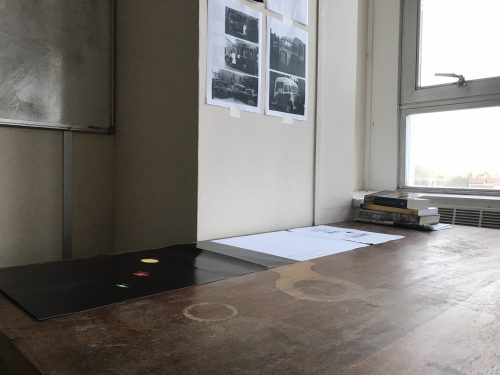 University was a gilded cage, and I underestimated how challenging departing that cage would be. Sustaining a self-directed practice outside of an institution, whilst managing other residencies and a job to fund my practice is becoming a constant struggle. Operating as an artist is a multi-faceted job and it's one with facets I am at constant odds against.
Departing the education system after seventeen years has left me feeling isolated and disenchanted, potentially due to the institutionalisation that occurred over those years. It's completely alien for me to operate without the support structure that educational systems offer; this has resulted in my practical work regressing.
Breaking this instilled reliance on an institution is proving to be taxing; it is one of the reasons I have taken this residency on. However, I may need to reformulate how I actually produce work, and start on a smaller more accessible scale. Perhaps using alternate processes and methods would reinvigorate my practice, and add various perspectives.
Persisting with the application of Socially Engaged tendencies within my practice is becoming less appealing to me. I have come to the realisation that I am more fixated with the objects and not necessarily the people in these environments. I suppose this isn't exactly news to me, nonetheless before hand I always deemed the people to underpin how I interacted with the objects. Object-Oriented-Practice is my current mind-set, and I think the conversations and interactions could come at a later point, rather than trying to force them to happen initially.
My equilibrium is out of kilter, perhaps due to working a job that nullifies my creative process and living outside of Coventry itself. Retreating into object experimentation, writing, and other processes (instead of social engagement) could be a way of taking a step backward to move forward. Perhaps this is the natural trajectory of my practice and I am just attempting to swim against the tide.
Development will come, eventually; I am just not sure which direction I am going in at this current moment. I feel constantly pressured to produce work of a certain calibre which has deterred me from putting anything out. Perhaps my research and process needs to change in order for me to achieve something I feel is successful.
'The more you know, the more you know you don't know' – from Helen Kilby Nelson …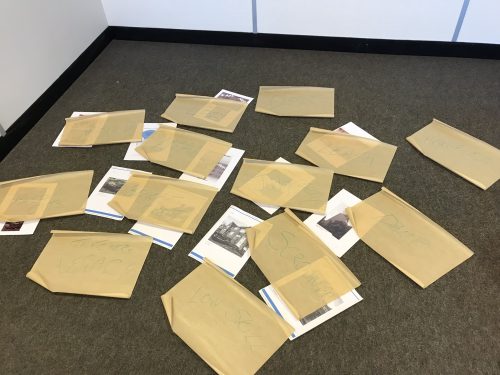 When I wrote my dissertation, 'Art as an Amplifier for Community Voices', I was trying to answer my own questions about socially engaged art practices and what that term really means.  I could see the value of art and creativity within communities and as a vehicle for societal change but I was concerned about how the people within communities felt about an artist or group of artists appearing in their space .  Researching different projects there were some that left me feeling very uncomfortable and others that inspired me.
I'm still asking myself these questions, trying to resolve in my own head what type of socially engaged art practitioner am I?   The residency with Artspace is giving me valuable time to continue asking these questions. The first few months have been discombobulating as I've tried to rebalance family life, work and my art practice.  This is a period for reflection, research, opportunity and growth, and I keep reminding myself that it's ok to sit and just think sometimes.
Coventry Artspace funded a trip to Liverpool for a research visit to meet with Lewis Jones of Assemble, kindly organised by Jo Capper, Collaborative Programme Curator at Grand Union, Digbeth, Birmingham.  This gave me the opportunity not only to hear from Lewis on thoughts around cultural capital, community engagement and growth but also to go on a guided tour of the community renovated streets of Granby and Granby4Streets Workshop.  Whilst in Liverpool I was also able to view the work of Mohammed Bourouissa, at FACT, as part of the Liverpool Biennial. I wasn't able to see his Reflective Garden (it was closed that day), a participatory project with the local community of Granby, Toxteth, but I was able to view his film documenting the inspiration behind it.
I feel a need to revisit Claire Bishop's 'Artificial Hells' along with other research and dialogue with socially engaged artists, in my quest to settle in my own mind whether I am a socially engaged artist along the lines of Assemble, committing to an unprescribed length of time supporting a community, or an artist who observes the social through socially engaged research and autoethnography (a process of research that was introduced to me recently by Anna Douglas)  in order to produce art. Or am I both and if so, how does that work when it comes to questions around integrity, authenticity, authorship etc?
My core inspiration remains the same, studying human behaviour and how community and society is informed, exploring the cause and effect of these behaviours, hierarchies and how much of it is influenced by institutions, organisations, media and political policies.