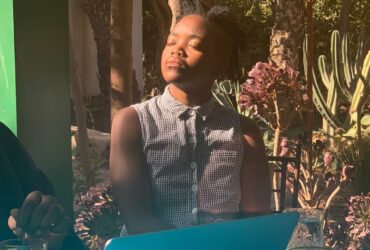 Following their series of seasonal residencies with us and the team at
Coventry Biennial of Contemporary Art
, melissandre varin is thrilled to announce a series of forthcoming events in which all are invited to join!
"i have had the pleasure to join Coventry Artspace staff operating as an artist and a curator in residence supported by Coventry Biennial in 2021. As my contract comes to an end, it is my pleasure to celebrate this incredibly insightful time with a cross-border/solidarity panel conversation, a workshop for Black Coventry residents, and a live performance at Warwick Arts Centre.
i would like to deeply thanks everyone involved in making this year an unforgettable moment. i hope to see/feel as many of you as possible for an online panel conversation on the 21st of January, a workshop for Afro-descendant Coventry residents on the 12th of February, and a live performance on 18th of February. "
So in chronological order:
1. Constellation of Blackness (panel conversation with City of Culture and Coventry Biennial)
Papaya is an artist-led Afro-Feminist project investigating Black liberation, intimacy and care, and the ways in which we can create loving environments in a decolonising world.
Led by Coventry-based artist melissandre varin and Brussels-based artist Jennifer Lopes Santos, Papaya mobilises varied creative media to generate collective visions for the future.
The artists invite Afro-descendant Coventry residents to take part in a workshop on the 12th of February 2022 dissecting our stories with sound, words, screams, movements, and more… Let's get our hands dirty with sticky questions while holding space for one another.
Your contributions will be part of a FREE public performance on Friday 18 February 2022.
Location: Warwick Arts Centre
Date: 12th of February 2022
LIMITED SPACES AVAILABLE book your space: by sharing your name(s) and dietary requirements via papayafp@riseup.net
***everyone welcome and that includes children (yes)
Please contact us if you have access requirements or other questions.
It's been a pleasure having mel working with us throughout 2021 and we'd like to wish them all the best for the future!