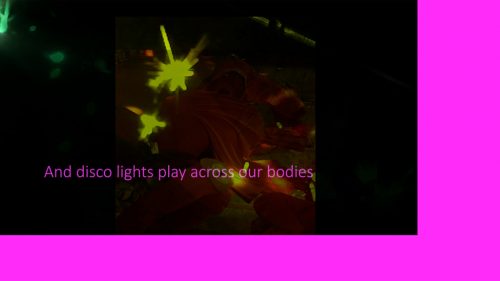 Last month, artist and Artspace trustee Hannah Sutherland and artist studio holder Carol Breen launched a new, Coventry based, moving image forum called 'We Are Luminous'.  To get involved with the group follow them on instagram (we_are_luminous) or Facebook (WeAreLuminous).
Carol told us, 'Our inspiration for the launch event came from Cai Guo Qiang's One Night Stand: Explosion Event (2013), Andrew Waits Boom City (2012), Shunji Iwai's episode of the Japanese drama series titled "Fireworks, Should We See It from the Side or the Bottom?" (which centered on a group of 6th grade boys arguing over the best way to view fireworks) and Marie Menken's Lights (1966). These works led us to put together an exhibition that revels in the banal and the spectacular contained in the event of a fireworks display.'
The event included art works from….
Music was provided by TOPS OFF (Laura Coffin and Jack Carr).
Fittingly, this wonderfully experimental and atmospheric event was reviewed through moving image in a wonderfully experimental and atmospheric way by artist writer and researcher Laura Harris.
View her review here.
Laura is based in Liverpool and currently her research concerns hidden labour in the art world of work in collaboration with Bluecoat – Liverpool's centre for the contemporary arts.
In her art writing Laura is interested in challenging the form of traditional writing about art. Working towards more affective re-presentation of art, she experiments with alternative ways to respond to art – through text or otherwise. Laura has contributed to publications including Art Monthly, The White Review and a-n.