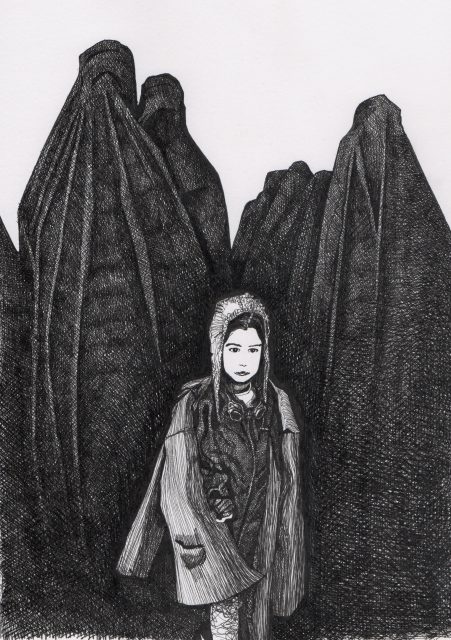 Michael Snodgrass' work is deeply rooted in the practice of drawing, at a time when artists are increasingly working with new technologies, Michael's choice of pen and paper feels radical and subversive.
It was this feeling of radicality, which was really clearly articulated in his application to Shoot Festival, which particularly caught my attention. This feeling was paired with an attention to detail and logistics, Michael clearly described how he imagined his work would occupy the gallery space and he was generous with descriptions of how his works might grow or contract as the exhibition developed.
Any artist who can eloquently convey an anarchic outlook or interest and combine that with clear instruction and technical skill will immediately capture my attention.
Additionally, while reading his application you could see an artistic practice which was ready for the next step. Michael has spent time developing his practice, building skills and an understanding for the concerns which underpin his work. He was clear that this was an opportunity, not just to produce a new work, but to think about how that work is made public and how it engages with space and the work of other artists.
His work itself amplifies this indifference to the technological, utilizing steampunk aesthetics, piecing together contemporary built environments into only partially imagined post-apocalyptic landscapes with narratives unfolding across the surface of the work. Frequently, within his drawings we see themes relating to loss, isolation, vulnerability and threat. The work is timely. Increasingly, we see these concerns impact across society and Michael documents and translates them, understanding that visibility and dialogue is often the first step towards resolution.
Michael's work behaves like an unruly comic book, we see recurring characters travelling through the time and space of his drawings, but things become more complex without the structure of the book. We have no frames and we have no pages. The viewer is asked to unravel this situation.
When spending time with Michael's work I'm reminded of the work of Charles Avery, a Scottish artist based in London, who for the past 15 years has devoted his practice to the perpetual description of an imaginary island. However, Michael is not limiting himself to only one island. His drawings cover a much wider geography.
Following Shoot Festival, I look forward to seeing how Michael continues to develop his practice, he will have gained the experience of presenting his work in a gallery as a part of a group show and I am sure that he will critically reflect on this and continue pushing his drawings onwards in exciting and innovative ways.
About Coventry Biennial of Contemporary Art
Coventry Biennial of Contemporary Art brings critically engaged, high quality contemporary visual art to the city and surrounding area. Celebrating and promoting contemporary art and artists, the festival is equally rooted in the city of Coventry, its history and its future.
The second Biennial will take place from the 4 October – 24 November 2019 and the third festival will take place throughout the Autumn of 2021 when Coventry will be well into its year long celebration as UK City of Culture!