I had seen Michala's textile work before in Craftspace's 'Made in the Middle' exhibition and was enchanted by the extraordinary detail and vibrant use of colour within the works. What I didn't realise until looking at her application for the Shoot Festival was how varied her art practice is- with large scale textile pieces, painting and writing very happily coexisting together. This approach to her practice appealed to me, as a curator at an arts centre, due to the seamless cross disciplinary way Michala works, with her pieces slipping between textile, painting and writing. This is very much how we go about our programming because there is magic to be had when art forms cross and complement each other. What also attracted me to her work was her clever ability to work successfully at different scales- with smaller wearable textile jewellery giving people the chance to wear one of her beautiful and intricate pieces but also working to a large scale across her textiles and painting.
Her painting informing her textile practice and vice-versa is very exciting, one feeding into another. Her interest in both processes has meant her painting has a deeply textured quality that speaks about the development of a surface- much like stitching, and her textiles have a painterly quality, with layers of stitches like brushstrokes- much like painting. On first glance you would not know if the large scale work in front of you is painted or stitched- and the joy of discovery, the revelation of the surface, makes the work very special.
The subjects of her work tend to be of nature and the landscape. Worked up at first in beautiful drawings, from life, in her sketch books. The works are then developed from these drawings in multiple layers- taking hours to painstakingly work over the surface again and again, sometimes even over the course of years.
For any artist there is power in the process of making but stitch has a particular power and feeling of 'the handmade'; the connection between the artist's hand, the needle, the thread and the surface all being so immediate. As Michala told me she is- 'always picking up the next project before the current one is finished', in order to always have something creative brewing and to keep the connection going between each new work. She also spoke about the therapeutic quality of her work and this intrigued me- it could be very interesting for her to explore and share that process further, it would resonate with so many people. I would like to see the writing elements of her practice developed more and consideration given to how to make that writing presented as a part of her overall work. So I will end with one of Michala's poems, read alongside her work it adds a deep resonance- a longing for childhood, a deep love and nostalgia for the landscape – the creation of the same colourful and textured imagery but through words: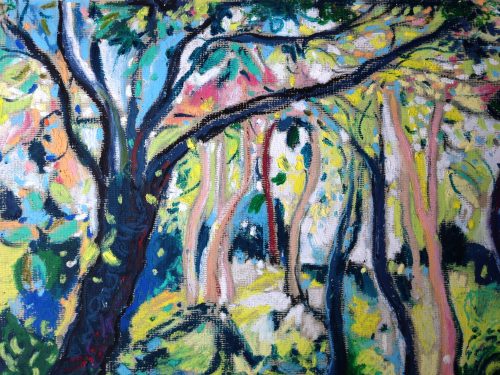 Elms
When the elms perished
I saw giant skeletons
Like cracks gouged in the sky
And all I could do was cry
My childhood place once so living green
Became the dead Dutch beetle wood
Mingled smell of earth with sawdust
The orange ticker tape wounds
And all I could do was cry
When you're so small and they are so tall
Yet they fell, they fall, they die.
About me:
Jessica has been working as a curator for 17 years spending the majority of her career working in local authority galleries and museums with the past 3 years working at Midlands Arts Centre (MAC). She has curated over 100 exhibitions of contemporary and modern art working with a range of national and international artists, developing partnerships with a multitude of galleries and institutions.  She is particularly interested in craft and applied arts, especially textiles and ceramics. Jessica originally studied for a BA in Fine Art (BCU) and has master's degrees in Museum Studies (University of Leicester) and Critical and Contextual Practices in the Visual Arts (BCU).
About MAC:
MAC is a pioneering arts complex for everyone. Our mission; to make art an important part of people's lives. Located in Cannon Hill Park, just two miles south of Birmingham city centre, we attract over 1,000,000 visits every year, drawing audiences from across the UK and beyond. Specialising in contemporary work, we offer a busy programme of theatre, dance, independent cinema, music, spoken word, comedy, exhibitions and special events, as well as a wealth of practical classes in all aspects of creativity, from animation and digital courses to ceramics and jewellery-making.
Development support for the artist:
There could be several avenues for development- the main element I've been thinking about are the poems/writing and how they relate to the works are very interesting and how they are presented/interpreted alongside the works.