Ann Simpson is a member of The Shared Collective and comments here about her experience of working on an Art of Curation project with curator Anna Douglas to create the exhibition Backbone at Arcadia Gallery (2-10 November 2018).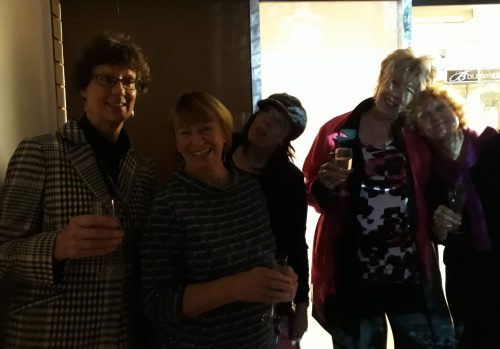 Working as an artist collective under the guidance of Anna Douglas Curator has been the key to being able to continually think on our feet to put this exhibition together in a week.  Three questions posed in the beginning got our intensive workshops off to a challenging and thoughtful start.
What might it mean to lend yourself to an image?
What might it mean to create a community of enquiry?
What do images want?
These provocations developed the way we viewed and thought about the photographs of older women taken by Shirley Baker during the 1960's, along with our own experiences of being older women ourselves. We had to begin to trust each other and develop our own community of enquiry, sharing ideas, feelings, history, culture, thoughts about our bodies, family and life events which became the way we lent ourselves to the photographs and then reflected on what these images might want from us. We talked and thought a lot, this process allowing us in the end to choose six images from over a hundred to base our exhibition on. Giving voice to our own stories "here and now" seemed to create a transformational echo to the "there and then" of the images.
It wasn't just the looking that was important it was also thinking about how we could use our own voices to give voices to the women in the photographs. How our experience now could give voice to the past of these women, hence the choosing of poetry and personal text along with the title of Backbone. Strong words and strong voices.
Curator, administrator, artists, technicians, local florist, local text art, local cafes that fed us, and lunches from the lady in the market all contributed to the exhibition happening, very much a community experience. One imagines the communities in which Shirley Baker took her photographs fostered similar care and friendship.
Backbone is made possible by the kind permission of The Shirley Baker Estate and the Mary Evans Picture Library.  It is the fourth and final art work of The Art of Coventry programme, which was developed and delivered by Coventry Artspace May-Nov 2018, with the generous support of Coventry City Council, Arts Council England, Coventry University and New Art West Midlands
Exhibition photograph by Tara Rutledge, Team photograph by Mindy Chillery