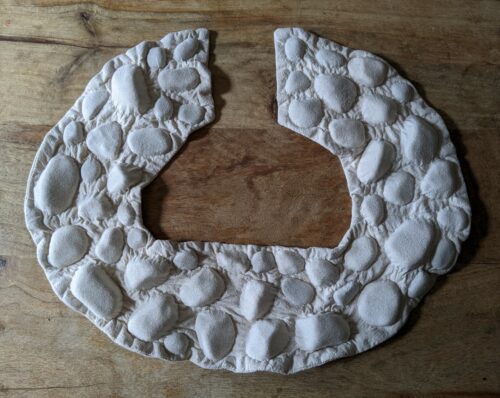 Image/artwork by Rachel Doughty
An enticing story needs a resolute narrator. Whether you, as reader, choose to believe them, is entirely up to the artistry and crafts(wo)manship of the faithful servant holding a pen or in a modern day décor, keyboard. The servant is I: Adélaïde Fontenit, soon to be graduated from Warwick University in International Cultural Policy and Management, and currently on a 6 week placement with Coventry Artspace. Today I'm using the website Blog page to talk about their First Thursday Artist Meet-ups. Title seems straightforward enough; the reader might inquire then, why it deserves (pardon my French), a full darned blogspot? An interview with Rachel Doughty, artist and current host of those meetings will unveil more than what prejudice tells us it might be; an open space discussion for artists to share complaints and enjoy free bourbon biscuits. 
*Question: What are First Thursday Artist Meet-ups? 
The First Thursday Artist Meet-ups, first called Drop-in Sessions, is not a new addition in Artspace's toolbox. As Mindy (director of Artspace, my boss, and owner of a shiny brick coloured Jeep which I had the privilege to ride in – twice) explains to me, it all started as a suggestion of one of Artspace's trustees more than five years ago. Organising drop-in sessions was a way to allow a given time for local visual artists to come along to find out more about the organisation, and for Artspace to get an idea of artists' pre-occupations and to share contacts and expertise.
However, success was not immediate; maybe only one or two people would show up in the beginning. Yet gradually, a compact group of regulars and more sporadic attendees emerged and the Drop-in Sessions became Artist Meet-ups, an important, regular opportunity for both local and visiting artists in Coventry to connect with each other and with Artspace, and sometimes with other cultural organisations who visited the group. Despite the undisputed success of the sessions, last year Artspace was unable to continue to run them due to capacity issues.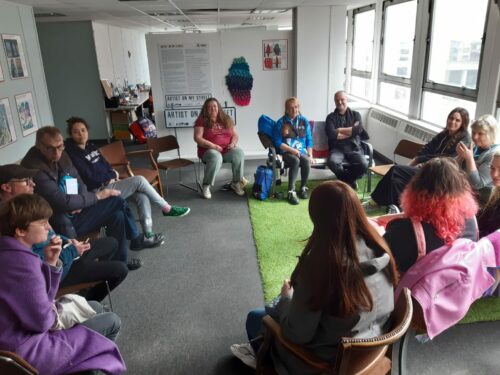 *Rachel or a Tale of Two Creations 
Happily, earlier this year former Artspace studio holder and regular First Thursday attendee artist Rachel Doughty came forward to offer her time as a volunteer running the sessions again. Rachel is a female artist based in Warwickshire. Her work, like many artists engaged with Artspace, has deep social roots. Focusing on the themes of motherhood, womanhood, adoption, and the commodification of children, she uses fabric as her main material to convey a sense of alienation in the domestic world. Missing the sense of community that having an Artspace studio had given her, Rachel felt an urgent need to connect with other artists again. An experienced artist and workshop leader, she is an excellent host and at least partially the reason for the immediate success of the newly launched group.
Earlier this month I was able to sneak in and see for myself what goes on at a First Thursday Artist Meet-up.
*Artist Meet Ups: Eaton House, Coventry, 1:06 PM 
Around twenty people sat in an open room where an exhibition of 'Artist on My Street' is installed (a project Coventry Artspace led during the city's year as UK City of Culture). The sessions start with some kind of stimulus to get the group talking, often just going around the circle with each person sharing their name,  nature of their artistic practice, the latest book they read or something they saw that moved them. It's a great way to break the ice, and in this instance, it showed me the considerable reach of Artspace. How eager are artists, whether they be young, old, male, female, students or already established practitioners, coming from different class or ethnic backgrounds, to join and be a part of the artistic conversation in Coventry. 
I understand that in previous sessions the group would go on to network and discuss areas of joint interest. For this session, Rachel chose a different approach and brought one of her recent creations. A plain beige linen collar made with stones, sewn into the trimming of the fabric. She was interested in rituals and the meanings we bestow them. Passing it around, she asked if we would be willing to wear the collar she made and to give her feedback on it: Was it heavy and difficult to wear? What kind of feelings and emotions came to mind when putting it on? How could this piece of work be envisioned as an artistic performance? As the Meet-up went along and we all got to articulate our understanding of this piece, tongues gradually loosening. The theme of grief and the weight of the collar became the focal point of our collective discussion. It was not heavy enough, we agreed. One participant suggested the collar should become a long cloak, as grief can hug and ensnare you altogether. Others suggested making the stones invisible to convey a sense of imperceptibility. 
As the session came to a close I made a quick exit to refill my water bottle and, as I walked away, the emotional weight of the Meet-up fell onto my shoulders. We had shared more than thoughts and opinions, we had shared stories. 
When I asked Rachel later on how she imagined the meetings will look in the future, she told me she thought of making the sessions more collaborative and looked forward to other artists sharing their work, as she had done. She is striving to create a space that will grow with the individual tales we weave and the collective vision we yield. It seems to me she is on the right track to achieve that.