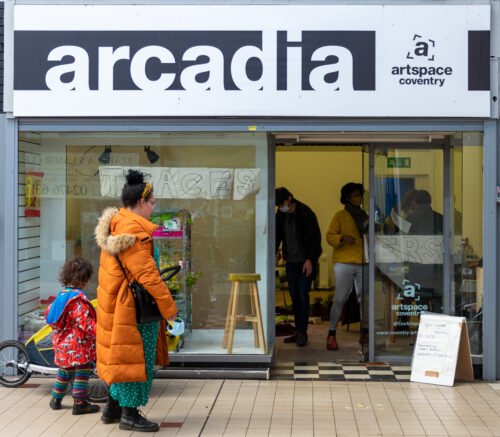 (Image by Mandip Singh Seehra).
All of the artists involved in melissandre varin's Spring Residency at Arcadia have reflected on their experience of their time in the gallery space, and what the themes that the residency allowed their work to explore…
Traces of Other(s) – Ryan Christopher
A space of fragility and dependence, oblique, perpetually rooting and restoring, absorbing and providing – a state of constant flux propelled by silent gestures of exchange, offering and spontaneity.
Traces of Other(s) is a microcosm of care and propositions, a call to float and be grounded, to remember death and tend to life, with shared sentience, and mutual edification.
It speaks of diaspora and life – a slow morphing interplay of light and air and water and soil, tracing the growth of these plants, and tracing the air that we exchange in this gentle, microcosmic sanctuary.
The notion of 'people as plants' is a constant throughout the Biblical canon, in poems and parables – perhaps it's an inescapable metaphor, nostalgia for Eden.
Regardless, the plants made a space that spoke deeply visceral tongues, suspended in the realm of poetics. They generously came, and left in the manner of sojourners, leaving their traces in memories and dust. Some will be alive as you read this, and some will not be. One cannot separate oneself from the life of these plants, they have always been with us, and in poesis and praxis we will continue to be with them, fragile and dependent.
Now we must seize upon and admire a new art, which both keeps humanity in its true place—fragile and dependent—and opens up unsuspected possibilities to the artist through the surprising spectacle of forgotten, silenced things. Toward a new consciousness of the world, a new consciousness of humankind joining in a new and splendid game. Already troubling masterpieces mark this acknowledgment, and above this transformed and rediscovered world rises up the promise of an art that will be the total expression of life.           – Suzanne Césaire
Traces of Other(s) – Sebastian H-W
Firstly, I'm so very grateful to melissandre varin for the invitation to cohabit with the Traces of Other(s) collective, the land formerly known as Coventry Art Space over May/June 2021. I started developing two new works inspired by melissandre's residency intention. The phrases that resonated with me most were:
"how to grow collectively otherwise?…gatherers of gestures, light-touch landworkers…practicing everyday refusal."
Somos Semillas (We Are Seeds) (2021) – a performance install-action in collaboration with my father Alfredo Hau. Inspired by the legacy of the 1994 struggle for autonomous land rights of the EZLN (the Zapatista Army of National Liberation) of southern Mexico.
We explored traditional farming techniques and the lore and legends of indigenous corn maize, to create a multisensory experience using soil, paper rolls, corn maize cobs, wooden dibber, sage smudge stick, Zapatista dress, and an accompanying evocative soundscape.
We had intended to write the famous protest phrase "They tried to bury us, but they forgot we were seeds" but we opted for the simpler slogan made famous by the Mexican Revolutionary Emiliano Zapata "Tierry y Libertad" – which we translated into the indegenous language of Yucatec Mayan and English "Lu'um + Je'ela'" // "Land + Freedom"
Seed Bomb Sculptures Workshop (2021) a collaboration with the artist Yas Lime to develop accessible, all-ages, drop-in guerilla gardening workshops. Participants could sculpt their own 'seed bombs' from soil, compost, wild flowers seeds, air dry terracotta, before deciding a specific location in Coventry to drop or 'bomb', and pin the place on a large map of Coventry we found in the Arcadia gallery.
contact[at]sebastianhw.info // www.facebook.com/sebastnhw // @SebastnHW
Traces of Other(s) – melissandre varin
where will we be
if it was not for us
radiant beings
inondant l'bitume, arrachant l'aurore, buvant nos larmes
gorgées de certitude
la certitude que c'que l'on fait aujourd'hui
is none less than making history
sitting on that comfy sofa consuming dreams that escaped
from ecologies of creation
beyond – beyond – beyond us
all of us
i drink your hope
i am your dream – a resource
for all of us
head on the concrete of those parking on which
seedlings crack what was once thought as the way forwards
here we are
fracturing fictitious frameworks
unbowing heads – rising
but
not as a new movement – nothing is new
but
as we have always have
proving rigidity wrong by the texture of our cosmic pants
quand tu touches ce sol imaginaire où la linéarité prend son essaim
quand tu touches le fond de nos pensées infondées
hear us activating fugitive incantations
walking the ground sowing love everywhere we refuse to perform
the de-limiting sets of roles you have crafted for us/you.