Traversing Exhibition
May 14 @ 12:00 pm

-

May 21 @ 4:00 pm
Opening event: 6pm, Friday 13 May 2022 – Exhibition: 14-21 May 12-4pm (not Sunday or Monday)
'The greatest journeys are the ones that bring you home' – Jhumpa Lahiri
Migration is not a linear journey, we often traverse back and forth through multiple landscapes, identities and culture. Traversing offers a unique perspective into 5 creative's own journeys through various forms of art making. 
Ana Jesus opens a window into Madeiran culture through playful and colourful illustration
Gayatri Pasricha invites you to explore and play, traversing through linear histories of south Asians through a graphic floor based work. 
Sharan K Bansal's work documents and abstracts the ways in which learnings, cultural practices and skills travel across the border from one generation to another. 
Shorna's realistic painting allows you to travel through a dreamy, colourful Bengal through her depiction of traditional instruments.
Vitesh Vithlani offers an immersive experience of a Tuk Tuk ride through the bustling streets of Jaipur with vivid sites, sounds and humour.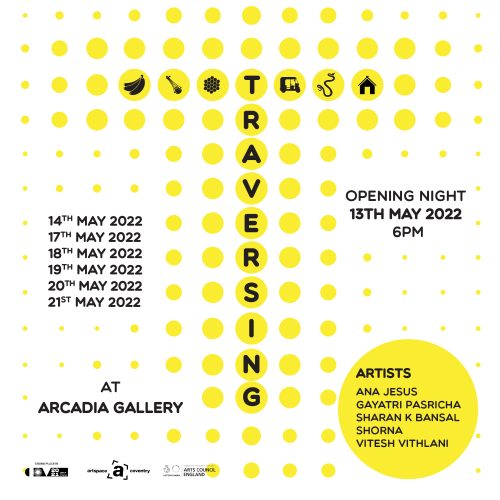 Together these 5 creatives invite you to their space, an open invitation to explore their cultures, to play, ride, learn, watch and imagine with them.
This group show has been developed by the participants of an intensive Coventry Artspace Art of Curation workshop facilitated by Roo Dhissou and supported by Hardish Virk. The work produced has been inspired by Hardish Virk's archive of South Asian artefacts. It is funded by Arts Council England.