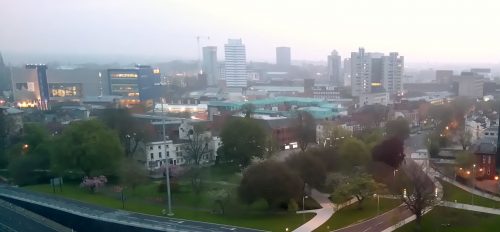 We're delighted to report that Janet has now been able to return to her practice and her studio and we are in the process of planning her exhibition for February 2021.
Due to Covid-19 our current graduate resident Janet Tryner was forced to pause her residency. This and our own work to manage the impact of Covid-19 and support our studio holders and Artist Listing artists where we can has prevented us from offering a new graduate residency for 2020-21. However this programme, or a version of it, will be re-instated by the end of 2020. This will be advertised here, in our newsletters and across our social media platforms.
Previous graduate residents
Our mission is to provide each graduate resident with a quality experience and an opportunity to further their career as an artist. Through this we aim to encourage graduate artists to work in the city and to contribute towards the critical mass of quality visual arts produced in the city and for the city.  The residency is funded by Coventry Artspace who receive a core grant from Coventry City Council and also raise funds from renting affordable studio, meeting and exhibition spaces to artists and cultural organisations.  We are currently based at Eaton House, Coventry CV1 2FJ.
Each graduate is assigned a mentor and receives a number of studio visits from our associates and partners.  They also receive up to 10 months free studio space  and funding for at least one research trip within the UK, plus an end-of-residency solo exhibition. This opportunity is intended to help support recent graduates bridge the gap between full-time education and a career in the arts.
What we offer
Shared studio space including wifi and utilities at Eaton House, Coventry for up to 10 months
Use of our gallery space for a 2 week end of residency solo exhibition
Technician support for the installation of the exhibition
Social media marketing support
Support and mentor meetings
Financial support to visit at least 1 other cultural event/institution/exhibition within the UK
Free or subsidised places on any courses run by Coventry Artspace during the period of the residency.