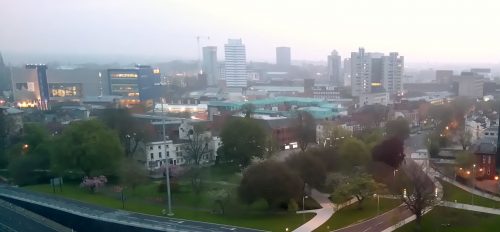 APPLICATIONS INVITED FOR OUR 2019-20 GRADUATE RESIDENCY OPPORTUNITIES!
DEADLINE FOR SUBMISSIONS : 9.00AM MONDAY 1 JULY 2019
Our mission is to provide each graduate resident with a quality experience and an opportunity to further their career as an artist. Through this we aim to encourage graduate artists to work in the city and to contribute towards the critical mass of quality visual arts produced in the city and for the city.  The residency is funded by Coventry Artspace who receive a core grant from Coventry City Council and also raise funds from renting affordable studio, meeting and exhibition spaces to artists and cultural organisations.  We are currently based at Eaton House, Coventry CV1 2FJ.
Each graduate is assigned a mentor and receives a number of studio visits from our associates and partners.  They also receive up to 10 months free studio space  and funding for at least one research trip within the UK, plus an end-of-residency solo exhibition. This opportunity is intended to help support recent graduates bridge the gap between full-time education and a career in the arts.
What we offer
Shared studio space including wifi and utilities at Eaton House, Coventry for up to 10 months
Use of our gallery space for a 2 week end of residency solo exhibition
Technician support for the installation of the exhibition
Social media marketing support
Support and mentor meetings
Financial support to visit at least 1 other cultural event/institution/exhibition within the UK
Free or subsidised places on any courses run by Coventry Artspace during the period of the residency.
Who can apply
Artists must have graduated from a UK BA in Fine Art or related course on or after Summer 2018
Artists must be able to complete the residency by 12 July 2020
Artists must be able to commit to using their studio space regularly and for a minimum average of 14 hours a week.
Artists must live or work or be prepared to move to Coventry for the residency.
To apply please submit a single PDF containing
Confirmation of your course and university and the year you graduated
A proposal for your residency at Coventry Artspace, including how you would approach the residency in terms of research and development towards your solo show (max 1000 words)
An artist statement and details about your current work – please state when you graduated and from which institution (max 300 words)
Weblinks and up to 5 images relevant to your current practice
An assessment of why you are right for this opportunity
Proposals should be in a single PDF and emailed to mail@coventry-artspace.co.uk with "graduate residency" in the subject line by 9am Monday 1 July 2019.  Shortlisted applicants will be invited to Coventry Artspace to present their proposals in person in the week beginning 8th July, 2019.
Please do get in touch with any questions, or for more information come along to our  First Thursday Drop-in at Eaton House 6 June.  To find out more about Artspace, these or other events, visit our website www.coventry-artspace.co.uk, or follow us on Facebook, Twitter or Instagram: @CovArtspace.
May 2019