The call out for the second round of Artist On My Street is now closed. The artists selected will be announced here soon!
The Artist On My Street project was launched on 17 August 2021. It brings the work of locally based artists to Coventry neighbourhoods. In the first round five artists were selected to show their work in the windows and entrances of public buildings around the suburbs of Coventry, making their unique art visible and accessible to the public. Via the audio App ECHOES, audiences can listen to the Artist On My Street artists and see the location of their work. Please use this link to access Echoes
Audiences are also encouraged to share their thoughts and feedback on social media and by using the hashtag
#artistonmystreet
Over the course of Coventry's year as UK City of Culture Coventry Artspace will be administering 21 x £500 commissions for local artists to create work for Coventry communities. The selected artists will also receive development support to help them with creating the work and progressing their careers. The five local artists and community organisations that took part in the first round of commissions were: 
Lorsen Camps at the Jubilee Community Centre, Radford, Coventry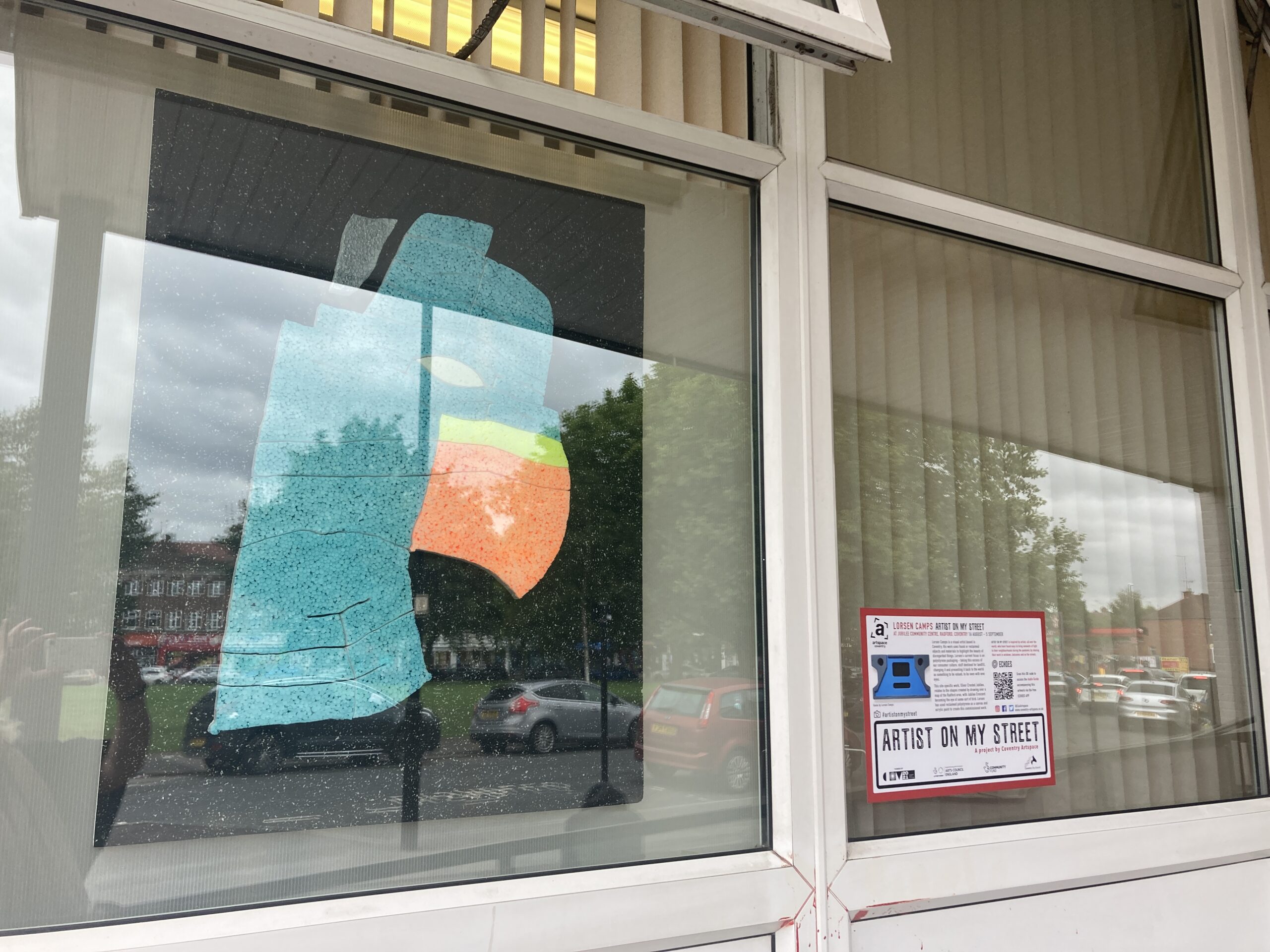 Lorsen Camps is a visual artist based in Coventry. His work uses found or reclaimed objects and materials to highlight the beauty of disregarded things. Lorsen's current focus is on polystyrene packaging. He takes this excess of our consumer culture, stuff destined for landfill, and, through his intervention, presents it back to the world as something to be valued, to be seen with new eyes.
This site specific piece, Silver Crested Jubilee, relates to the shapes created by drawing over a map of the Radford area, with Jubilee Crescent becoming the eye of some sort of bird. Lorsen has used reclaimed polystyrene as a canvas and acrylic paint to create this commissioned work.
Betty Molyneux at the Xcel Leisure Centre, Westwood, Coventry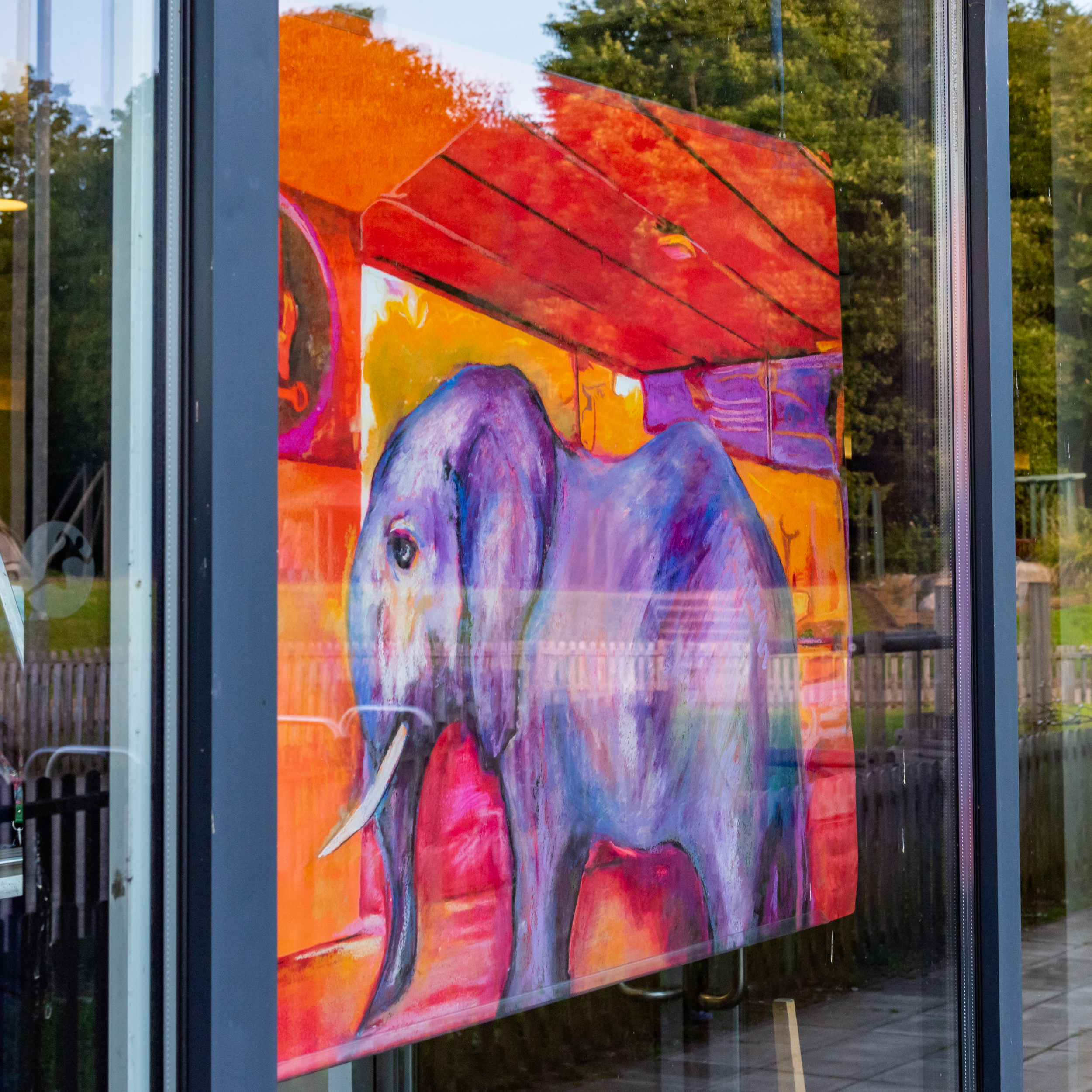 Betty Molyneux is a Coventry based mixed media artist who describes her work as elemental, ethereal, everyday art. She graduated in 2003 with a degree in Fine Art with Health and has always championed the therapeutic benefits of art on health and wellbeing.
Betty has been a nurse for over a decade, currently working in oncology: she painted her way through the pandemic. Her paintings of roads, exhibited earlier this year by Covert Arts, represented her journey home after night shifts during the peaks of the pandemic. Through the depiction of comforting and familiar landscapes they capture her sense of traveling towards a place of safety and respite. She explores this idea further in her work for ARTIST ON MY STREET, this time using pastels and Madhubani painting techniques.
Gayatri Pasricha at the Families for All Hub, Foleshill, Coventry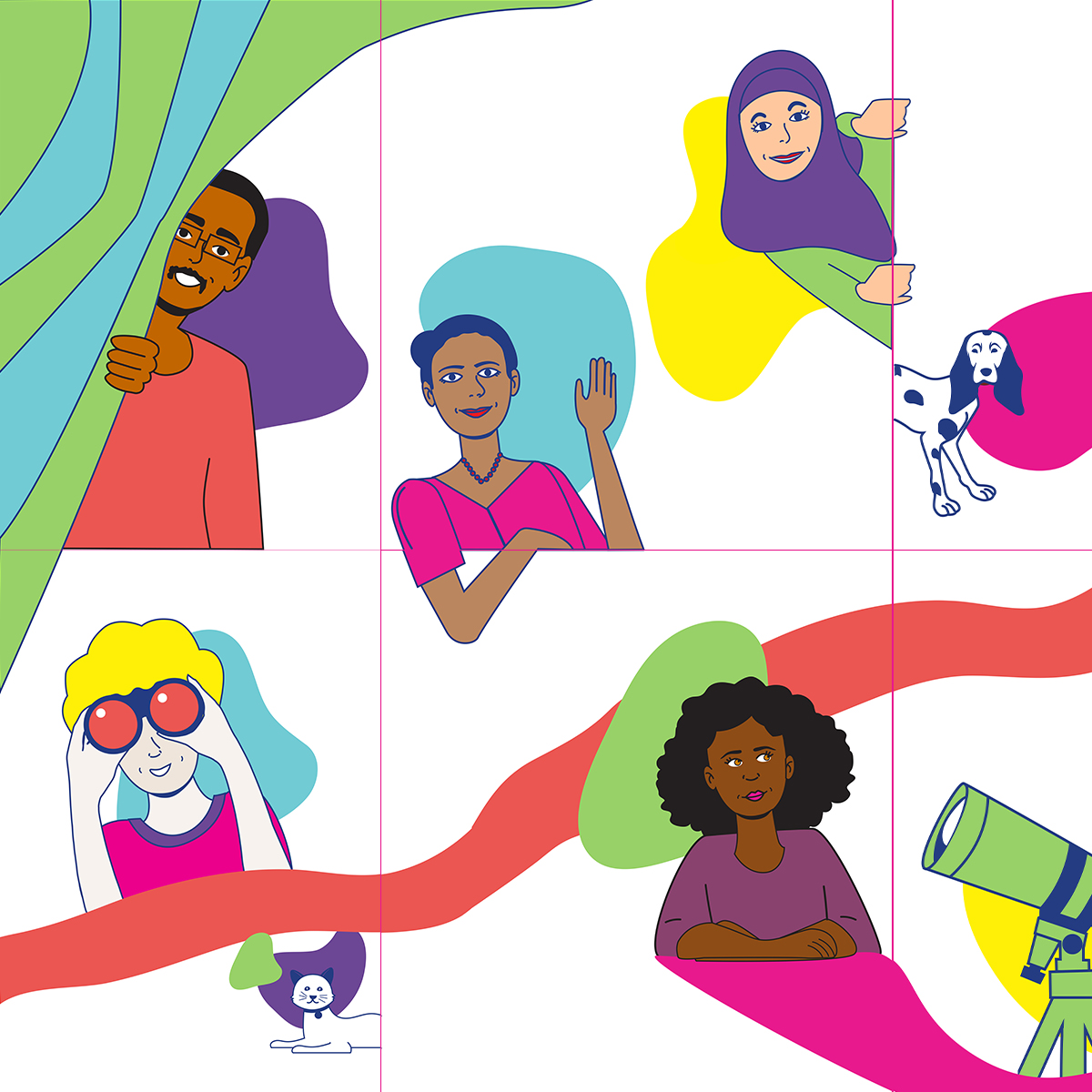 Gayatri Pasricha is a graphic designer. She endeavours to make work that is 'playful, but not frivolous; researched, but not complicated; subtle, but not obscure'.
For ARTIST ON MY STREET Gayatri has created a series of graphic art panels inspired by Coventry's diversity and history. She has been supported by Foleshill Creates to work with local residents, incorporating their self-portraits into her designs. Exploring themes of curiosity, diversity and playfulness she has named this series of work 'Cov Peeps'.
Clare Pentlow at the Tile Hill Library, Westwood, Coventry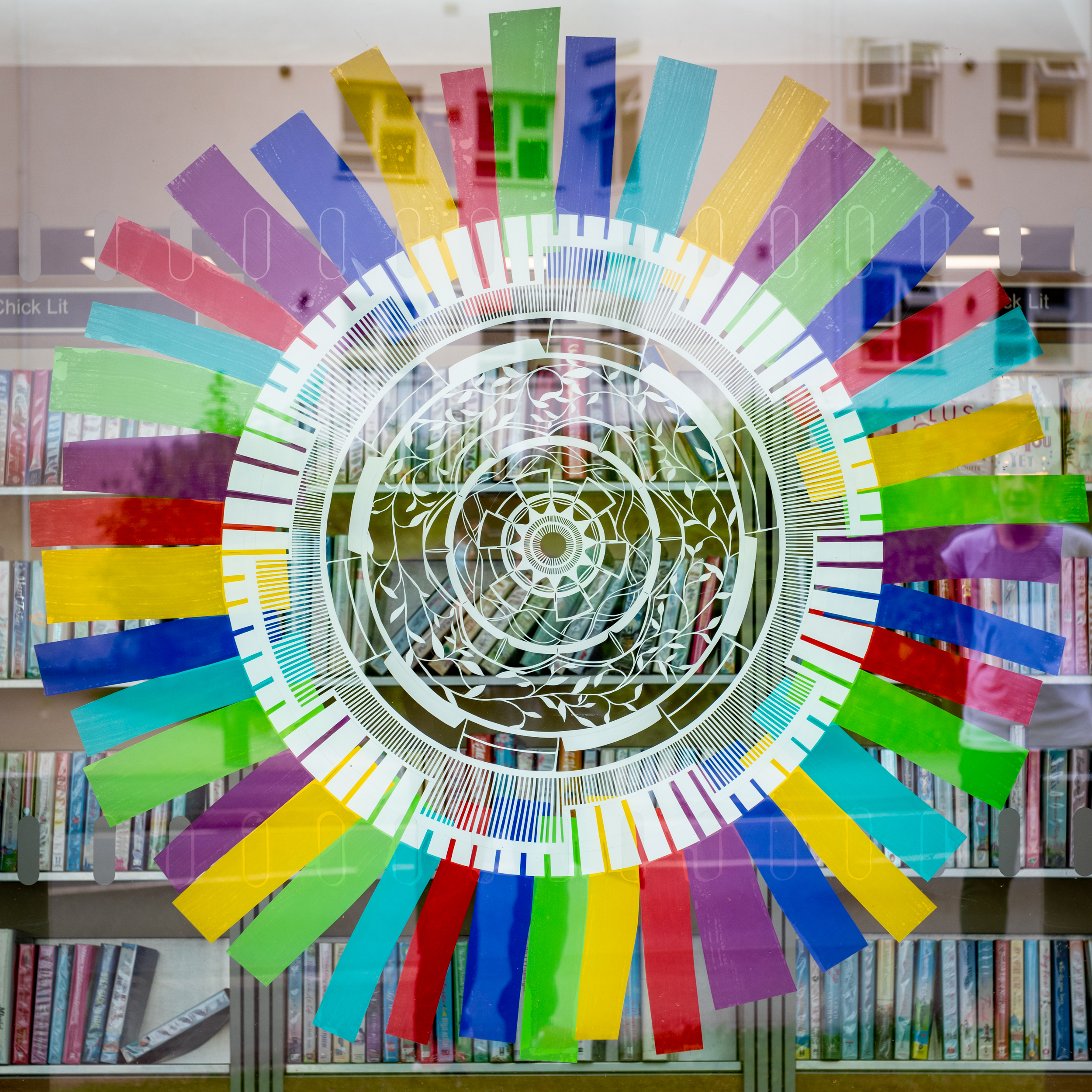 Clare Pentlow enjoys challenging the perception of paper as an ordinary material, transforming it to be extraordinary, constantly refining and looking for perfection whilst embracing its paradoxical qualities of strength and fragility.
Her initial ideas for the work in Tile Hill Library stemmed from the medieval tile industry which the area was built upon.  using hand cut paper tiles combining traditional medieval patterns with those found in the local flora and fauna, from the neighbouring woods to Massey Ferguson tractor factory and the general motorcar industry which Coventry is most famed for.
Sam Williams at the John White Community Centre, Binley, Coventry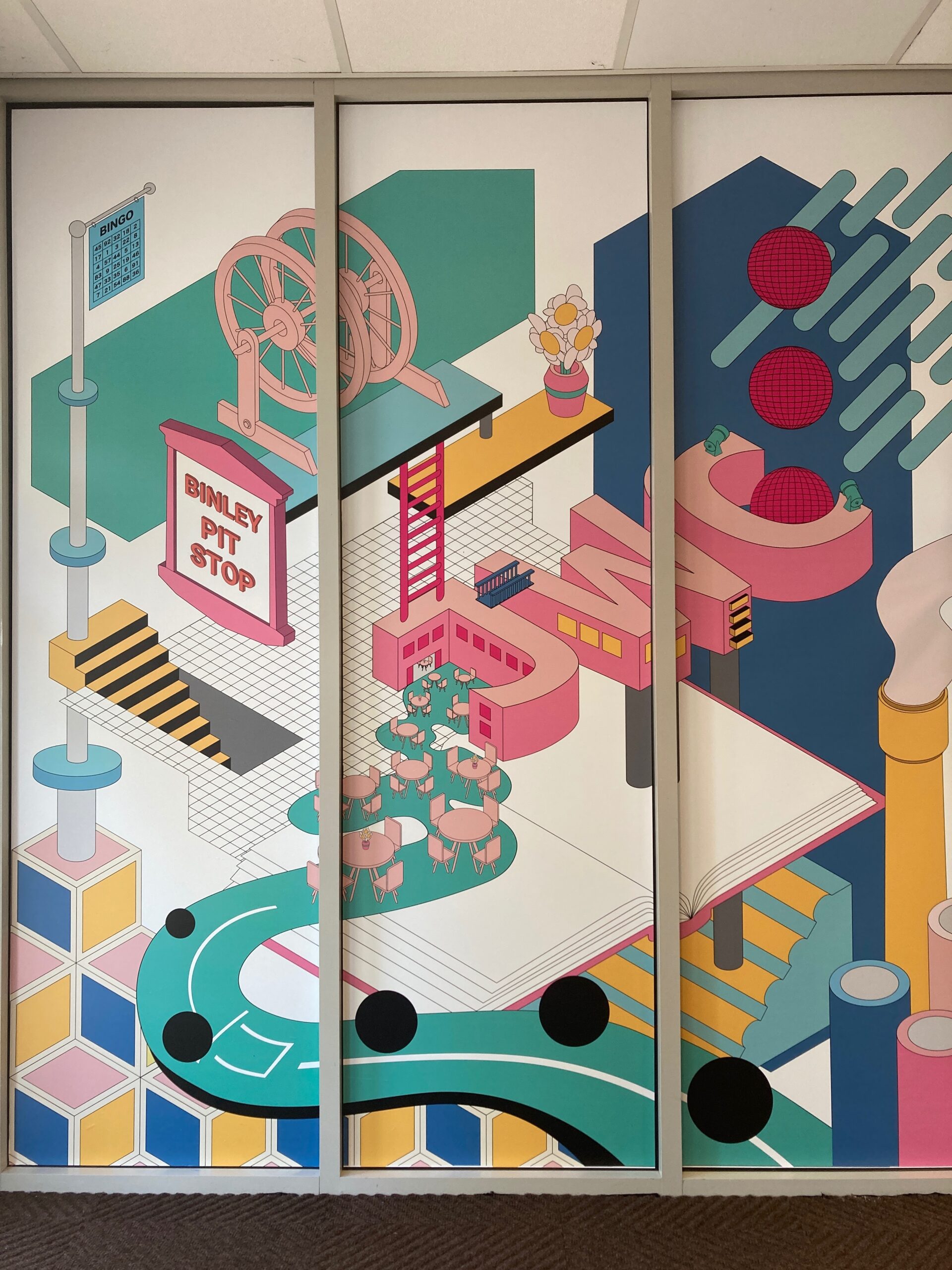 Sam Williams' art practice encourages audiences to explore the world around them through play.
Sam sees her work as a form of quiet activism, and play as a radical act. She believes firmly in the ability of art to affect change, translate experiences and transform places. She develops projects out of community engagement and audience participation, exploring creative placemaking that is people driven.
Use the audio app ECHOES to listen to the artists talk about their work