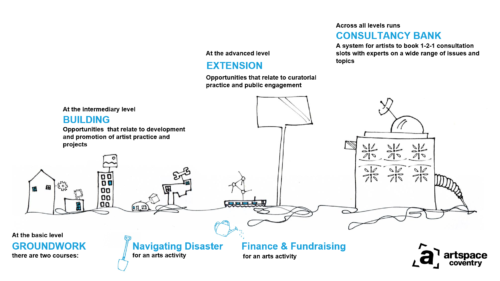 At the end of 2020 we carried out some reasearch on Artist Development needs. This work was kindly funded by Coventry City of Culture Trust.
We wanted the research to support us with designing a programme of development that would build on our previous work with The Art of Coventry, supporting artists to engage with communities, run projects, explore new skills and grow in confidence.
The initial research was led by Artspace trustee Hardish Virk.  Hardish carried out desk research, supported Artspace Director Mindy Chillery to conduct a survey, and produced a report of initial findings. This was then followed with comments and discussion from a focus group of 12 artists and curators with a variety of experiences and roles. The final resport was written by Artspace trustee Ije.
Artist Development Research Final Report – Coventry Artspace
APPENDIX 1_ CAS Artist Development Programme 21-22
APPENDIX 2_ Artist Survey Responses
APPENDIX 4_ Feedback & Focus Group Notes.docx
Coventry Artspace is now in the process of fundraising for the Artist development programme described in Appendix 1 of the report. We are committed to continuing our research based approach to Artist development. We are always interested to hear from Artists about their development needs. We hold a monthly online Artist Meeting on the first Thursday of every month where Artists can share their challenges, successes, get updates on Artspace activities and share their views.