Daya Illustrations was our second artist selected for  our artist commissions for the 'Stories That Made Us' project which celebrates the stories of people of South Asian heritage who now live in the UK. Here is her commissioned illustraion along with her personal account of why she chose to get involved in the project…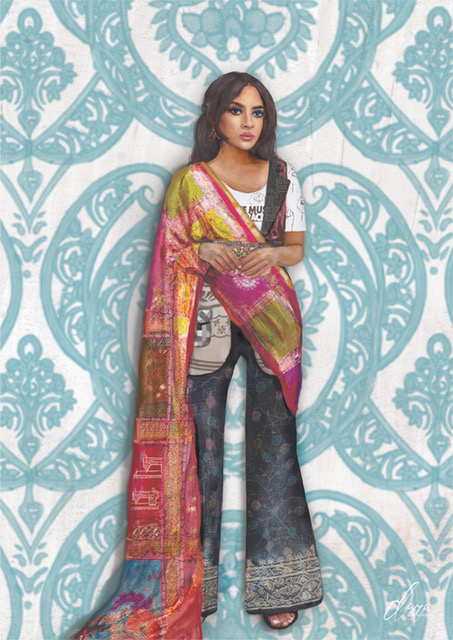 Being a woman from a minority ethnic group in the UK, my creative practice is an exploration of my Indian cultural heritage and identity, as well as learning and conveying stories from other South Asian communities through visual arts. I was keen to get involved with the Stories That Made Us project because I connected to many of the themes in the archive, such as challenging stereotypes, celebrating and sharing South Asian stories more widely.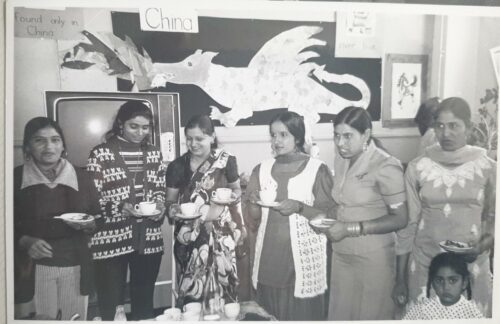 Jasvir Kang with friends
Photographer: unknown
Inspiration for my design came from the fashion in photographs and textiles from the archive. An image depicting a group of ladies wearing Western clothing and some traditional South Asian clothing stood out to me. Hardish Virk expressed how his mother preferred to wear Western clothing and mainly wore traditional clothing on special occasions or celebrations. This resonated with me and my family's connection with cultural clothing. Being British Asian, the influence of both cultures becomes its own unique identity. I wanted to explore how that is reflected in fashion. This led me to create a fashion illustration collaging elements of fashion and patterns from the archive. 
My illustration has been created with handmade painted textures and patterns which are digitally collaged. The piece explores British Asian identity and is layered with references to stories and fashion across generations, marrying past and present. The artwork aims to illustrate how fashion itself tells stories and how our culture and histories are echoed in what we wear and how this too shapes identity. The piece also makes reference to activism, reflecting the hardships that many have faced over the years.
I believe Art is one of the most powerful ways of storytelling in simple and tangible forms. Art impacts society by translating experiences, new ideas and stories. From a young age, I noticed a lack of representation of stories about or from people like me in galleries and museums. This made me more driven to explore and represent South Asian culture in my practice aiming to invite audiences into a world where visual stories are told through the eyes of a British Asian female who is reconnecting with her roots. My art not only expresses my connection with culture, but also the value to generations before and alongside me, and I have aimed to capture a sense of this in my illustration.  
Textiles from the Stories That Made Us Archive
Photographer: Daya Illustrations
Archives are important for storytelling. They document identities and give the historical and social context of that time. They are valuable for research and open doors for new stories. When visiting the Stories That Made Us archive, I felt a sense of belonging and connection. Initially, I wasn't sure about how I would respond as an artist to the archive, but it has been an incredible opportunity to find new inspiration and develop my practice further. I think it is important for artists to have the opportunity to work with archives and it is definitely something I'd like to do more of going forward. 
Daya Illustrations
November 2022
The Stories That Made Us Project is funded by the National Lottery Heritage Fund.
Find out more about the project here.