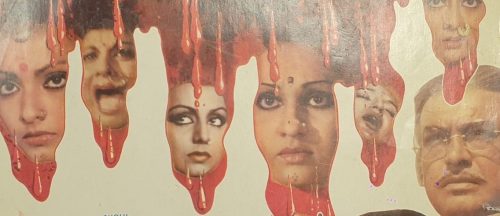 Our Stories That Made Us project is led by Hardish Virk and funded by the National Heritage Lottery Fund.
The project is inspired by two Coventry collections of South Asian artefacts. The first is Hardish's own archive, consisting of over 1000 items, including vinyl records, cassettes, minidiscs, CDs, videos, DVDs, reports, books, magazines, posters, newspapers, passports, photographs, writings, clothes, jewellery, ornaments, paintings, and more. The other is the Virk Collection, Hardish's father's collection, which is held at The Herbert Art Gallery and Museum. Both offer opportunities to explore themes of identity, representation, opportunity and access. The project recognises the importance of owning and telling South Asian stories in public spaces, and celebrates the contribution of the South Asian community to every aspect of British life.
As part of the project Hardish is working with artist and archivist Paramjit Sehmi to begin the cataloging of the archive, and researching best practice for storing and working with it.
We will also be taking proactive measures to be inclusive, remove barriers to access and reach new and diverse audiences through the delivery of this project. As part of this commitment we ran Stories That Made Us: Migration and Identity, a series of events on 23 July 2022. These events were part of South Asian Heritage Month and were kindly supported by Warwick University. Alongside the events our South Asian Ambassadors produced an exhibition, Unshackled, exploring themes of identity.
As part of the events on 23 July, we also released 3 videos on our YouTube Channel by Dr Virinder Kalra, Professor of Sociology at the University of Warwick. These describe his current research on South Asian diasporic vernacular literature and include readings from Punjabi stories by Kailash Puri and Jasvir Kang, two women writers who give us narratives that are often ignored or overlooked.
The project will be documented with a film and photographs by artist Ayesha Jones and we are offering two small artist commissions to produce a design or image to support the promotion of the archive. Visit the Artspace Exchange Noticeboard to find out more about these commissions (deadline for applications 31 August 2022).
Images: Top Album cover (cropped) Jaani Dushman,  Above left Jasvir Kang, Coventry 1980s
With grateful thanks to the Heritage Fund for supporting these activities.

Hardish Virk has worked in the arts and cultural sectors since the 1980s as a DJ, actor, director, producer and author. The main focus of his work over the last 25 years has been on advising artists, arts companies and cultural institutions on organisational and audience development – specifically around access and equality. He has worked across the UK and in Europe.