Tejal Gohil was selected for one of our artist commissions for the 'Stories That Made Us' project which celebrates the stories of people of South Asian heritage who now live in the UK. This is her commissioned illustration.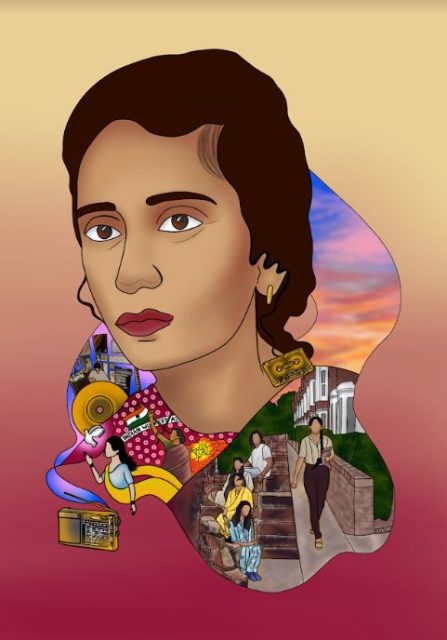 Read on for Tejal's account of why the project inspired her to get involved…
When I first came across the Cov Artspace noticeboard before my second year of studying Illustration was about to begin, I was beaming with excitement when I saw that they wanted two South Asian local illustrators to respond to Hardish's archive creatively. I felt that this could be my first proper chance to make myself seen in this space locally so early in my creative career path, as well as always admiring those who were already doing so. I could not resist showing my interest to be a part of this project.
Archives have always been cherished in my own family just like many others. Whether it was childhood photos of my parents growing up in Kenya in the 60s, Coventry in the 70s, or India in the 80s it told the stories of migration and all the obstacles that came with living in the UK. Collected over long periods were physical objects, most importantly photos, all with a deeper meaning and story behind them that would be brought up over cups of Chai when relatives would visit. A venture for curiosity and trying to understand what happened on the days they were taken. It always added a sense of self-identity that I could bind with the feeling of being present in the moment whilst I soaked in all the history being reflected, and the reasons that brought me here that I could stand and see them. I always felt grounded with purpose looking back at these small bits of the archive. I also grew up over-listening to my Dad's collection of old Hindi songs from Mohammad Rafi, Kishore Kumar, Lata Mangeshkar to Mukesh with the cathartic sense of life lessons summarised in 3-4 minutes. And the sound of putting cassettes in a cassette player would be a distant memory of the past with mp3 and mp4 being the present and booming from phone speakers and the TV. 
Looking back at my childhood, growing up in Coventry in the early 2000s I have plenty of happy memories and photos that remind me of that period in my life. But away from the place I call home, I find it especially nostalgic to look at children's educational language books in Gujarati with illustrations of everyday life in India, which I heavily admire for its detail and being able to see it come to life when I first visited Gujarat, India in 2010. Fast forward to my time in school, I always had a passion for creating Art and exploring cultural subtopics. I was able to explore 'identity' in A-level Fine Art and create almost my own archive of artwork through exploring Indian painters such as Raja Ravi Varma, Amrita-Sher Gill, and Jamini Roy and creating a response with my images in their styles. 
Looking at Hardish's archive I very much took that sense of family foundations as the heart of my inspiration. When I got the chance to see the archive collected over time, it was quite clear that there was a lot to absorb that I could resonate well with. Looking at my archives, I also felt that it helped fill in a lot of extra details with my understanding of South Asian history. Learning about what both of his parents did for the South Asian Community in Coventry, firstly with his father being a part of the Indian Workers Association is something I respect deeply, knowing the importance of such grassroots movements. Also studying A-Level History in the past, I am aware of how little of this content is being covered when it comes to the topic of protest and activism within the community for example, how ethnic minorities fought for better workers' rights and the stigmas around discussing the topic of immigration that can still be felt. It made me think about how significant it would have been growing up in an already multi-cultural society, to learn more about the stories of individuals who fought for those equal rights and to know that it was possible to create such change, and to be treated fairly in those spaces that we were once not. I also found it astonishing that I hadn't known how long South Asians were living here in the UK – 400 years ago according to a book that Hardish showed me from his archive, demonstrating the importance of why these stories need to be told.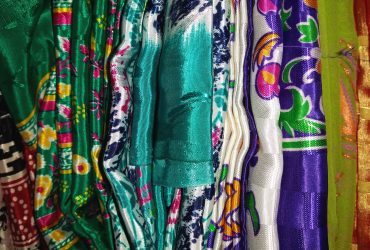 Exploring Jasvir Kang's (Hardish's mother) side of the archive, seeing her influence in creative writing and activism throughout her career was awe-inspiring. Reading into her style of writing and poetry about both the positive and negative experiences resonated with me. Leading me to include these details in my illustration. For example, the Belgrade Theatre's production of 'Geji' which was originally published as a book of short stories in 1989, explored the way Asian women were forced to adapt to their cultural standards as well as western cultural differences. I could relate to Jasvir Kang's poem, 'My Mother's Sari', both through my artwork and through my own mother's sari collection that "shows me a reflection of India". This too I incorporated in my design.  As well as the vibrant yellow of marigold flowers and those of the night sky, I wanted to include in the design some of the objects in Hardish's archive that have significance for me, such as the cassette tape's wire acting as a hair strand which in itself can tell a story through mimicking DNA and heritage in this piece. The vinyl reflecting collections of music in various languages and genres, with the backdrop to Hardish's photo, showing his musical influence with the posters and the radio to symbolise his Mother's successful career in radio presenting. In the radio waves is the female character from the book cover of the short stories 'Not A Weak Woman' published in 1991. I loved the idea of the dove flying with freedom like a metaphor. I wanted to channel all these parts in the piece through something I enjoy doing which is creating intricate collages that are visually appealing. I managed to do this using digital media, such as Adobe Fresco and Sketchbook for the more traditional tools and brushes that I would normally use in physical form and being new to this digital form of creating.
Reflecting on my own mini archive and Hardish's, I feel the importance of having this space, made by South Asians, that can share South Asian history and preserve it for future generations. Exploring Hardish's archive has made me see that it is possible to tell our history in a positive light too, and not just focus on the experience of oppression.  Also that, no matter how small your archive is, it is important to keep a hold of these memories whatever your ethnic background. I hope Hardish's archive will encourage more people to share their stories and learn from each other.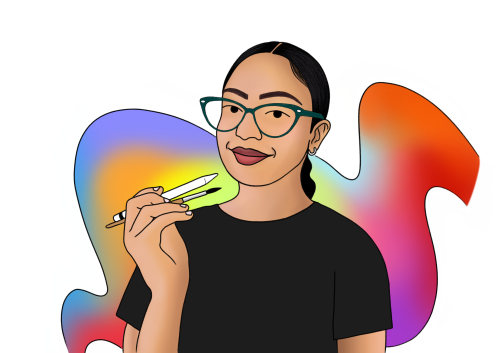 The Stories That Made Us Project is funded by the National Lottery Heritage Fund.
Find out more about the project here.