The latest iteration of this project was the 2023 collaboration with Foleshill Families for All Hub and Foleshill Creates funded by The Arts Society. Find out more here

Over the course of Coventry's year as UK City of Culture Coventry Artspace has administered 21 x £500 commissions for local artists to create work for Coventry communities. The selected artists also received development support to help them with creating the work and progressing their careers. 
The Artist On My Street project was launched on 17 August 2021. It brought the work of locally based artists to Coventry and Warwickshire neighbourhoods. Artists displayed their work in the windows and entrances of public buildings around the suburbs of Coventry, making their unique art visible and accessible to the public.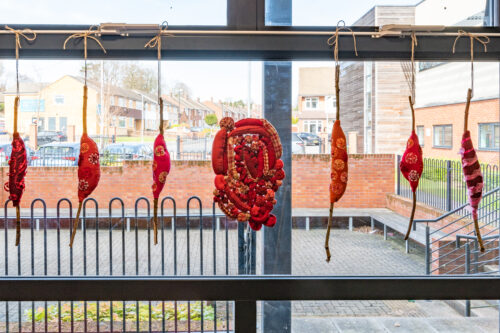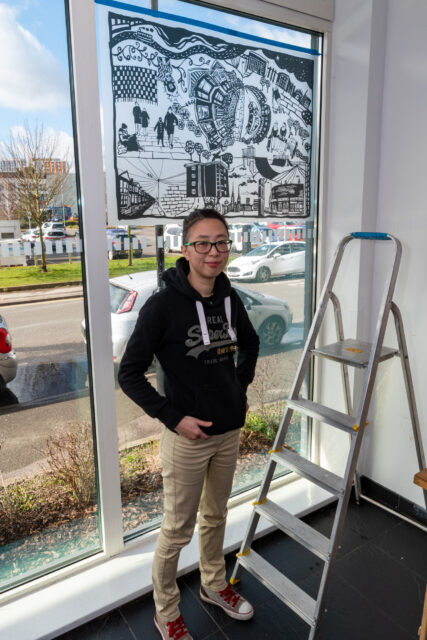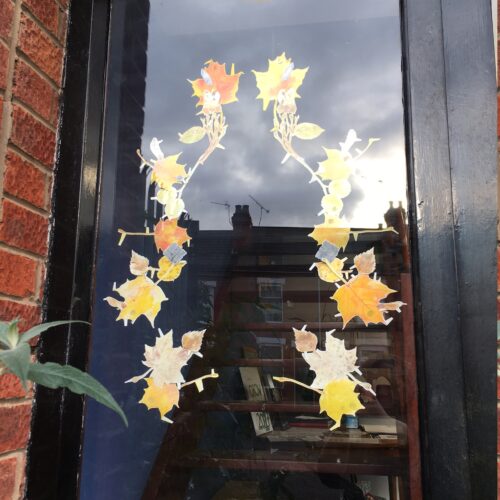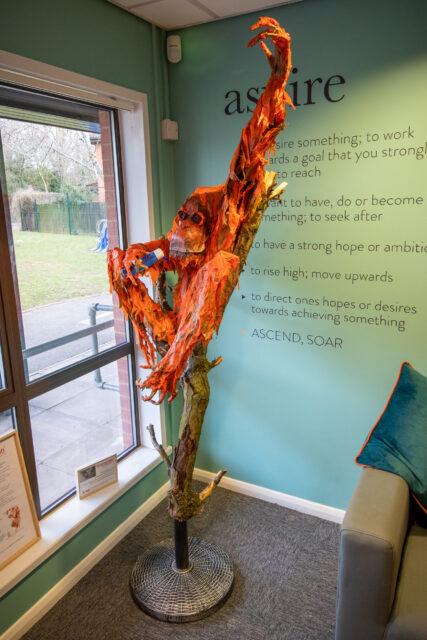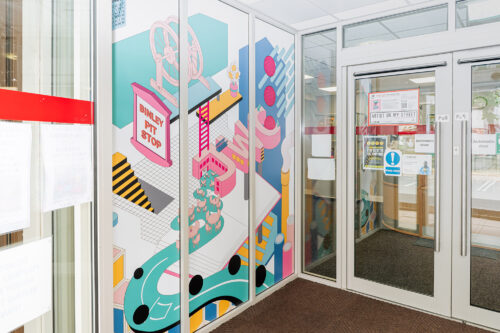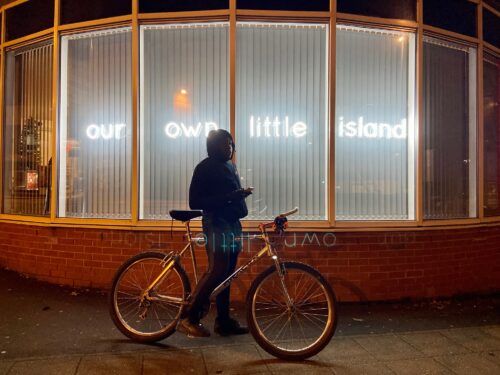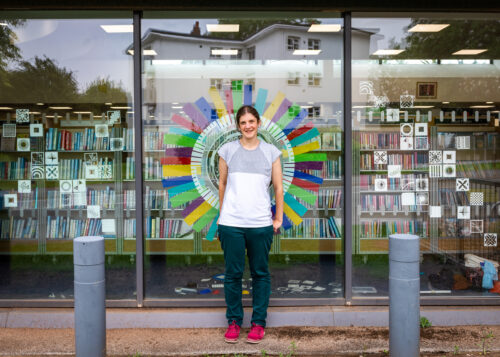 Via the audio App ECHOES, audiences were able to listen to the Artist On My Street artists and see the location of their work.
An exhibition featuring some of the photographs and original artwork created during the project was held at Arcadia gallery 26 May – 11 June 2022. This was accompanied by a programme of artist talks and workshops and a display of 21 individual posters, each featuring a different artist, in park noticeboards across Coventry.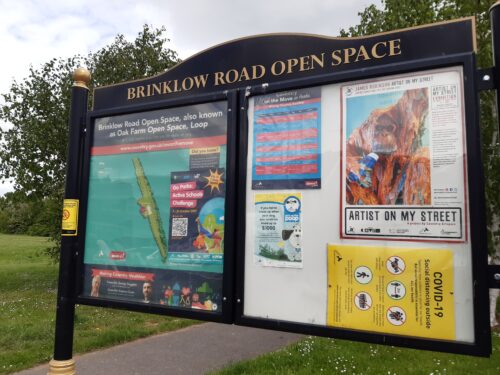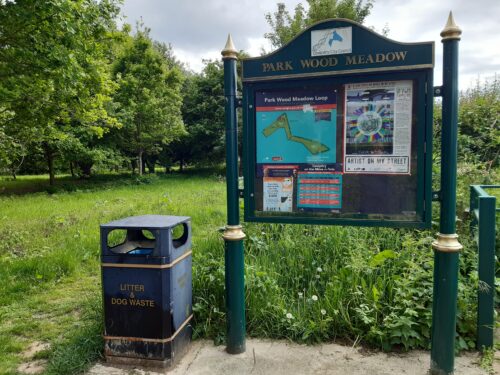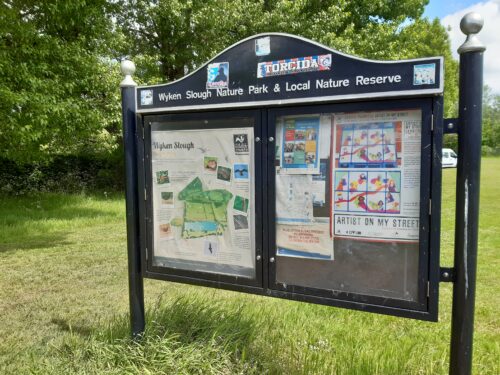 Coventry Artspace would like to thank all the venues, their staff and communities for hosting the work of the artists. We would also like to thank the funders for making the project possible: Coventry City of Culture Trust, Arts Council England, Coventry City Council.
The following 21 artists were selected for the project at the venues below:
Celia Johnson at Albany Theatre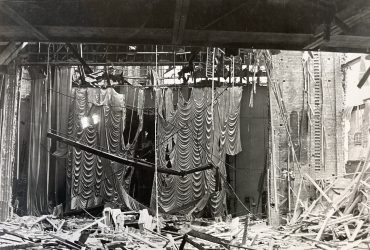 Celia Johnson is an artist and lecturer. She trained at Central St Martins (BA) and Cardiff School of Art (MFA Distinction) and lectures at Hereford College of Arts. Her work is mostly site or project specific and she's part of the walking artists network.  Her interests include the embodied experience of place; scavenging; the post-industrial landscape; archives; precarity; loss, and failure.
Celia explores ways in which a painting practice expands to reimagine found and discarded objects. Her work is informed by hauntology, psychogeography, the reactivation of archives, and the intersection of gender and place.
The history of the Rex cinema in Coventry informed the work exhibited for Artist On My Street. Working with archives from the Herbert Museum, Celia's work explored local history and ideas of flight and display.
Emily Hett at the Cov Building Society, Binley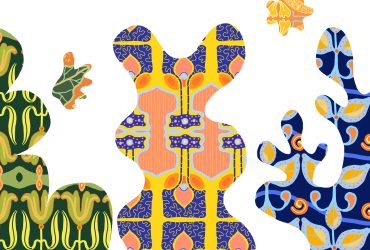 Joy is the driving force of Emily's practice, and her works aim to inspire a moment of this intangible, ephemeral feeling, to exhilarate and uplift the viewer through ceramics, painting and public art.
Emily created an installation which is vibrant and playful, transforming the canvas of the window into a magical utopia, to be enjoyed by the community and any passer-by. By adopting an amalgamation of organic forms, and vivid colour inspired by local surroundings, the abstract display transended age, class, race and gender, making it accessible and universally joyful to all viewers.
Frances Yeung at the Walk-In-Centre, Stoney Stanton Road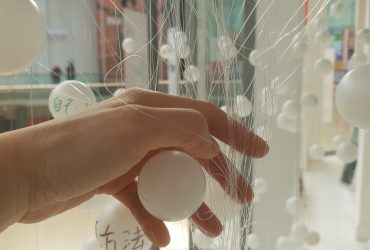 Frances is a multidisciplinary artist. Her works range from installations, moving images to immersive storytelling, exploring the themes of race, feminist identity and mental health. She likes to shine spotlights on marginalised communities. Through art, whether it's engagement workshops or thought-provoking pieces, she hopes to create real-world social change and cultivate more empathy.
For Artist On My Street, Frances worked with the Coventry Walk-in Centre local community to co-create a new piece for the window display, which explored hidden community stories and celebrated the diversity of this city.
James Robinson at the Aspire Family Hub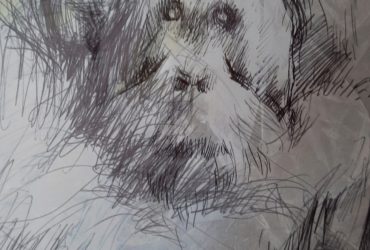 James Robinson is an artist and art teacher who has recently resettled in Coventry after a period of teaching and working in South Korea. Using found objects and building upon a life-long love of East Asian brush and ink technique, his current practice is focused upon painting and sculpting endangered species from around the world.
For Artist On My Street James brought an orangutan into the community at Aspire Family Hub! "They are beautiful and intelligent characters and we can't fail to be charmed by their benign expression and peaceful character."
James based his sculpture upon photographs he took of a pair that he 'met' in an ape rescue centre in the Borneo, both to remind us of our need to act responsibly in our use of toiletries that are produced using Palm Oil (farmed from trees that are planted in the place of the orangutan's natural habitat which continues to be destroyed so that westerners can use cheap shampoos) and also to bring and celebrate part of our beautiful natural world into our daily experience to admire, discuss and enjoy.
Rachel Doughty at the Allesley Park Library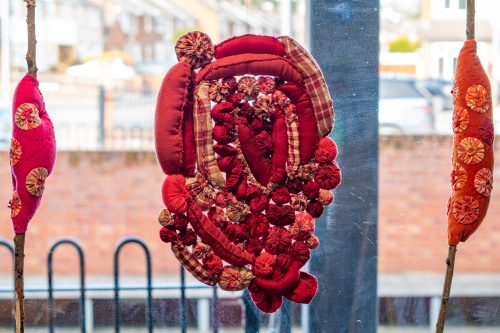 Rachel's creative practice revolves around using recycled textiles to make soft sculptures and installation pieces. She chooses to use recycled textiles as the cloth is imbued with people's stories and has a history where the worn areas show a life lived and the passing of time. In her work process is just as important as the final outcome and the handling of old textiles can be both therapeutic and cathartic. As sustainability is a big part of her practice, for this project, she gathered colourful, old t-shirts from local charity shops, to make into soft sculptures with the desire to encourage others to turn their old clothes into memory pieces.
Tara Rutledge at the Langar Aid House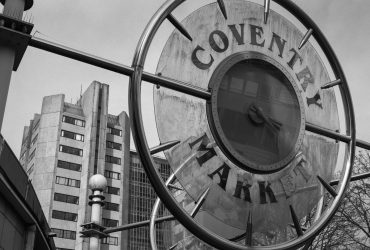 Tara is a Coventry based curator and community engaged visual artist, who is inspired by the architecture of her home town, its historical connections and, most importantly, the people who inhabit it.
For this Artist On My Street Project, Tara curated the work of local photographer John Whitmore (1977-2021). John was inspired by ever changing environments and how humans impact them, and each other. John favoured a completely analogue photographic process, which he felt helped maintain a very tangible connection between the time and place a photo was captured, and the final print.
The exhibition at Langar Aid in Spon End – highlighting John's KEEP OUT project, which captured the regeneration of Coventry City Centre during the run up to our City of Culture year – celebrated John's work and introduced it to a new audience.
Olugbemi Moronfolu at the Mosaic Community Centre, Hillfields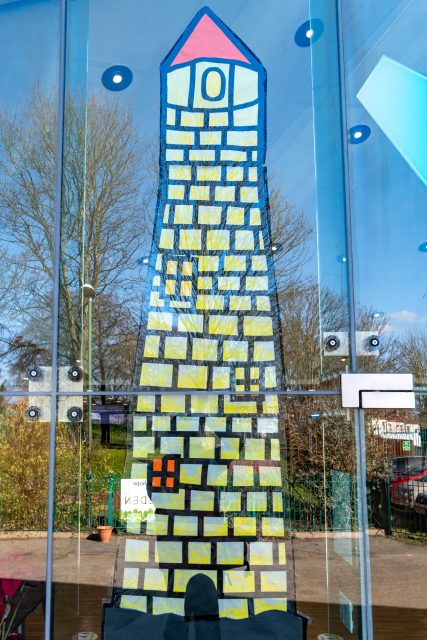 As a child, Olu struggled with her speech, especially pronouncing, and she started drawing to try and express herself. Olu enjoys drawing trees, bodies of water and people. 
Prior to December 2020, Olu had avoided drawing faces. In fact, when she drew people, they were faceless. However, as a Christmas present for her brother, she decided to draw him a picture of one of his role models. Since then, she has enjoyed drawing faces.
For this project Olugbemi was paired with the Mosaic Hope Centre and made a lighthouse out of tissue paper and electrical tape to symbolise hope. She has also worked with some of the community at the centre to create art pieces around faith and hope.
Dr Seyedeh Naseriniaki at the Refugee & Migrant Centre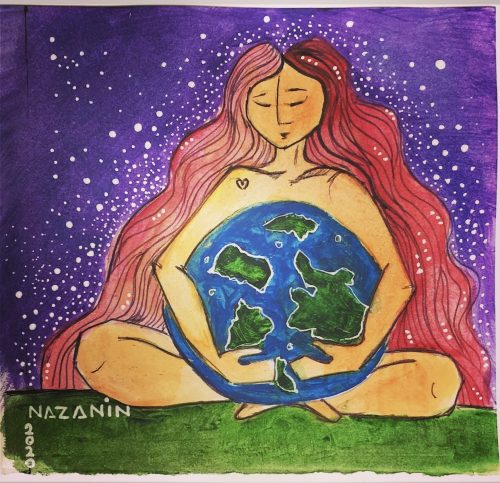 Dr Seyedeh Naseriniaki is the Founder of Chrysalis Craft Coventry CIC. She describes herself as citizen of the world striving to make a positive change for immigrants, refugees and asylum seekers. She has worked with migrant communities for the last seven years using art and different artistic methods for wellbeing. Seyedeh gained her PhD in Architecture and Design from the University of Genoa. She has worked with national and international NGOs and charities, including Fairtrade and MSF UK, Médecins Sans Frontières.
For Artist On My Street, Seyedeh worked with a refugee group to explore the theme of Green Futures. The group produced pieces of collage using materials that usually go to waste such as plastic bags and newspapers. Mother Earth and protecting our planet is Seyedeh's prime inspiration and motivation.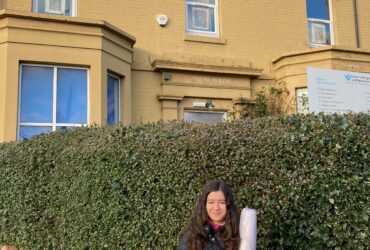 Bibi Asmahiel at the Refugee and Migrant Centre, Coventry
Bibi Ashamiel is a Dutch-born Ukrainian and Uzbek painter. Bibi moved to England in 2006 and from 16 years of age has been studying art. With her visual story-telling, she aims to communicate and inspire the viewer. The lives and hardships of refugees and migrants are central to Bibi's work, as are messages of hope, understanding and appreciating the world we live in.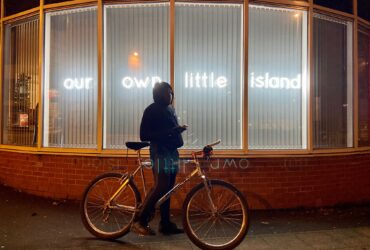 Daniel Pryde-Jarman & Jane Ball at the Starley Housing Co-operative, Vicroft Court
This artwork is a collaboration between artists Jane Ball and Daniel Pryde-Jarman that responds to the activist history of the Starley Road neighbourhood. It forms a tribute to the agency and determination of the residents who saved their street from demolition, and initiated the city's first self-managed housing cooperative, still surviving after 40 years.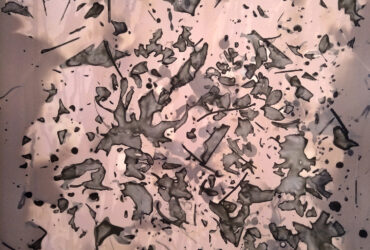 Caitriona Dunnett at the Ken Kenneth Community Centre, Stratford-Upon-Avon
Caitriona is an Irish artist based in the UK. She investigates memory and its subjective, personal and forgotten narratives through early photographic techniques. She is intrigued by the traces people leave behind, the paths they weave through time and the legacies attached to them.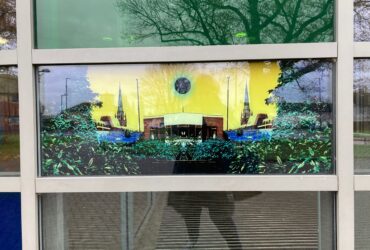 Tom Goodwin at the Moat House Leisure  and Neighbourhood Centre
Tom's work focuses on creating views of the future for the viewer to interpret in their own personal way by using a range of techniques and media to create futuristic landscapes or structures. Experimental Photography makes up a large amount of his practice merging both analogue film photography and digital post processing to achieve the final result.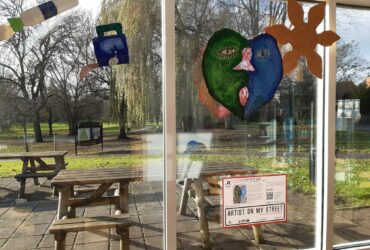 Kitty Kaur at the Bedworth Leisure Centre
Kitty is a Coventry based mixed-media visual artist, who loves to bring creativity and quirkiness to her work and life. Kitty works towards breaking down social barriers and uses her art practice to work with and include vulnerable groups in society; her aim is to give a voice to those who don't feel they have one, including herself.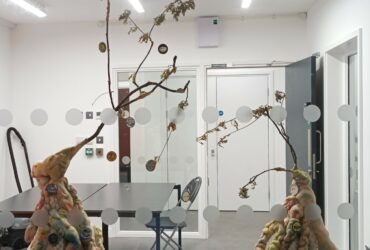 Indira Lakshmi at the Broad Street Hall, Foleshill
Indira's practice branches into soft sculpture, drawing, digital, audio and performance practices. The idea behind her commission for Artist On My Street is inspired by the various mythological 'world trees' which exist in cultures around the world. Indira was inspired by 'Asvattha' of the Indian subcontinent and its multifold attributes – longevity, connectivity and ultimately utopia.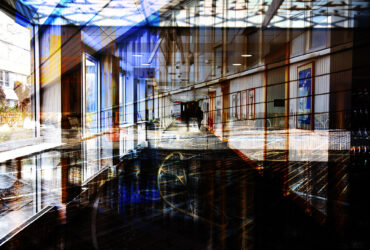 Madeleine Snowdon at the SYDNI Centre, Leamington Spa
Madeleine is a West Midlands based interdisciplinary artist working through a variety of mediums, including painting, digital media, photography and writing. Her work is interested in the memory of space, in local histories retold through architecture and traces found within urban environments.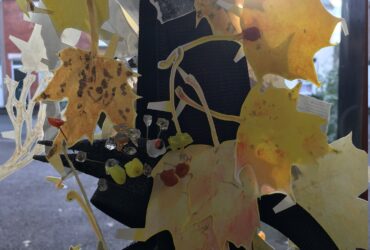 Janet Tryner at Crow Recycling, Hillfields
Janet Tryner is a contemporary artist based in Leamington Spa and Coventry who is interested in urban land. She makes art from objects she finds on the ground that seeks to make clearer other forms of life that live in human environments. She uses found objects to make her work in paper, printing and casting. She is particularly interested in patterns formed by interlinked insect, fungus and plant ecosystems.
Lorsen Camps at the Jubilee Community Centre, Radford, Coventry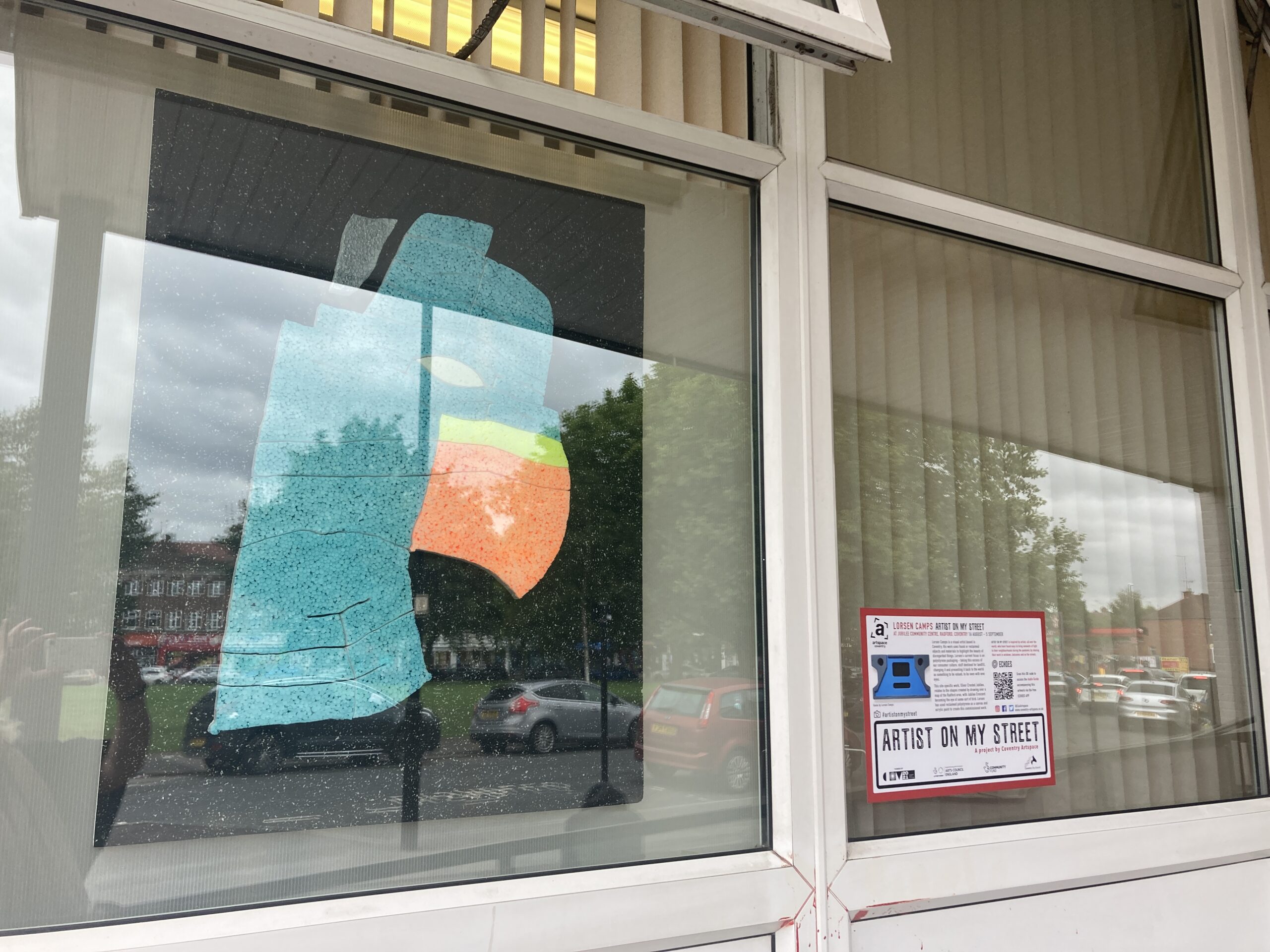 Lorsen Camps is a visual artist based in Coventry. His work uses found or reclaimed objects and materials to highlight the beauty of disregarded things. Lorsen's current focus is on polystyrene packaging. He takes this excess of our consumer culture, stuff destined for landfill, and, through his intervention, presents it back to the world as something to be valued, to be seen with new eyes.
This site specific piece, Silver Crested Jubilee, relates to the shapes created by drawing over a map of the Radford area, with Jubilee Crescent becoming the eye of some sort of bird. Lorsen has used reclaimed polystyrene as a canvas and acrylic paint to create this commissioned work.
Betty Molyneux at the Xcel Leisure Centre, Westwood, Coventry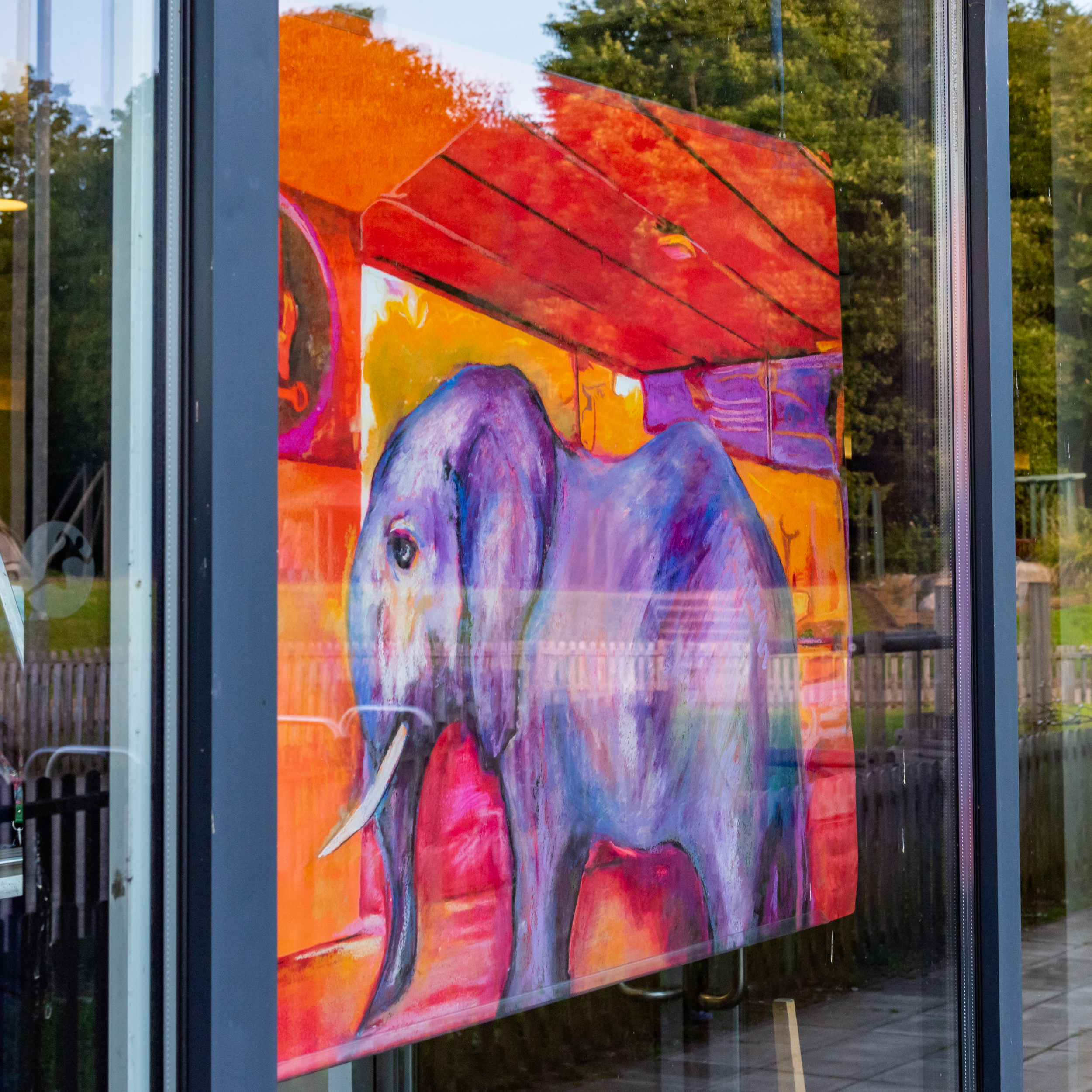 Betty Molyneux is a Coventry based mixed media artist who describes her work as elemental, ethereal, everyday art. She graduated in 2003 with a degree in Fine Art with Health and has always championed the therapeutic benefits of art on health and wellbeing.
Betty has been a nurse for over a decade, currently working in oncology: she painted her way through the pandemic. Her paintings of roads, exhibited earlier this year by Covert Arts, represented her journey home after night shifts during the peaks of the pandemic. Through the depiction of comforting and familiar landscapes they capture her sense of traveling towards a place of safety and respite. She explores this idea further in her work for ARTIST ON MY STREET, this time using pastels and Madhubani painting techniques.
Gayatri Pasricha at the Families for All Hub, Foleshill, Coventry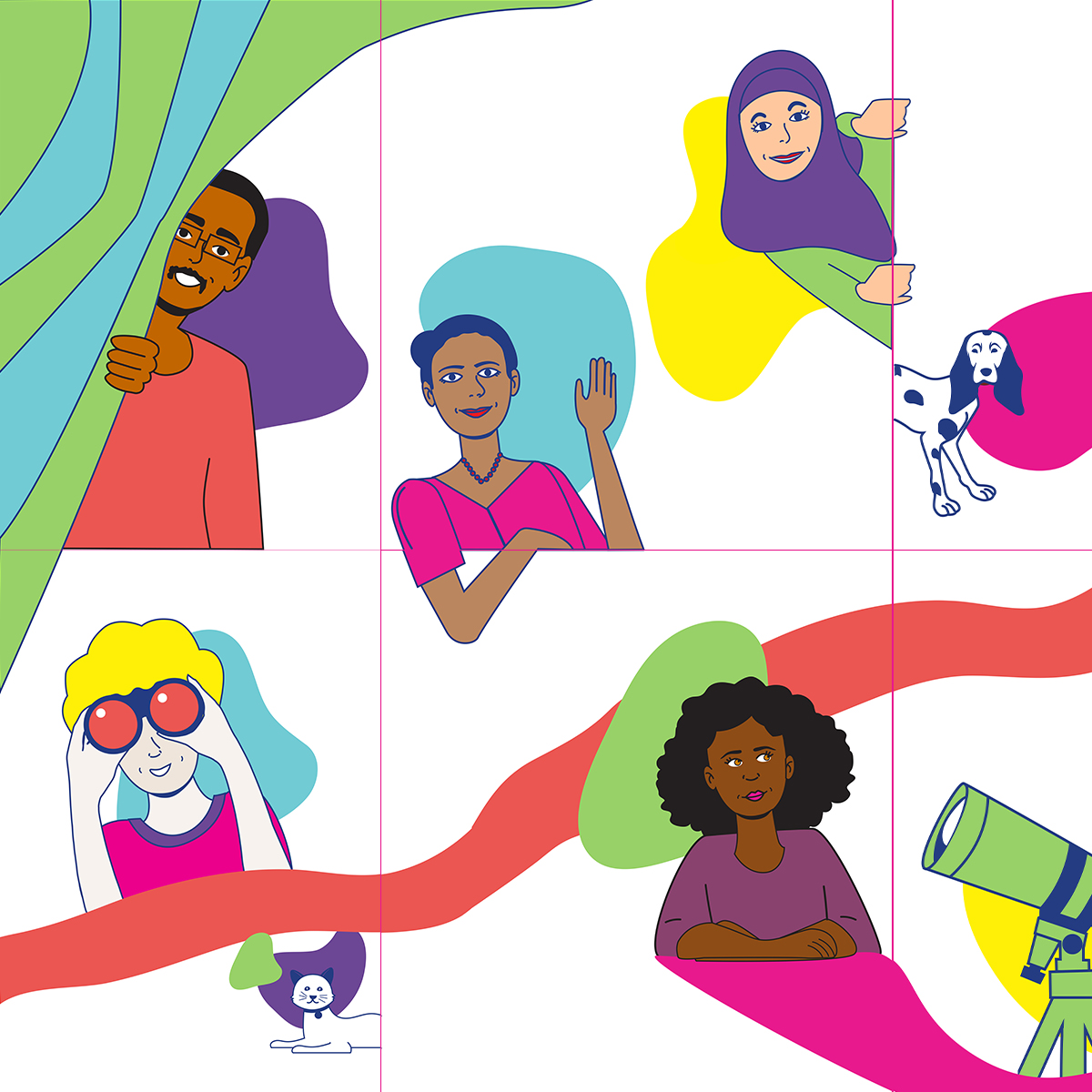 Gayatri Pasricha is a graphic designer. She endeavours to make work that is 'playful, but not frivolous; researched, but not complicated; subtle, but not obscure'.
For ARTIST ON MY STREET Gayatri has created a series of graphic art panels inspired by Coventry's diversity and history. She has been supported by Foleshill Creates to work with local residents, incorporating their self-portraits into her designs. Exploring themes of curiosity, diversity and playfulness she has named this series of work 'Cov Peeps'.
Clare Pentlow at the Tile Hill Library, Westwood, Coventry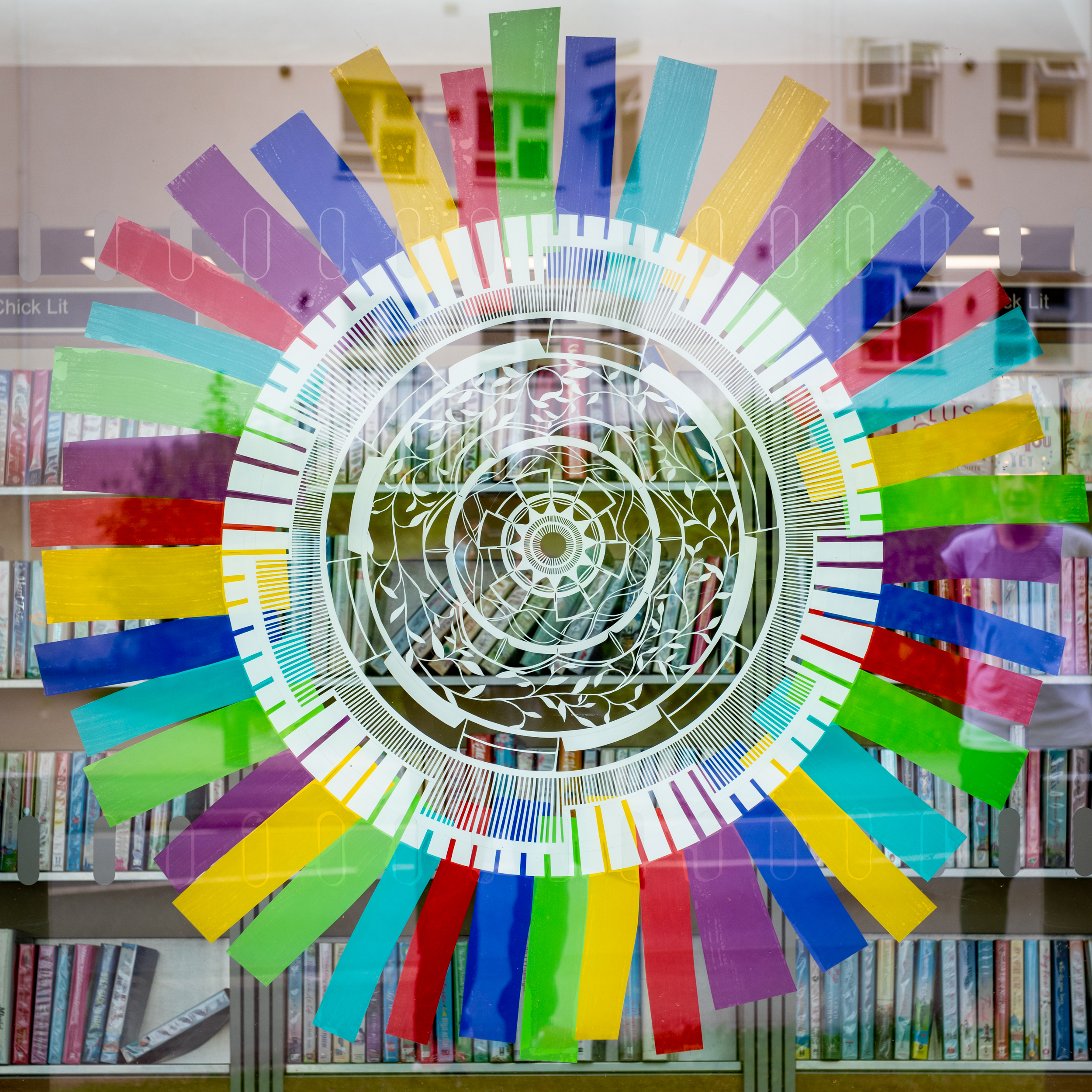 Clare Pentlow enjoys challenging the perception of paper as an ordinary material, transforming it to be extraordinary, constantly refining and looking for perfection whilst embracing its paradoxical qualities of strength and fragility.
Her initial ideas for the work in Tile Hill Library stemmed from the medieval tile industry which the area was built upon.  using hand cut paper tiles combining traditional medieval patterns with those found in the local flora and fauna, from the neighbouring woods to Massey Ferguson tractor factory and the general motorcar industry which Coventry is most famed for.
Sam Williams at the John White Community Centre, Binley, Coventry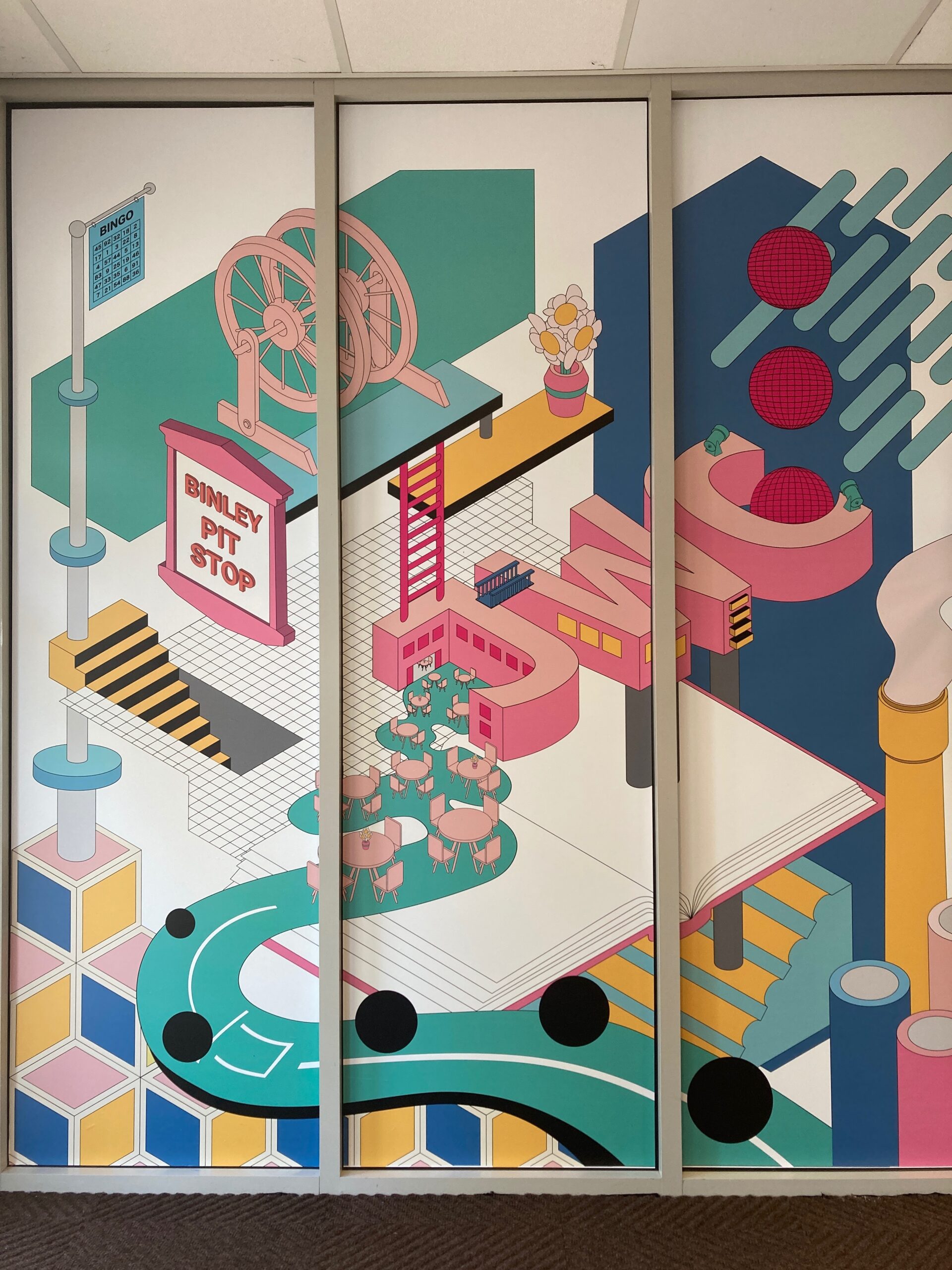 Sam Williams' art practice encourages audiences to explore the world around them through play.
Sam sees her work as a form of quiet activism, and play as a radical act. She believes firmly in the ability of art to affect change, translate experiences and transform places. She develops projects out of community engagement and audience participation, exploring creative placemaking that is people driven.
Use the audio app ECHOES to listen to the artists talk about their work