As 2022 draws to a close, we've taken the opportunity to reflect on some of our highlights of our contribution to Coventry's year of UK City of Culture. We have looked back on the exhibitions that took place at Arcadia and the projects that have seen us to the end of 2022. We have many fond memories  and we hope you enjoy reminiscing as much as we do!
We turned 30!
In August 2021 we celebrated 30 years of Coventry Artspace with a day-long celebration at Arcadia with delicious food, art, live music, DJ sets, performance, poetry and dancing. Young and old turned out to join us for this fun-packed party! Images courtesy of Mandip Singh Seehra
Artist On My Street

Through 3 rounds of small commissions, 21 artists brought work to public buildings in suburban areas of Coventry throughout our year as UK City of Culture, and many ran fun and engaging workshops with the local community. The artists also benefited from mentorship from fellow artists and industry professionals through our newly created Artspace Exchange.
Artist On My Street was inspired by artists all over the world who found ways to bring moments of connection, relief and hope to people in their neighbourhood during long days of Lockdown and Covid-19 restrictions, by sharing work in their windows and locality. 
The ECHOES audio app was used to enable anyone seeing an artwork to hear the artist speak about their practice and the piece they had created for Artist On My Street. 
Round 1 – Artist included Betty Molyneux at the Xcel Leisure Centre, Westwood, Coventry, Clare Pentlow at the Tile Hill Library, Westwood, Coventry, Lorsen Camps at the Jubilee Community Centre, Radford, Coventry and Sam Williams at the John White Community Centre and Gayatri Pasricha at the Families for All Hub, Foleshill, Coventry
Round 2 – Artists included Daniel Pryde-Jarman & Jane Ball at the Starley Housing Co-operative, Bibi Asmahiel at the Refugee and Migrant Centre, Madeleine Snowdon at the SYDNI Centre, Leamington Spa, Coventry, Indira Lakshmi at the Broad Street Hall, Foleshill, Janet Tryner at Crow Recycling, Hillfields, Tom Goodwin at the Moat House Leisure and Neighbourhood Centre, Caitriona Dunnett at the Ken Kenneth Community Centre, Stratford-Upon-Avon, , Vicroft Court and Kitty Kaur at the Bedworth Leisure Centre.
Round 3 – Artists included Tara Rutledge at the Langar Aid House, James Robinson at the Aspire Family Hub, Emily Hett at the Cov Building Society, Binley, Celia Johnson at Albany Theatre, Dr Seyedeh Naseriniaki at the Refugee & Migrant Centre, Olugbemi Moronfolu at the Mosaic Community Centre, Hillfields, Rachel Doughty at the Allesley Park Library and Frances Yeung at the Walk-In-Centre, Stoney Stanton Road.
The project was led by Sophie Clausen who said "It was an amazing experience to work with such a diverse group of artists, and to witness how they embraced this opportunity and developed their creative practice." 
"This whole experience has been invaluable for my development as an artist.The mentorship along the way has been second to none, it has boosted my confidence and made me move forward out of my own comfort zone." Betty Molyneux (Artist On My Street Artist).
"I found the project kick-started a new energy within my work and gave me the opportunity to experiment with ideas." Lorsen Camps (Artist On My Street Artist).
"This project has really helped to develop my curatorial skills. Helping me consider the importance of tangible connection between public art and the local community". Tara Rutledge (Artist On My Street Artist).
The Artist on My Street project drew to a close in May 2022 and ended with a group exhibition at Arcadia Gallery.
Then throughout the summer, 21 notice boards in 21 different open spaces across Coventry featured the work by the selected artists for people to enjoy whilst visiting Coventry's parks.
You can read more about the Artist On My Street Project here.
Artist Development Programme
Between summer 2021 and summer 2022 we provided an innovative programme of online and in-person courses and events, led by experienced professionals in the field and responding directly to our research on artist development needs published in early 2021.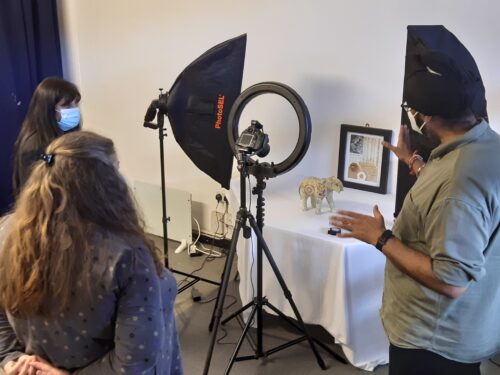 Artists had the opportunity to photograph their work, navigate disasters, fundraise and manage their finances, write about their artwork, work in the public realm, and learn to grow skills in audience development.
Speedy Crits were also a regular feature of the programme, giving artists the opportunity to receive professional feedback on their work.
We also ran a number of more intensive 3-5 day courses, often resulting in attendees putting on their own shows and events…
The Art of Place (August 21) workshop resulted in group of artists curating an evening of  experimental artworks at the Canal Basin
(Images by John Whitmore)
Workshop led by Ludic Rooms
The following group shows at Arcadia Gallery were by the participants of the Art of Curation workshops:
Vermillion Coloured Stories (Feb 2022)
An exhibition following a 4 day workshop exploration the work of the BLK Art Group with Ian Sergeant.
Farm City (March 2022)
An exhibition by participants following a four day workshop exploring Compton Verney's Folk Art collection with Outside In facilitators José Sunshine Okoro and Tess Radcliffe.
Traversing (May 2022)
An exhibition inspired by Hardish Virk's archive of South Asian artefacts, by participants of a four day Art of Curation workshop with Roo Dhissou. 
Stories That Made Us
A project led by Hardish Virk and his family collection of South Asian Artefacts. Stories That Made Us explores themes of identity, representation, opportunity and access. The project recognises the importance of owning and telling South Asian stories in public spaces, and celebrates the contribution of the South Asian community to every aspect of British life.
On 23rd July 2022 for South Asian Heritage Month, we hosted a series of online presentations and discussions and ended the day with a party celebrating the opening of "Unshackled" – an exhibition that celebrating individual identity from our South Asian Ambassadors.
(Images by Ayesha Jones)
Find out more about Stories That Made Us here.
Other exhibitions at Arcadia over the past 18 months included…
Multiplicity of Us – (July 2021) The final exhibition celebrating the end of melissandre varin's year-long residency with us, including an evening of art, film, performance and poetry.
Andy Farr 'At Home in Coventry' (September 2021) – An exhibition of paintings inspired by the lives of people living in Coventry.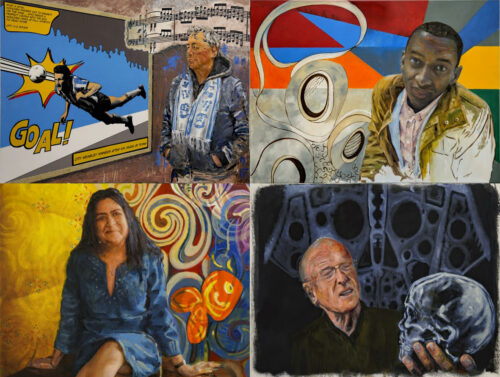 Beauty & Chaos (October 2021) – An exhibition of animation, poetry, and ideas curated by mixed practice artist Ije.

Check out our Instagram Reel from the event created by Taiyewo Ajose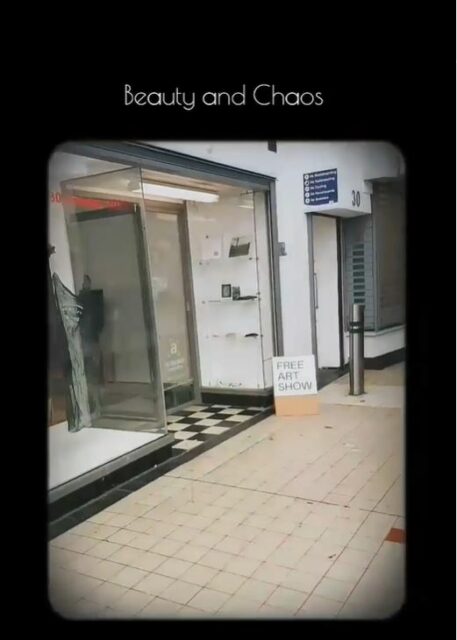 The Beginning by Lealh & Singh (November 2021) – A celebration of three traditional Indian art forms: Madhubani, from the Mithila region; Tajore from the town of Thanjavur; and Ved Art, inspired by the Vedic period of Indian history (1500-340 BCE).
Messages of Welcome (April 2022) – An window exhibition during Lockdown created by artist Seyedeh Naseriniaki following work that she has done with refugees and asylum seekers. In support of  the people of Ukraine.

Moments of Broken Promises (May 2022) – As part of Shoot Festival, this solo exhibition of large-scale paintings by Michael Snodgrass was inspired by Grimm's Pied Piper. We even had a visit from the Lord Mayor of Coventry!
Mongrel works by Tammy Woodrow and Mary Partridge (June 2022) – A collaborative project of experimental 2D works re-worked by both artists in the space, documenting contemporary working practices by conceptual women artists.
(Images by Tammy Woodrow)
Hints for British Tourists by Denise Startin (July 2022) – An installation in Arcadia that re-staged and expanded fictionally a found pamphlet containing instructions for travel.
SEVEN: Skyscraper Stories (August 2022) – An exhibition of artwork by Coventry Artspace Studio holders.
(Below images by Adele Mary Reed)   ​
We'll be sharing some of our highlights throughout December on our Social Media Platforms, and would love to hear your feedback on the events, so please share your comments and let us know if you had any personal favourite moments with us over the past year.